About this Event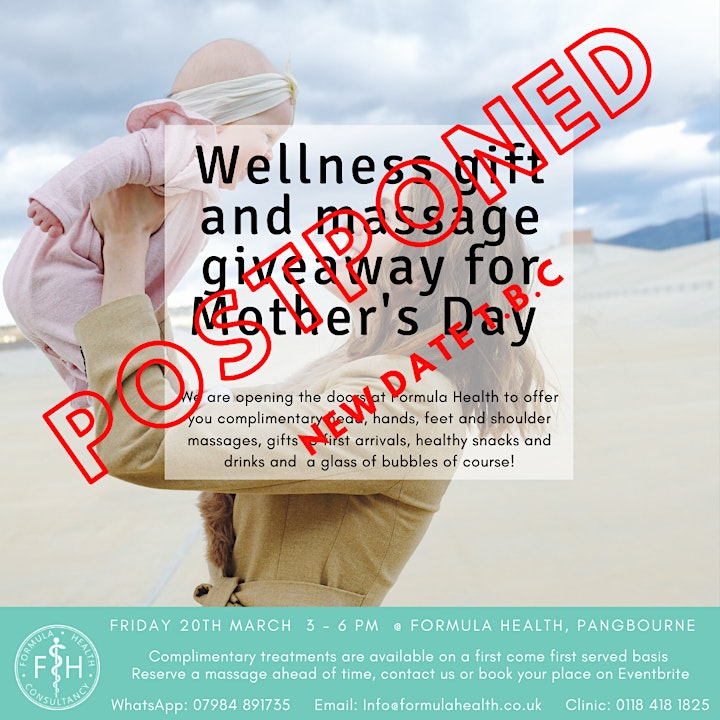 CORONAVIRUS UPDATE - RESCHEDULED DATE/TIME T.B.C
To celebrate Mum's this March (Mothering Sunday is on the 22nd March) we are hosting a pampering event during which we will be giving away complimentary 15 minute hand, head, shoulder and feet massages and bubbly for each of our guests! Healthy snacks, drinks and teas will also be served. Music will be playing. Children's toys and games will be available.
Our boutique shop will be open so you can pick up natural, environment friendly beauty products and super foods from Neal's Yard, Moo Soaps, Nood Skin.
If you would like to you can take a tour of the clinic with Gemma, the clinic owner, who is F1 Head of Human Performance and Osteopath Principal of the Year!
Hosted by Formula Health Clinic, Pangbourne.
🍃🧖🏽‍♀️Formula Health is an award-winning multidisciplinary, medical & therapeutic clinic.
🧚🏻‍♂️ 🥇Run by the first F1 human performance consultant Osteopath and winner of Osteopathy Principal of the Year Award, Gemma Fisher.
🍃🧖🏽‍♀️ Therapies available within the clinic include, Osteopathy, Cranial Osteopathy, Acupuncture, Shockwave therapy, Nutrigenetic screening, Counselling, Mindfulness Coaching, Yoga and Massage.
Date, time and Location
CORONAVIRUS UPDATE - RESCHEDULED DATE/TIME T.B.C at Formula Health in the centre Pangbourne.
A large village known for it's riverside pubs, independent shops and memorable meadows on the river Thames, Pangbourne is six miles west of Reading, and the perfect place for a day trip so please do ask us for recommendations of what do to while you are here.
Contact
Email: Info@formulahealth.co.uk
Instagram: @formulahealthF1 Web: www.formulahealth.co.uk
WhatsApp: 07984 891735 Clinic: 0118 418 1825