Wells Cathedral's chained library was built in the 15th century and houses a remarkable collection of early printed and manuscript books.
About this event
Chained Library Tour
Wells Cathedral's chained library was built in the 15th century and houses a remarkable collection of early printed and manuscript books. Books vary widely in subject and include science, medicine, travel, history, the Classics, languages, and poetry as well as religion. The vast majority of the 4,000 volumes in the collection were produce between 1500 and 1800.
The library occupies a beautiful space much loved by film crews, recent examples being Wolf Hall, The Hollow Crown, Dungeons and Dragons. There are only a handful of chained libraries left in Europe and visitors will be shown how they work. This is a working library still occupying the space created for it some 570 years ago.
Library Guides will explain how libraries have changed in their design as technology moved from manuscript to print. A selection of books will be shown and described, with attention being paid to how they tell the history of the book.
Each Tour lasts approximately 1.5 hours.
Bookings can be made via Eventbrite up to 24 hours prior to the tour taking place. Want to make a last minute booking? Call us on 01749 671663 or ask at the Donation desk on the day of your visit.
A Guided Tour of the Chained Library
Booking Tickets
• The maximum number for a Chained Library Tour is 6 (whilst there are social distancing rules).
• The tour is not deemed suitable for children under the age of 12.
Access to the library is by a stone spiral staircase and may not be suitable for those with mobility problems.
Where to meet your guide
Check in at the Donation desk in the New Entry Cloister. A few minutes before your tour start time a Library Guide will meet you and arrange to take you to the library entrance.
You must read the Terms and Conditions associated with this tour which are listed below.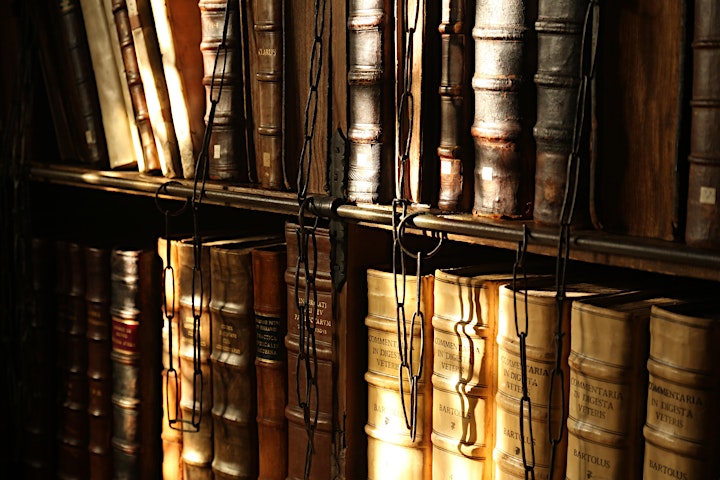 Terms and Conditions
Please read this information carefully; the Cathedral wishes you to have an enjoyable and safe tour experience and we are grateful for your co-operation.
• Any visitors with mobility problems should consider carefully their suitability for the tour because of the stone spiral staircase
• Food and drink should not be brought into the chained library.
• Owing to the lack of ventilation in the Chained Library, face masks should be worn.
• Cameras are welcome but should be set not to take flash photographs.
• All bags must be left inside the library entrance for security reasons. These will be safe as the library will be closed to other visitors during a tour.
• If taking notes, we request pencils be used to prevent the risk of ink defacing books on display.
• The maximum number in any Chained Library tour is currently 6.
• Smoking and/or using mobile phones for anything other than taking photographs is not permitted during the tour.
• Once the tour has started there will be no opportunity for a comfort break.
• The lead Cathedral Guide is in charge of the tour.
The Cathedral reserves the right to refuse any visitor admittance on the tour if deemed to be in breach of any of the above. This will be for your safety and for the safety of others. The Cathedral's decision is final and is not subject to appeal.
In line with current guidelines and restrictions, the cathedral currently has COVID-19 measures in place for the safety of public visitors and our staff. Those attending a Tour are asked to observe these measures as instructed by the Library Guides for the safety of all. Wearing of face coverings is requested within the Cathedral buildings(subject to exemptions).
FAQs
Are there ID or minimum age requirements?
The tour is not suitable for younger children and a minimum age of 12 applies if accompanied by a responsible adult.
What's the refund policy?
Refunds can be obtained 30 days prior to the Event.
Do I have to bring my printed ticket ?
No, if you have the booking confirmation on your phone you can show it at the Donation Desk on arrival, or give your name when registering.
What can I bring with me on the Tour?
Bags can be securely stored inside the library but cannot be taken into the Chained Library.
If taking notes, we request pencils be used to prevent the risk of ink defacing books on display.
Mobile phones or cameras are allowed but flash photography is not.
No food or drink is permitted within the chained library.
Images: Jason Bryant
Organiser of Wells Cathedral Chained Library Tour - August - Nov 2021
Located at the southern tip of the Mendip Hills Area of Outstanding Natural Beauty, and described as the "most poetic" of the English Cathedrals, Wells Cathedral is home to a thriving spiritual, musical and historical community that stretches back nearly 850 years.
 The Cathedral welcomes visitors all year round to experience its stunning architecture, world-class music, and a full programme of events, tours and concerts.