About this Event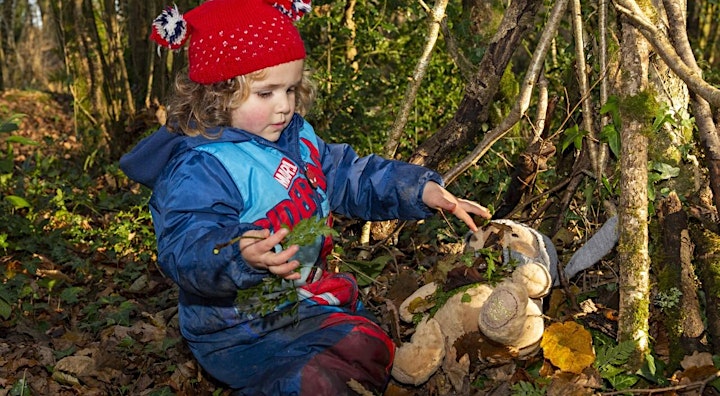 Welly Wednesday features an hour of fun outdoor activities, story telling and exploring for pre schoolers.
-
Meeting point at the "Back to Nature" woods, take a right once through Gatehouse. If the weather is bad on the day, the meeting point will be moved to the Great Glasshouse, please check on arrival. Please dress for the weather, and you can bring a snack to eat. Spaces are limited to 10 children per session (no more than 2 children per adult - 1 ticket = 1 child), adhering to the social distancing guidelines.
Welly Wednesday is free but normal Botanic Garden admission applies. There is no admission charge for children under 5. Free Garden entry still applies to Garden Members.
-
Be well – do not visit if you are showing signs of any of the symptoms of the virus
Keep safe – maintain your distance and stay at least two metres apart
Heed the guidance – stay home if you have serious or underlying health conditions or are caring for loved ones who do
For the very latest information and guidance, visit the Public Health Wales website
- - - - -
Mae Dydd Mercher Mwdlyd yn cynnwys awr o weithgareddau hwyl yn yr awyr agored, adrodd straeon ac archwilio ar gyfer plant cyn-ysgol.
-
Man cyfarfod yn y goedwig "Yn ôl i Natur", ewch i'r dde unwaith trwy'r Porthdy. Os yw'r tywydd yn wael ar y diwrnod, bydd y man cyfarfod yn cael ei symud i'r Tŷ Gwydr Mawr, gwiriwch wrth gyrraedd. Gwisgwch am y tywydd os gwelwch yn dda, a gallwch ddod â byrbryd i'w fwyta. Mae lleoedd yn gyfyngedig i 10 o blant y sesiwn (dim mwy na 2 o blant i bob oedolyn - 1 tocyn = 1 plentyn), gan gadw at y canllawiau pellhau cymdeithasol.
Mae Dydd Mercher Mwdlyd am ddim ond mae mynediad arferol i'r Ardd Fotaneg yn berthnasol. Nid oes unrhyw tal i blant o dan 5. Mae mynediad i'r Ardd dal am ddim i Aelodau'r Ardd.
-
Byddwch yn iach – peidiwch ag ymweld os oes gennych unrhyw rai o symptomau'r feirws.
Cadwch yn saff – cadwch eich pellter, gan sicrhau eich bod o leiaf ddau fetr ar wahân.
Rhowch sylw i'r canllawiau – arhoswch gartref os oes gennych gyflyrau iechyd difrifol neu sylfaenol, neu os ydych yn gofalu am anwyliaid sydd â chyflyrau o'r fath.
I gael yr wybodaeth a'r canllawiau diweddaraf, ewch i wefan Iechyd Cyhoeddus Cymru