Location
King Arthur Hotel
Higher Green
Reynoldston
SA3 1AD
United Kingdom
Hot Topics in Acute Medicine: Join us in the beautiful Gower for a day of talks focusing on what's hot right now in Medicine #WAPS2019
About this event

The Welsh Acute Physicians' Society (WAPS) is pleased to announce that our 2019 symposium is returning to the Gower at the same venue as our successful 2017 event. We have a range of both clinical and non-clinical sessions relating to hot topics in acute and general medicine.
Who is it for?
Doctors of all grades and medical specialities
ANPs/AHPs in Acute Medicine
We would especially welcome anyone interested in Acute Medicine as a career
Highlights
External Speaker: Dr Chris Turner (Co-Founder of Civility Saves Lives) - How incivility robs teams of their potential
Value-based Healthcare with Dr Sally Lewis (National Clinical Lead)
What's hot in Rheumatology with Dr Julian Nash
Fevers and Seizures with Prof Charlotte Lawthom
What to do with a febrile Haematology patient with Dr Ali Mahdi
What you need to know about the new Internal Medicine Curriculum with Dr John Hounsell
What's hot in Oncology? with Dr Ricky Frazer
Programme
The full programme is available here
What do you get?
Lunch and refreshments throughout the day are included.
Certificate of attendance
RCP CPD code: 126484 (6 points)

Delegate Fees
£45 Student £55 Trainee/ANP/AHP £75 Consultant
Places are limited so book early!
Please contact us if there are any queries: contactWAPS@gmail.com @AcuteMedWales
Look forward to welcoming you in June!
This educational meeting is kindly supported by sponsors through the purchase of promotional exhibition stand space only. They have had no input into the agenda or speakers for this meeting.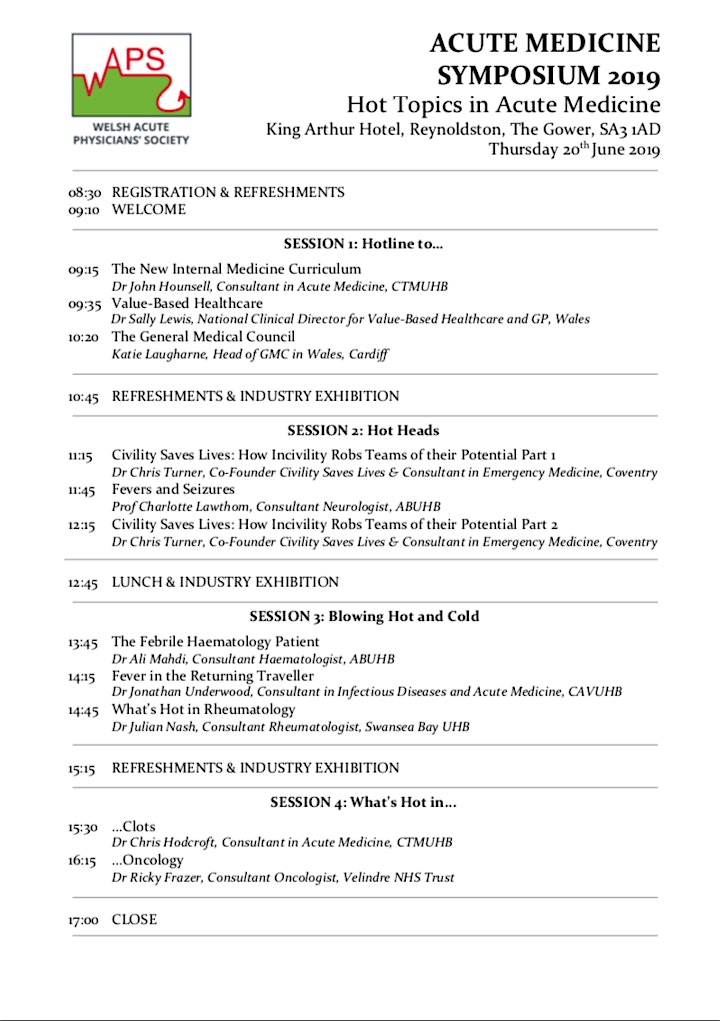 Cymdeithas Meddygon Acíwt Cymru: Symposiwm Blynyddol
Dydd Iau, Mehefin 20fed 2019
Pyniacu Llosg mewn Meddygaeth Acíwt: Ymunwch â ni yn ardal hyfryd Gŵyr am ddiwrnod o drafodaethau yn canolbywntio ar bynciau llosg y dydd ym myd Meddygaeth
Am y Digwyddiad
Mae Cymdeithas Meddygon Acíwt Cymru (WAPS) yn falch o gyhoeddi bod ein symposiwm 2019 yn dychwelyd i ardal Gŵyr ac yn cael ei gynnal yn yr un lleoliad â'n digwyddiad llwyddiannus yn 2017. Caiff y rhaglen lawn ei chyhoeddi cyn bo hir a bydd amrywiaeth o bynciau clinigol a di-glinigol yn ymwneud â phynciau llosg meddygaeth acíwt a meddygaeth gyffredinol.
Ar gyfer pwy?
Meddygon o bob gradd ac arbenigedd meddygol
Unrhyw Ymarferydd o fewn Meddygaeth Acíwt
Hoffem groesawu yn arbennig unrhywun sydd â diddordeb mewn Meddygaeth Acíwt fel Gyrfa
Uchafbwyntiau
Gofal iechyd seiliedig ar werth gyda Dr Sally Lewis
Pynciau llosg Rhewmatoleg gyda Dr Julian Nash
Beth fydd ar gael?
Cynhwysir cinio a lluniaeth trwy gydol y dydd
Tystysgrif presenoldeb
Prosesir ein cais ar gyfer pwyntiau CPD gan y RCP
Pris mynychu
Pris cynnar (tan 20fed o Fai yn unig)
£45 Meddygon dan hyfforddiant/nyrs/ymarferydd £65 Ymgynghorwr
Arferol (ar ôl yr 20fed o Fai)
£55 Meddygon dan hyfforddiant/nyrs/ymarferydd £75 Ymgynghorwr
Dim ond nifer cyfyngedig o lefydd sydd ar gael felly sicrhewch eich lle ar fyrder!
Cysylltwch â ni os oes unrhyw gwestiwn: contactWAPS@gmail.com @AcuteMedWales
Edrychwn ymlaen at eich croesawu ym mis Mehefin!
Mae'r cyfarfod addysgiadol hwn yn cael ei gefnogi gan noddwyr trwy dalu am stondinau arddangos yn unig. Nid ydynt wedi cyfrannu at y rhaglen nac at y dewis o siaradwyr ar gyfer y cyfarfod.