Wessex Training - Countertransference

Saturday, 12 November 2016 from 11:00 to 12:30 (GMT)
Event Details
Countertransference experiences in working with traumatised patients
Dr Joanne Stubley
Chair Alison Vaspe
Complex trauma presentations may be found in many different clinical settings.  Different treatment approaches and modalities may be used in working with these patients, who may have experienced developmental trauma such as physical abuse, or adult trauma including war veterans or victims of domestic violence, political incarcerations and so on.
A common thread is that the staff will inevitably find themselves faced with difficult and at times overwhelming emotional responses to their patients. There is inevitably a push to action and one form this may take is through the power of the Repetition Compulsion.  Traumatised patients may unconsciously construct a theatre in which the traumatic scenario is endlessly repeated with the different roles of victim, perpetrator, witness and rescuer offered to others who may be drawn in. Staff will find themselves repeatedly and unconsciously drawn into re-enactments of the traumatic scenario in its various forms.
A psychoanalytic understanding of trauma can help one to understand the impact of working with these patients and provide a space in which thought may help to intervene in the inevitable push towards action.
Dr Stubley is a Consultant Psychiatrist in Psychotherapy and the clinical lead for the Tavistock Trauma Service.
She is a member of the British Psychoanalytical Society and is also trained in Trauma – Focused Cognitive Behavioural Therapy and Eye Movement Desensitization and Reprocessing (EMDR). She is co-Chair of the Royal College of Psychiatrists' Psychotherapy Faculty Task group on Historical Child Sexual Abuse and has a special interest in Complex and developmental Trauma.
Coffee at 10.30am
Directions:
10 minutes walk Basingstoke station through Festival Place shopping centre (Marks & Spencer exit).
Nearest car park, Grebe Gardens Pay & Display, off Churchill Way between Victory Roundabout and Church Street.
Entrance to The Barn is via Church Cottage, behind St Michael's Church.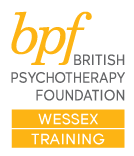 When & Where

The Barn
St. Michael's Church
Church Square,
RG21 7QW Basingstoke
United Kingdom


Saturday, 12 November 2016 from 11:00 to 12:30 (GMT)
Add to my calendar
Organiser
British Psychotherapy Foundation
The bpf is one of the largest independent providers of Jungian analytic and psychoanalytic psychotherapy for adults and children in the UK.
The bpf's vision is of a society in which psychotherapy is available to everyone who needs it to promote their emotional well-being and mental health. 
Wessex Training - Countertransference