West Coast Networking - November 2018

Monday, 19 November 2018 from 18:15 to 20:00 (GMT)
Event Details
Please note that this event will start with refreshments and an opportunity to network, with the formal part of the meeting starting at 18.30.
Inclusion
Supporting Tran and Gender Non-Conforming Individuals in the 21st Century
Join us on 19th November where we'll be discussing some of the challenges being faced by Trans and Gender non-conforming people. These challenges affect every aspect of daily life – in the workplace and in our wider society,
This session is particularly relevant and timely as the results of a Stonewall commissioned 'You Gov' survey indicated that 1 in 5 LGBTQ people do not feel able to be open about their sexuality at work: furthermore 77% of those who'd experienced a serious work place incident said they'd prefer not to report it, fearing that nothing would happen.
The newly announced government action plan launched by the Equalities office is aiming to offer better more effective support to LGBTQ individuals and will get £4.5 million in funding.
Key discussion points will include:
•             How much responsibility do organisations have to improve cultural attitudes towards LGBTQ individuals
•             Do existing recruitment methods contribute to discrimination against Transgender individuals
•             What can and should employers be doing to support individuals more effectively
•             What role should employers play in supporting employees who have been victims of hate crime
About the Speaker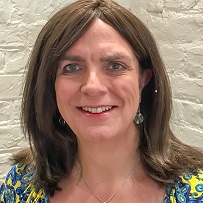 Joanne Lockwood (SEE Change Happen)


Transgender Awareness and Inclusion Specialist

Joanne Lockwood is the founder and CEO of SEE Change Happen, an Equality Diversity & Inclusion Practice specialising in providing Transgender Awareness and support to organisations and businesses all over the UK.
Joanne is the first openly transgender past National President of the 90-year-old 'Men's Club', The Round Table. In 2016 she embarked on her personal rebrand, selling her successful IT services businesses that she had built up over 25 years and transitioned.

Through these experiences and others, she delivers keynote, seminars and workshops to promote and support Transgender Individuals and break down many of the myths, misunderstandings, and most importantly the fear of "getting it wrong".

Here mantra is Smile, Engage and Educate and she passionately believes that "people are people" and, no matter who they are, deserve to be treated with dignity and respect.

Website: https://seechangehappen.co.uk
Twitter: https://twitter.com/jo_lockwood1965
LinkedIn: https://www.linkedin.com/in/jolockwood/
Professional photography and video production may be taking place at the event, and these images may be used on future promotional materials for CIPD. Please note that by attending the event, you are giving your consent for your image to be used on any CIPD promotional materials.
When & Where

University of Chichester
Room 2.03 Academic Building
College Lane
PO19 6PE Chichester
United Kingdom


Monday, 19 November 2018 from 18:15 to 20:00 (GMT)
Add to my calendar
Organiser
Welcome to the events page of the Sussex Branch of the CIPD, the professional body for HR and people development.
Below you will find all the events we are currently taking bookings for. Places are booked on a 'first come, first served' basis so do book your place using the links below. A waiting list will operate once events are fully booked.

The CIPD's purpose is to champion better work and working lives by improving practices in people and development for the benefit of individuals, businesses, economies and society. The CIPD is incorporated by Royal Charter and is a registered charity.

Here at Sussex Branch we have over 3750 members and we cover both East and West Sussex. We are currently the 8th largest branch in the country out of 52 branches.  Our commitment to you as a Sussex Branch member is to be here for you throughout your professional journey:

• Facilitating local networking opportunities
• Organising great value continuing professional development
• enabling the sharing of knowledge and experience with other people professionals

and above all here for you locally as your life long career partner.

We look forward to seeing you one of our face to face meetings very soon and we would also love you to sign up to our email updates, and join our Linkedin Group (CIPD Sussex Group) so you can network with other branch members, share news and views and stay in touch with Branch activities.
See below for all the events you can currently book for.