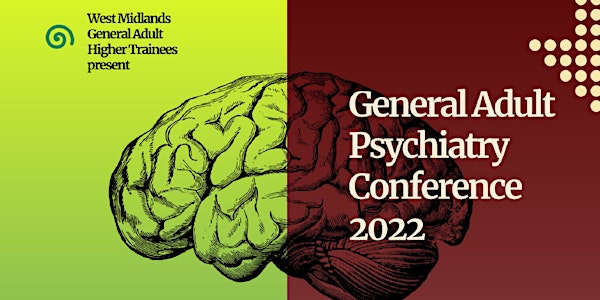 West Midlands General Adult Psychiatry Conference 2022
Welcome to the annual West Midlands General Adult Trainee conference, organised by higher trainees. See our exciting programme below.
About this event
We will be joined by expert speakers discussing relevant and exciting topics.
Our programme for the day includes talks by experts on the following topics and timings are as follows:
09.00-09.10 - Registration
09.10-9.30 - Welcome - Dr Jayne Greening and Dr Ravi Belgamwar
09.30-10.30 - Dr Louise Newson: "Menopause or Depression – which is it?"
10.30-10.45 - Break
10.45-12.00 - Professor David Taylor: "Advances in Clozapine Therapy"
12.00-1pm - Professor Wendy Burn: "Social Media Skills for Doctors"
13.00-14.00 - LUNCH
14.00-15.15 - Dr Rachel Gibbons: "8 Truths about suicide and the effect that the death of a patient by suicide has on clinicians".
15.15-15.30 - Break
15.30-16.30 - Professor Femi Oyebode: "Clinical Psychopathology of Some Rare Syndromes", discussing his new book which can be purchased here; Psychopathology of Rare and Unusual Syndromes.
This conference has been organised by: Dr Amit Gupta (ST5 and Co-chair), Dr Alina Braicu (ST4 and Co-chair), Dr Bhamini Patel (ST4 and Secretary), Dr Zainab Bashir (ST6 and Treasurer), Dr Rebecca Cunningham (ST5), Dr Devika Patel (ST4).
Find out more about each of our speakers here:
Dr Louise Newson BSc(Hons) MBChB(Hons) MRCP FRCGP
Louise is a GP, a leading UK menopause specialist and the Founder and Clinical Director of the largest menopause clinic in the world, Newson Health Ltd, based in Stratford-upon-Avon. She is also an advisor to the NHS, is on the Clinical Steering Committee for NHSEI's Menopause Improvement Programme and is a member of the Government's newly formed Menopause Taskforce.
Louise has established a not-for-profit company, Newson Health Research and Education, and she is involved in research with colleagues in Warwick, Oxford, UCL, Bath, University of Warwick, Liverpool Universities and London School of Tropical Medicine. Her Confidence in the Menopause educational programme, www.fourteenfish.com/menopause/welcome, was launched to provide free training for anyone with an interest in menopause and menopause treatment pathways.
Louise developed the free menopause app "balance", www.balance-app.com together with www.balance-menopause.com with the mission to make menopause support inclusive and accessible to everyone, globally. The website and app provide key evidence-based information for women and healthcare professionals. Louise is also the Founder and a Trustee for The Menopause Charity, www.themenopausecharity.org, which works to improve women and healthcare professionals' understanding of the menopause.
Louise has contributed to menopause related articles across all media and is This Morning's resident menopause expert. Louise also hosts a weekly podcast for women and has written two books, The Haynes Menopause Manual, and Preparing for the Perimenopause and Menopause which was a Sunday Times best seller.
Professor David Taylor
Proffesor Taylor is Director of Pharmacy and Pathology at the Maudsley Hospital and Professor of Psychopharmacology at King's College, London, UK. In 2014, David was ranked in the top 100 clinical leaders in the NHS by the Health Service Journal. Professor Taylor is the Editor-in-Chief of the journal Therapeutic Advances in Psychopharmacology. He has formally contributed to five NICE Guidelines. Professor Taylor has been the lead author of the Maudsley Prescribing Guidelines since their inception in 1993. The Maudsley Prescribing Guidelines have sold over 300,000 copies in thirteen editions and twelve languages. The 14thedition was published in June 2021. He has also co-written three other books in the Maudsley Prescribing series. David has also authored over 350 clinical papers in journals such as the Lancet, BMJ, British Journal of Psychiatry and Journal of Clinical Psychiatry. These papers have been cited over 14,000 times. Professor Taylor has an H Index of 70. He has written or edited seven other books and written over twenty book chapters. David was a member of the UK Department of Transport expert panel that introduced drug-driving regulation. He is currently a member of the UK government's Advisory Council on Misuse of Drugs. David is the only pharmacist to be made a fellow of the Royal College of Psychiatrists.
Professor Wendy Burn CBE, BM, MMedSc, FRCPsych
Wendy was appointed as a Consultant Old Age Psychiatrist in Leeds in 1990 and now works part-time in the memory service. She is also the National Mental Health Clinical Advisor to Health Education England.
She has been involved in the organisation and delivery of postgraduate training since she started as a consultant. She has held many roles in education. She set up the Yorkshire School of Psychiatry and was the first Head of School.
She was Dean of the Royal College of Psychiatrists (RCPsych) from 2011 to 2016 and President from 2017 to 2020. She Co-chaired the RCPsych Gatsby Wellcome Neuroscience Project which focused on modernising the neuroscience taught to psychiatric trainees from 2016 to 2021.
She is currently Chair of the Clinical group of Equally Well, a project set up to improve physical health in people with a serious mental illness, Chair of the Public Engagement Editorial Board at RCPsych and leads the Expert Group on COVID-19 Care for People with Mental Illness for the World Psychiatric Association.
Dr Rachel Gibbons has been working in the NHS over the past 20 years in various psychiatric settings as a consultant psychiatrist and consultant medical psychotherapist, in settings that include, inpatient and psychiatric intensive care wards, outpatient psychiatric and psychotherapy services, hospital liaison teams and forensic and prison services. She has recently been working as the Director of Therapies for the Priory Group. She is a psychoanalyst and group analyst and current Chair of the Patient Safety Group and the Working Group on the Effect of Suicide and Homicide on Psychiatrists, at the Royal College of Psychiatrists.
She has been working on suicide over the last 13 years. She was the Suicide Lead for Barnet Enfield and Haringey Mental Health Trust, a founding member of the Haringey Suicide Prevention group, and clinical lead for the London Transport Police Suicide Prevention Team. She has been facilitating a Suicide Group for consultant psychiatrists for the last 13 years. She has recently had a paper with Prof Keith Hawton and Oxford Centre for Suicide Research published in the Psychiatric Bulletin on the effect of suicide on psychiatrists. She is a member of the national suicide advisory committee. With Colleagues she is currently writing guideline for mental health organisations for pastoral care of the staff following a patient suicide. She is co-editor of the Royal College of Psychiatrists book 'Seminars in the psychotherapies'. (Gibbons, R. and O'Reilly, J. eds., 2021. Seminars in the Psychotherapies. Cambridge University Press.)
Professor Femi Oyebode was born in Lagos Nigeria. He studied medicine at the University of Ibadan Nigeria, graduating with distinction in 1977. He has been a Consultant Psychiatrist in Birmingham since 1986 and Honorary Professor of Psychiatry at the University of Birmingham since 1999. He was Head of Department of Psychiatry from 2003-2009. He is Associate Editor of the British Journal of Psychiatry, & on the Editorial Boards of BJPsych Bulletin and BJPsych Advances. He was Chief Examiner of the Royal College of Psychiatrists from 2002 to 2005.
His research interests include clinical psychopathology, delusional misidentification syndromes, medical humanities and medical ethics. He is author of Sims' Symptoms in the Mind (4-6th editions), Madness and the Theatre and edited Mindreadings: Literature and Psychiatry and Psychopathology of Rare and Unusual Syndromes.
He received the Royal College of Psychiatrists' Lifetime Achievement Award in 2016 and the highest award of the Royal College of Psychiatrists, the Honorary FRCPsych in 2019.
Date and time
Location
Refund policy