Conservative Conference 2021 - FULLY BOOKED
About this event
IF YOU HAVE NOT YET REGISTERED BUT STILL WISH TO ATTEND THE RECEPTION - ADMISSION WILL BE ON A 'ONE OUT, ONE IN' BASIS.
THANK YOU FOR YOUR SUPPORT!
The Conservative Party Conference will be gathering together once again in Manchester from Sunday 3rd October 2021. We have decided to host a West Midlands Region Reception for all Conference Registered members attending the Conference this year.
We are hoping as always to welcome the Prime Minister and some of the Cabinet to attend as well as a number of our own West Midlands MP's and Local Government representatives, Association Chairs and members from right across the region.
The event will be FREE OF CHARGE to all attendees
Because of COVID precautions, we are having to strictly limit the numbers attending and ask respectfully that all attendees must pre -register for a ticket to this event . You must also be in possession of a accredited Conference Pass.
PLEASE NOTE THAT YOU WILL NOT ALLOWED ADMISSION TO THIS EVENT UNLESS YOU HAVE PRE-REGISTERED. (There will be no exceptions to this rule).
We look forward to seeing you there on Sunday 3rd October 2021, 18.00hrs.
Brian E Tustain
West Midlands Region Chairman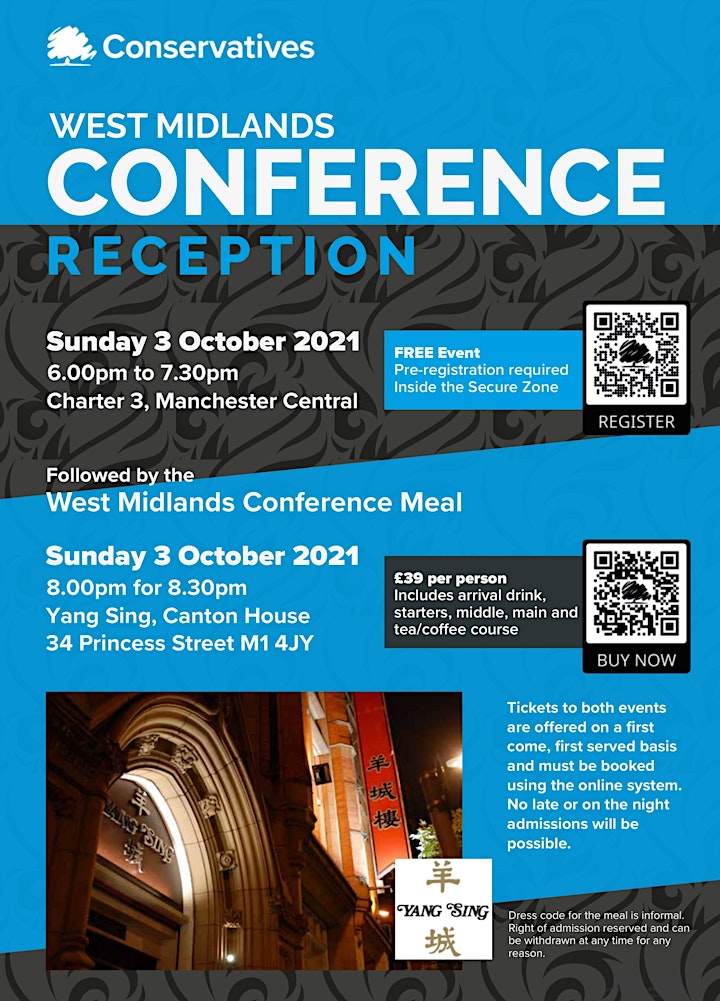 Organiser of West Midlands Region Reception 2021 - NOW FULLY BOOKED