West Suffolk Business Festival - Your Future Faster with KTPs
Description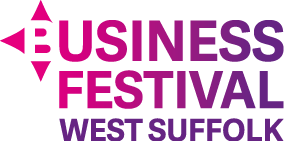 As part of the West Suffolk Business Festival, the University of Suffolk is delighted to be presenting on Knowledge Transfer Partnerships.
Do you want to grow your company, explore and develop new strategic, innovative and commercial avenues but need additional skills, time and knowledge?
Are you a recent graduate or about to graduate and interested in finding out about the biggest graduate scheme in the United Kingdom?
Knowledge Transfer Partnerships introduce you to the right knowledge and expertise for your company. We're also thrilled to welcome Orbital Media, winner of this year's East Anglian Daily Times Business Awards for Innovation, who will be demonstrating MySpira, the KTP project which they worked with the University of Suffolk on.
There is an opportunity to book a slot to discuss KTPs further with myself or to talk about MySpira with Orbital, there are additional slots to book.
#growingsuffolk #yourfuturefaster
WHAT IS A KTP?
It is a collaboration between three partners: a University Academic (the Knowledge Base Partner), a recent graduate or post-graduate (the Associate) and the company. The three partners work together to reach the objectives of a specific business project which is delivered by the Associate being based at your business.
WHAT WILL IT COST?
Depending on the size of your business, you could be eligible for up to 67% funding towards a KTP if you are a Small to Medium Enterprise (SME). This works out as approximately £27,000 per annum cost to the business, which covers the graduate's salary, training, academic consultancy and some money for travel and project materials. For larger companies, the funding is 50%, approximately £40,000 cost to them per Annum.
Your payments may well be eligible for R&D Corporation Tax Credits.
WHAT ARE THE BENEFITS OF KNOWLEDGE TRANSFER PARTNERSHIPS TO YOUR BUSINESS?
Your company acquires new knowledge which is firmly and sustainably embedded in your business, typically resulting an increase in annual profit before tax, on average, of £366,000 and further commercial benefits from the application of new Intellectual Property (Source: Innovate UK.)
Opportunity to employ Associate at the end of the KTP; 64% of Associates accept the offer of a job with their KTP company.
Every £1 of the KTP grant invested results in £8 of net extra Growth Value Added (GVA) to the UK economy.