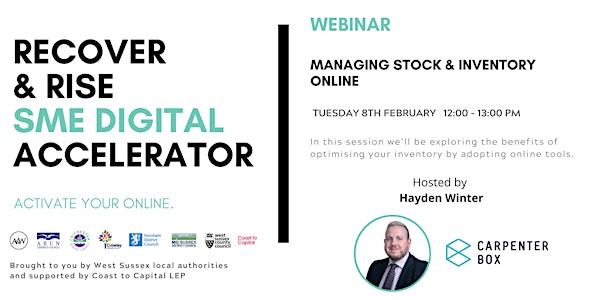 West Sussex Recover & Rise S3W4: Online Stock & Inventory Optimisation
Online Stock & Inventory Optimisation is #4 of #7 in the WSCC SME Digital Accelerator Series - SYSTEMS & PRODUCTIVITY.
About this event
Online Stock & Inventory Optimisation is #4 of #7 in the WSCC SME Digital Accelerator Series - SYSTEMS & PRODUCTIVITY.
In this session we'll be exploring the benefits of optimising your inventory by adopting online tools. The pandemic has been a nightmare for lots of small to medium sized businesses - especially those who deal with inventory. It has highlighted weaknesses in supply chains all across the globe: Be it unpredictable customer behaviour, disrupted inventory supplies, rising logistics costs or capacity constraints. Because of this, businesses are now realising that they need to adapt how they work. You too can work differently and smarter by digitising the way you manage your goods by using simple inventory optimisation software. However, many of us are still unaware of what it is, how it works, the benefits, the costs and how to get started. This great session will be led by our Expert Speaker - Hayden Winters, Cloud & Digital Solutions Manager at Carpenter Box - award winning accountants.
WHO IS THIS FOR?
For anyone involved with a small to medium sized business in West Sussex who is looking to recover and rise after the challenges the pandemic has brought. If you are looking to learn more about adopting digital ways of working and want to gain practical and actionable insight to help take the first steps - this webinar is for you.
COURSE CONTENT & TAKEAWAYS:
An introduction to the most popular stock and inventory management systems for small businesses
How they can benefit your business, your customers and your bottom line
The time and cost savings you can expect from adopting these tools
The steps you can take to move to online inventory management and what to consider when picking the right software for you
Q&A panel with our Expert Speaker
The SME Digital Accelerator programme is a 4 part series consisting of over 25 online workshops - to see other workshops available 'click here'.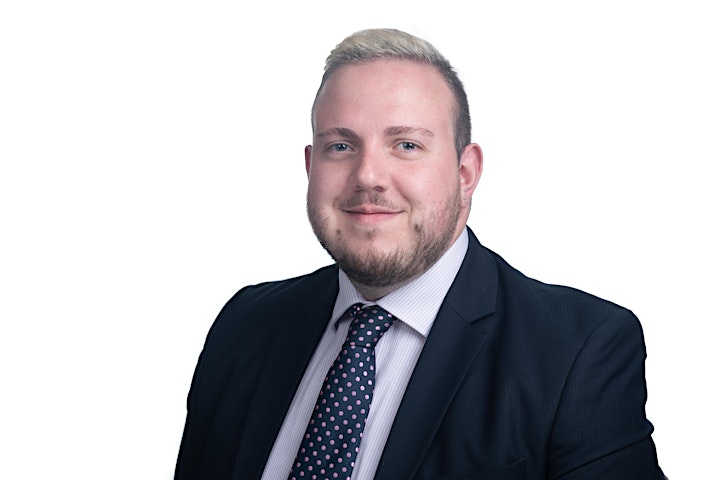 ABOUT THE SPEAKER
Hayden Winters - www.carpenterbox.com
Hayden joined the Carpenter Box team in 2018 and is our Cloud and Digital Solutions Manager. He brings 8 years of practical experience in both accounting and the implementation, training and process analysis of cloud-based accounting and industry software. Hayden has helped businesses across a wide range of industries to become more efficient by refining their software systems and processes. Outside of the office: Hayden is an avid music lover, guitarist and car enthusiast.
Client Testimonial
"I feel that Carpenter Box is part of the company. I trust their judgement on all money matters. They give good advice, and it's advice we wouldn't otherwise know where to go for. Carpenter Box in my opinion is a good investment; they have saved me a lot of money and a lot of time"
- Kevin Tester, Managing Director, Penton UK

This Autumn & Winter 2021, West Sussex County Council launches a FREE online Webinar series designed to maximise the impact and accessibility of digital technologies for West Sussex Small and Medium-sized Enterprises (SMEs).
The SME Digital Accelerator programme is a 4 part series consisting of over 25 online workshops:
Series 1: Getting Online
Series 2: Customers & Marketing
Series 3: Systems & Productivity
Series 4: Growth Expansion & New Products.
These webinar sessions have been put together by local digital experts Freedom Works, always possible, & Creative Bloom in partnership with the County Council & boroughs to help small and medium businesses utilise digital tools and gain expert knowledge and advice in how best to grow their online presence and attract and retain new customers.
These webinars will be run online and will take place at 12pm on Tuesdays & Thursdays starting on 9th September.