This session 'Recover & Rise networking' is #7 of #7 in the WSCC SME Digital Accelerator Webinar Series 4 - GROWTH EXPANSION & NEW PRODUCTS.
About this event
Take the opportunity to meet other businesses who took part in the Recover & Rise SME Digital Accelerator Series 4, with another opportunity to 'ask the experts' and get tips on next steps.
This Autumn & Winter 2021, West Sussex County Council launches a FREE online Webinar series designed to maximise the impact and accessibility of digital technologies for West Sussex Small and Medium-sized Enterprises (SMEs).
The SME Digital Accelerator programme is a 4 part series consisting of over 25 online workshops.
Series 1: Getting Online
Series 2: Customers & Marketing
Series 3: Systems & Productivity
Series 4: Growth Expansion & New Products.
These webinar sessions have been put together by local digital experts Freedomworks, always possible, & Creative Bloom in partnership with the County Council & boroughs to help small and medium businesses utilise digital tools and gain expert knowledge and advice in how best to grow their online presence and attract and retain new customers.
These webinars will be run online and will take place at 12pm on Tuesdays & Thursdays starting on 9th September.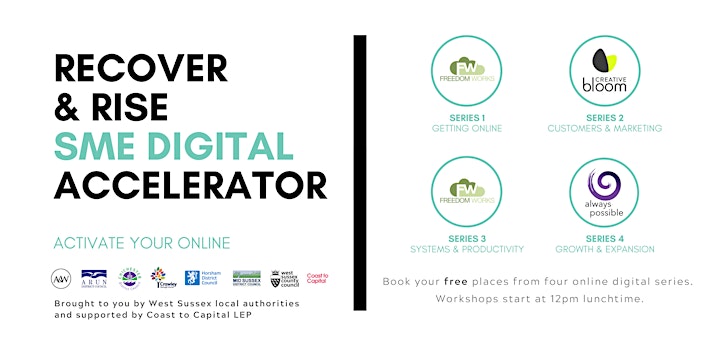 WHO IS THIS TRAINING FOR?
This session is for participants of the programme so far, to reflect and ask further questions from topics covered in Series 4. Everyone is welcome.
"This event was great. I truly enjoyed it. It was by far the best session I've been involved in. The topics were spot on for my needs"
- participant in Reset. Restart programme
This session will be an interactive networking and discussion session, bringing back expert speakers and facilitators from previous events to take further questions and to offer sign-posting to further resources - including the Coast To Capital Growth Hub Digital Champions.
SESSION CONTENT
Reflection on whole series
The SME Digital Accelerator programme is a 4 part series consisting of over 25 online workshops - to see other workshops available 'click here'.