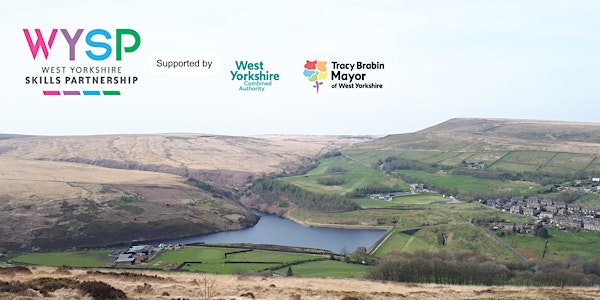 West Yorkshire Skills Partnership Conference- Sustainability Through Skills
Location
Royal Armouries Museum
Armouries Drive
Leeds
LS10 1LT
United Kingdom
Join the West Yorkshire Skills Partnership (WYSP) for its first face to face conference in three years.
About this event
Arrival and coffee
Arrive for 8.30am for coffee and settle in for a 9am conference start. (Please note the new start time is 8.30am not 11.30am )
The morning will offer regional insight, question and answer sessions and an inspirational keynote speech to end your week.
In line with the theme of the conference, this event will be paperless, so we will not provide paper or pens, but you are welcome to bring your own to make notes, or use tablets or phones to note take digitally. We would also encourage you to bring your own water bottles and/or coffee cups and feel free to fill up from the water and hot drinks provided.
Partnership updates and opportunities
This year's conference brings together the West Yorkshire Skills Partnership's representative speakers to engage delegates with updates from the world of colleges, universities and private training providers and consider opportunities to grow green skills within the region.
Hear from WYSP members:
Yorkshire Universities (Peter O'Brien)
Yorkshire Learning Providers (Alex Miles)
West Yorkshire Consortium of Colleges (Joanne Patrickson)
Regional overview
The Deputy Mayor and Chair of the Employment and Skills Committee, Councillor James Lewis will be speaking about priorities for Employment and Skills across West Yorkshire.
Inspirational keynote speaker
Keynote speaker and explorer Lucy Shepherd will focus delegates' minds on the emerging sustainability themes and explore how the skills sector can make a difference.
Brunch and networking
End the morning with a sustainable, vegetarian brunch and network with colleagues from across the region.
Register now
Numbers are limited so please register early to avoid disappointment.
Partnerships
The West Yorkshire Skills Partnership was formerly known as the Leeds City Region Skills Network. This event is supported by the West Yorkshire Combined Authority and the Mayor of West Yorkshire.
Green travel
In the interest of reducing our carbon footprint, we would encourage all delegates to use public transport to the Royal Armouries where possible. The Royal Armouries is a short (10-15min) walk from Leeds Train and Bus stations.
If you fancy a change on your way back, the Leeds Water Taxi is available from the Royal Armouries to the train station at a cost of just £1 (runs from 10am-4pm).