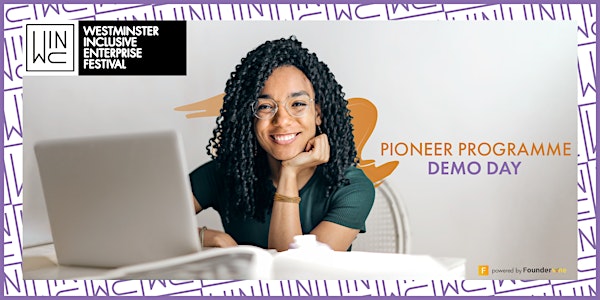 Westminster Inclusive Enterprise Festival - Pioneer Programme Demo Day
Westminster Pioneer Programme Demo Day - hear and see student founders pitch for funding!
About this event
Join us for Westminster's Entrepreneurship Pioneer Programme Demo Day.
You will hear from a selection of student founders from the Westminster Entrepreneurship Pioneers programme pitch and present business concepts developed over the course of the programme; providing an opportunity to showcase their innovation, solution-based thinking and passion for entrepreneurship.
To celebrate the end of the Pioneer Programme and Westminster Inclusive Enterprise Festival, we will have a live music performance by Connor Patterson and a keynote speaker, Charles Nasser, Entrepreneur and CEO of Claranet Ltd.
What is a Demo Day? A Demo Day is a startup industry term for a showcase, presentation or demonstration of the businesses participating in an accelerator or incubator programme. It involves the founders of the business/startups pitching their businesses to an audience, typically investors – in the hope to secure investment. Students will be pitching for funding awarded from a £5000 funding pot gifted by Claranet Limited.
Westminster's Entreprenuership Pioneers Programme
The Westminster Entrepreneurship Pioneers Programme is an online programme delivered in partnership with Foundervine to upskill future diverse business leaders to develop their enterprise skills, grow their networks, build confidence and ability to explore business creation opportunities that solve real-world problems during and after their studies.
Foundervine is an award-winning social enterprise specialising in digital start-up and scale-up acceleration programs.
The programme is driven by the Creative Enterprise Centre's longstanding mission to advocate for greater inclusion and diversity in the entrepreneurial ecosystem, by contributing to empowering and developing a diverse, experienced and highly skilled talent pipeline from the University of Westminster.
Judges
Linsey Cole, Director of Business Engagement, University of Westminster
Linsey is the Director of Business Engagement at the University of Westminster where she is leading the university's work to transform our engagement with business, industry and employers. She is responsible for creating new partnerships and programmes to enhance student employability and the student experience. Linsey has worked in enterprise education for the last 10 years, supporting students and graduates to develop their enterprise skills and start successful businesses and has a particular interest in women's entrepreneurship. Linsey is a Fellow of Enterprise Educators UK and a Senior Fellow of the Higher Education Academy.
Charles Nasser, CEO & Founder - Claranet Ltd
Charles Nasser founded Claranet in 1996 and has grown it into one of Europe's leading independently owned managed services providers. Operating in 7 countries across Europe - and now also in Brazil and the USA - with over 6,500 business customers and 2,300 staff, Claranet has annualised revenues of €450 million. This follows a strong period of organic growth as well as a range of acquisitions to broaden capability and expertise. Outside Claranet, Charles has a broad range of investments, including data centres, agriculture and biotech.Charles holds a Masters degree in Electrical & Electronic Engineering from Imperial College (University of London), a Certified Diploma in Accounting and Finance (ACCA) and a Masters in Finance from the London Business School. A keen traveller, Charles has visited 100 countries and participated in several expeditions, including a trek to the geographic North Pole.
Indie Gordon, Programme Manager - Foundervine
"Indie is Programme Manager at Foundervine, she has 6+ years of experience in large scale strategic programme management and VIP stakeholder management. Indie has led large scale operations on projects with companies such as Google, Sky Television, Nandos, MasterCard and so many more and to date has cultivated investments in excess of £650,00.
Indie speaks Japanese and is currently studying Computer Science at Harvard University with the aim of becoming a coding genius
Daniel Tuitt, Service & Business Designer
I'm a passionate storyteller, a highly creative thinker, corporate misfit, and connector to support co-creation. I believe in disrupting myself with new ways of thinking as well as the clients I work with. Years of experience working with clients as a management consultant has sharpened my creativity and understanding of trends to generate product and proposition ideas to drive value that resulted in accelerated innovation, new product development, piloting, launch, and scale. My professional mission is to focus on supporting brands to re-imagine their business so they can better relate to their consumers and their changing behaviors.
Speakers & Performers
Charles Nasser, Founder & CEO Claranet Ltd
Conner Patterson – Live Performance - Musician
Connor Patterson is an independent funk/pop artist and producer who has worked with artists such as Fleur East, Mind Massage, and Tamaraebi. His creative blend of jazz, R&B, and pop has seen him perform at Ronnie Scott's, Pizza Express Live, and The Bullingdon (Oxford). Connor's live performances have an exciting edge, with the use of live loops and instrumental variety.
Westminster Inclusive Enterprise Festival
This event is organised by the University of Westminster's Creative Enterprise Centre (CEC) as part of the Westminster's Inclusive Enterprise Festival (WInc) an annual event delivered through a series of events that aim to inspire, inform and empower a diverse and representative talent pipeline.
Each event will highlight the career paths paved by pioneering and successful industry leaders and entrepreneurs representative of underrepresented communities and identity intersections.
You can find out more and book further Westminster Inclusive Enterprise Festival events here.