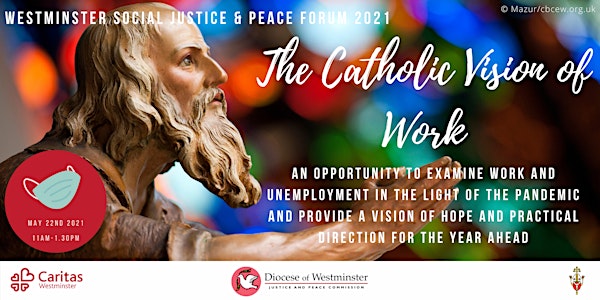 Westminster Social Justice and Peace Forum - The Catholic Vision of Work
What is the pandemic teaching us about work?
About this event
This forum on The Catholic Vision of Work provides an opportunity to examine work and unemployment in the light of the pandemic and aims to present a vision of hope and practical direction for the year ahead.
Confirmed speakers include:
Dr Pat Jones on the theology of work.
Vincent Fernandes , social entrepreneur from St Michael and St Martin's, Hounslow, discussing the challenges facing West London parishes around Heathrow as a result of the pandemic.
Kathy Margerison, Head of programmes for Caritas Westminster SEIDS (Social Enterprise Ideas Development) project.
Fr Chris Vipers, leading us in a reflection on St Joseph, the patron saint of workers, in this year dedicated to him.
Summariser: Daisy Srblin, Director, Million Minutes
There will be an opportunity for discussion and shaping feedback to the Archbishop's Council.
Westminster Social Justice and Peace Forum gathers people from across the Diocese of Westminster and beyond to discuss topical issues and share matters of concern.
The Forum is organised by Westminster Justice and Peace with Caritas Westminster and hosted by Bishops Nicholas Hudson and Paul McAleenan.