Event Information
Refund policy
Contact the organiser to request a refund.
Eventbrite's fee is nonrefundable.
Did you know that squirting is a teachable skill? Join us in releasing shame around female ejaculation and learn how to do it for yourself.
About this event
Squirting's got a bad rap.
Over time, it's been banned from porn, cast aside as pee, and shamed into silence. There is still so little that's been studied or researched about the phenomenon of female ejaculation that there are few places to learn about it outside of porn. The stereotypes of squirting as both a gross display of female pleasure and a mere performance for the male gaze have long been conflicting and confusing. Nowadays, we're learning more about female pleasure in sex education and cultural references, and still, little is said about female ejaculation.
So what is squirting and how does it contribute or connect to sexual pleasure?
While squirting is different across all women and people with vulvas, most of us don't know that it's a learnable skill. While ejaculation does not always equate to pleasure, it can sometimes help. Society has taught people with vulvas to hold back from ejaculation – it's gross, it's shameful, and it's not your place – when really, we should have been learning instead that it's doable, powerful, and sexy! That's why Kama wants to spread some knowledge around squirting.
Kama's Wet January month is all about ejaculating, releasing, and feeling good.
Whether it's a drop or a lot, we're here to talk about it. Squirting with your vulva is directly linked to the Kama-central idea of exploring your body. It's about getting down into those nooks of your body you never even knew existed, discovering new types of orgasms, and familiarising yourself with self-pleasure.
#WetJanuary Programming
Squirting 101 (Part 1): On Monday 25th January, we will debunk those shameful ideas you've adopted about female ejaculation, before literally guiding you through a live tutorial session on squirting and ending with a Q&A.
Squirting 101 (Part 2): On Wednesday 27th January, after you have a bit of time to practise, we will review concepts from the previous session and continue with our gentle guidance on how to squirt and a Q&A. See Part 2 here.
You do NOT need to attend Part 1 in order to attend Part 2, although attendance to both is recommended for the full experience.
Kama Stories: On Friday 29th January, our wet and steamy month will conclude with an openly candid (and free!) conversation around female and vulva pleasure. We've prepared some incredible individuals who have volunteered to share private but universally relatable experiences about their sexual journeys with us. See Part 3 here.
Disclaimer: We will be showing real-life videos for lessons on anatomy and technique, but don't worry – there will be no live nudity from you or the instructors. Your video and name will be hidden on Zoom for full anonymity. We acknowledge that comfort levels around sexual topics vary for everybody. Everything we do here at Kama is rooted in education, accessibility, and awareness. If you ever have feedback to share, please don't hesitate to email us at feedback@kama.co.
All workshops will be recorded and ticket buyers will be able to privately access the recording of their purchased event(s). Q&As are live-only and will not be shown in the recordings. This event is designed for people with vulvas.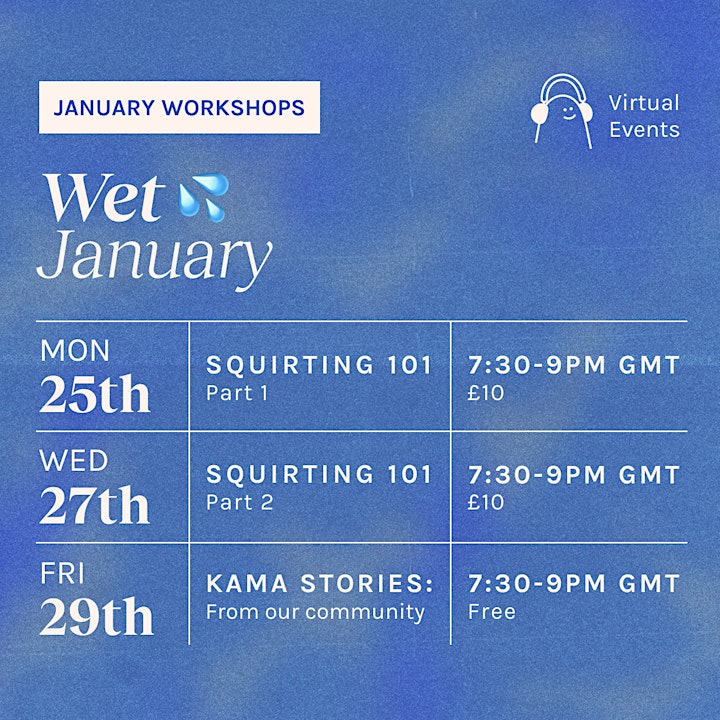 See all upcoming events from Kama below
Date and time
Location
Refund policy
Contact the organiser to request a refund.
Eventbrite's fee is nonrefundable.
Organiser of Wet January with Kama: Squirting 101 (Part 1)
Kama is a sexual wellness practice based on the science-backed idea that Pleasure is Health. Our mission is to transform how we experience pleasure and its role in our wellbeing. We want to help people of all ages, genders, and sexualities make sexual pleasure a part of their daily lives by connecting their mind, body, and heart. Learn more about us and our iOS app on our website.