Description
Dive into otherworldly sounds underwater at the pool. Sound travels 4.5 times quicker in water than in air and perceived by the bones. The water surface becomes a threshold to another sound world. Joel Cahen's electronic soundscape is played across several speakers outside and inside the water and immerses the listener in a unique experience.
'It's astonishingly immediate, inescapable, and faintly perplexing.' The Guardian.
This Sunday event will offer a day light listening experience. Make sure your bring your towel and swim ware and get ready to be full immersed.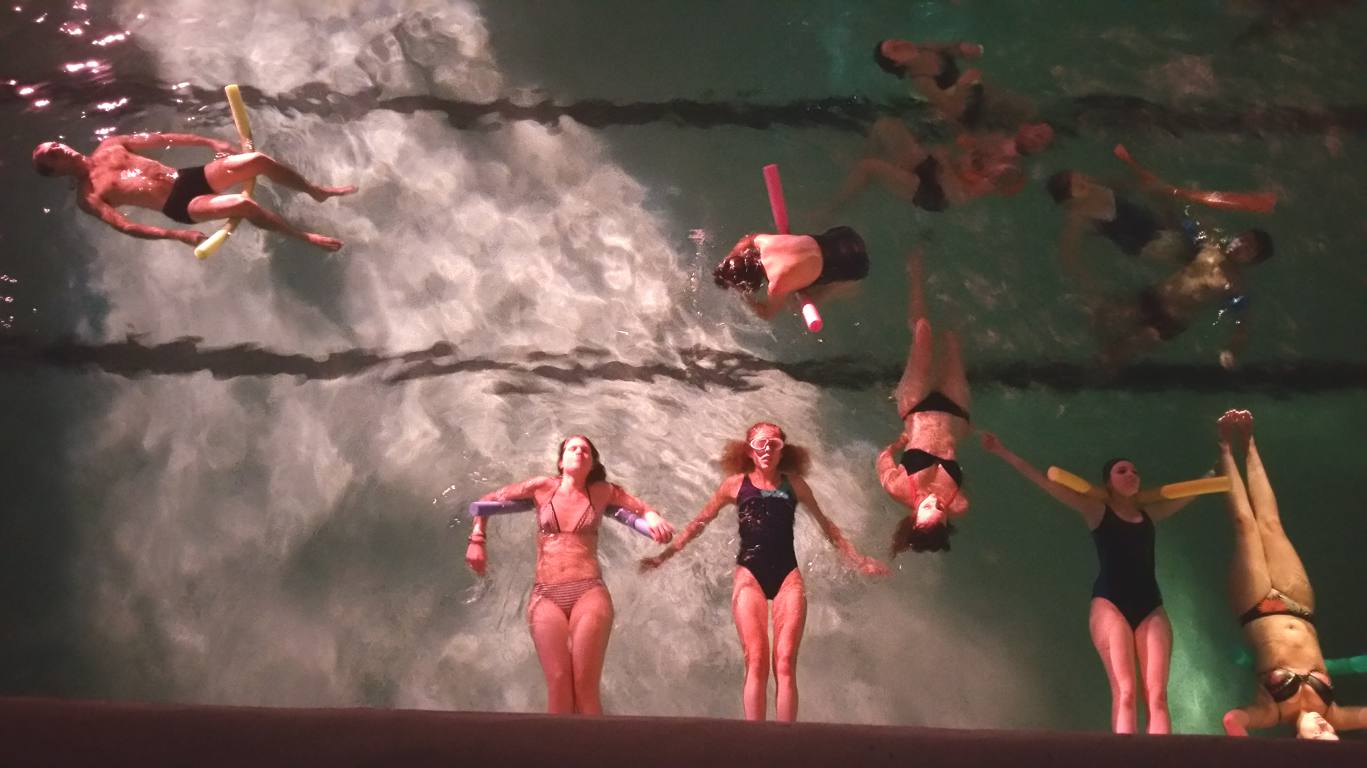 About the Event
Wet Sounds Didsbury, underwater sound event at Withington Baths. Dive into otherworldly sounds underwater at the pool.
Sound is played through distinct underwater and over water speakers. Above the listener hears sound interact with the sounds of the pool, reverberant and public. Diving into the watery depths, the listener is immersed in sound which is incredibly intimate, clear and detailed heard '..as if it comes from inside your head'.
Sound travels 4.5 times faster in water than it does in air. This cancels directionality in water as the brain does not notice the slight differences in the arrival time of the sound at the two ears. Sound is also perceived through direct vibrations of the nerve in the inner ear which gives the sensation of hearing, therefore it bypasses the outer and middle ear hearing mechanisms. Wet Sounds has had accounts of positive feedback from people hard of hearing that they can hear the sounds underwater.
Wet Sounds, created by Joel Cahen, first toured 10 cities in the UK in July 2008. Opening at in the London Fields Lido in Hackney and closing there with a performance of NURSE WITH WOUND and ANDREW LILES as part of the Cultural Olympiad's CREATE Festival.
Since then, Wet Sounds continued to install at various UK and International festivals (All Tomorrows Parties, ISEA, Ultima, AV Festival, Spor Festival, Mutek, Elektroni(k), Scopitone, Nordic, Insomnia, Brighton Science Festival, Mackay festival of the Arts and more) as part of European City of Culture events in Tallinn (2011)and Ruhr Valley (2010) and tours in the UK three times, Scandinavia and Normandy.
Follow this link for an article in The Guardian from when the work first emmerged.
About Artist
Joel Cahen was born and raised, to a certain extent, in Israel, and currently lives and works in London. He is an audio and visual practitioner and curator and organiser of experiential art events.
Since 2002 he has been organising multi-disciplinary art events in London, singular music events and events series such as Evil Art (2002 – 2004), The Wormhole Saloon at the Whitechapel Art Gallery (2005 – 2006), Scrap Club, public Destructivist art activity (2007 – ongoing), Wet Sounds, underwater deep listening (2008 – ongoing) and most recently the sound-based augmented reality project Interzone Theatre (2012 – ongoing)
Joel is co-founder and artistic director of the charity Liquid Vibrations set up to provide underwater listening sessions to children and adults with special and complex needs.
Joel has collaborated as a sound designer, musician and video artist on stage, film and installations as well as independent artists works since 2003 – full list available on pdf link above. He also has been leading workshops on sound post production and location sound recording.
His long-running weekly radio shows on London's Resonance 104.4FM (2005 – present) explores live improvised sound collage, cacophony and plunderphonics.
He works on sound installations and performances in public spaces such as libraries, swimming pools and galleries. His work was exhibited/performed across Europe, Australia and North America at ISEA, AV Festival, All Tomorrows Parties, The Whitechapel Art Gallery, Tate Britain, Ultima Festival, Helsinki Festival, Elektroni(k) and more
Find out more about wet sounds here: www.wetsounds.co.uk
Didsbury Arts Festival has commissioned this work as part of its 2017 festival for which the theme is 'Roots'celebrating Didsbury's rich history, creativity and cultural diversity. This work will be one of 6 new works commissioned for the festival on this theme with support from Arts Coucil England.