Description
Student Street Photography Shoot
Saturday 1st July 2017, 10.30am – 12.30pm
Meet at Marzano Café, The Forum, Norwich
£5 - Must present student ID
13-18 years old? Enjoy photography but not sure how to get the most out of your camera? Or maybe you just want to try something new.
Join us on a short walk around Norwich City Centre where you can learn new skills, capture our fine city, and simply enjoy photography with other like-minded young individuals.
Starting at Marzano Café (The Forum, Norwich), Wex Staff will run through your camera settings including how to use manual mode, finding the right composition, optimising exposure and much more.
Next, apply your new found skills across the city. It's all about spotting those hidden shots and angles, developing your own style, and increasing your confidence as a photographer.
Experienced Wex Event leaders Tom Stone and Josh Brown will help you with any questions you have and show you how to hone your photographic skills. Having led many events for young photographers including workshops at schools and a camera club for young photographers, Tom and Josh will be able to help you regardless of experience.
We look forward to seeing you there.
Read what the students said about the workshop at last year's Norfolk Art Festival:

Really good, they were very helpful and I think we all learned a lot.

Everyone was lovely.

The Wex staff were really helpful, friendly and knowledgeable.

The WEX staff were incredibly helpful and very friendly too. I can be very shy but they were very nice and helped me a lot with working with the lighting and other obstacles.
In association with the Young Norfolk Arts Festival: ynaf.org.uk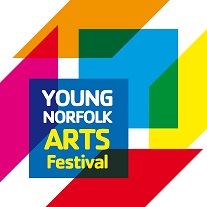 Please note for this event you must bring your own DSLR camera. Cameras must have a manual option so iphones, tablets or compact cameras will not be suitable for this event.
This event is for young persons aged 13-18 only. If you are a tutor, parent or guardian booking on behalf of an attendee(s) and/or would like to attend the event in support of this, you are of course welcome. However, we ask that you inform us of this prior to the event via the 'additional information' box on the Eventbrite booking form or by emailing events@wex.co.uk. This is to ensure all contact information is correct and up to date on the day.