Description
Wex Walkabout - Close-up and Macro Fungi with Victoria Hillman
£15 per person
Wednesday 26th October: 9am-12pm or 1pm-4pm
Holt Country Park, Hempstead Road, Holt. NR25 6ES.
Join wildlife photographer and Manfrotto Ambassador, Victoria Hillman, on a photowalk around Holt Country Park and woodlands near Norwich. This Walkabout is aimed at introducing you to the challenging subject of macro photography, specifically fungi. The woodlands at Holt Country Park are rich with a variety of fungi waiting to be discovered and photographed!
Walkabouts are very relaxed workshops - you will be given tips and advice to get you started and some technical support from the Wex team, and importantly, Walkabouts give you the chance to spend time on your favourite hobby with likeminded people and maybe try something new!
Spaces are limited to 15 each session to ensure everyone attending can enjoy a relaxed and informal session. Above all, the aim is to have fun and take this opportunity to ask any questions you may have!
You will need:
Your DSLR with lots of memory and a spare battery. You may like to use a compact or bridge camera with a macro capability.
A tripod. Some tripods will be available to borrow on the day, courtesy of Manfrotto.
Manfrotto Lumies rather than flash and small reflectors- some will be made available to borrow.
Any macro lenses or close up filters you have.
Please dress appropriately for an outdoor shoot in a woodland in October.
Refreshments are not provided or readily available on site so please bring your own snack and drink if you wish.
Please note, because of the subject matter you will need to be physically capable of getting up and down off the ground to set up your shoot.
For top tips on this subject, also check out Tom Mason's blog article: www.wexphotographic.com/blog/how-to-photograph-fungi

NEW for 2016 we are delighted to inform our Walkabout customers that each will receive a discount voucher! Get 20% off Manfrotto, 20% off Lastolite or 10% off Gitzo! One voucher per customer. You must book so we have your email address in order to qualify. Vouchers will be handed out at the event. Terms and Conditions apply- see voucher for further details.
In 2016 we will be charging £15 each for all our Walkabouts, from which a minimum of £5 from every ticket will be donated to our chosen charity EACH (East Anglia's Children's Hospices). This cost covers any entry fees for the sites we visit as part of our Walkabouts. If you'd like to know more about this or our chosen charity, please don't hesitate to email events@wex.co.uk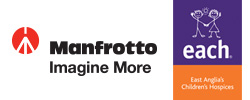 What is a Walkabout?
After a hugely successful first year we will be repeating our Walkabout programme in 2016 and making it even bigger and better.
Walkabouts offer you the opportunity to get out and about with your camera, meet up with your local photographic community and learn a few new skills whilst you're at it. Every month, the Wex team will be at a new venue with a different lead photographer, focusing on a different subject with a unique set of challenges. Walkabouts are all about enjoying and developing your photographic hobby in a relaxed, informal environment.
Unlike our photography workshops, Wex Walkabouts are completely informal, have no minimum group size and are not dependent on your ability or gear – wherever possible, we will bring along a range of kit you can borrow. All you need is your DSLR or compact system camera and some clothing suitable for the great outdoors! There are no specific steps or learning outcomes – the walkabouts will give you the challenge of a new environment and a new subject, all supported by an experienced pro photographer.
Regardless of your skill level or kit, Wex Walkabouts are for you – whether you want to try something new or just meet other likeminded enthusiasts!