Description
Waltham Forest Council of Mosques (WFCOM) is holding it's 3rd Excellence Awards Ceremony to recognise the achievements of outstanding individuals and organisations within the Muslim Community of Waltham Forest.
The following categories will be recognised: Entrepreneur/Business, Education Services, Young Hafiz, Sister of the Year, Sports Achievement and a Special Award.
An independent panel of judges will decide the winner of each category. Awards will be presented at an inspirational evening which will include nasheeds, comedy, karate display and a 3 course meal.
Organiser of WFCOM Excellence Awards Ceremony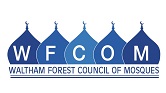 Waltham Forest Council of Mosques is an umberella organisation of ten of the main mosques in Waltham Forest that work together to deal with issues impacting the Muslim Community in the borough.
The members include Chingfors Mosque, Faizan-e-Islam, Leyton Jamia, Leytonstone Masjid, Masjid Abu Bakr, Masjid Al-Tawhid, Masjid-e-Umer, Masjid-e-Usman, Noor Ul Islam and Waltham Forest Islamic Association.