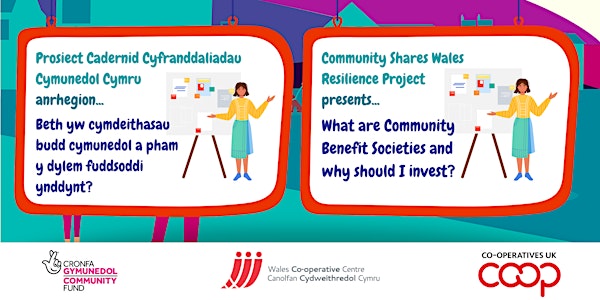 What are Community Benefit Societies and why should we invest in them?
Discover how community benefit Societies transform buildings, land and other community assets through local investment and involvement
About this event
In 2021 communities across Wales have raised £931,383 from 1777 investors to take ownership of the local buildings and businesses that matter to them. They have done this through the community benefit society structure, and yet it is still lesser known than other forms of social enterprise such as a Community Interest Company or a charity.
In this session we will answer questions such as:
Is this a legitimate structure to invest in?
How can this structure have shareholders and still be 'not for profit'?
What are the reasons to support a community benefit society?
Experts from Co-operatives UK and the Wales Co-operative Centre will provide information to myth-bust the frequently ask questions and concerns about community benefit societies and showcase how they can empower communities.
-----------------------------------------------------------------------------------------------
Beth yw cymdeithasau budd cymunedol a pham y dylem fuddsoddi ynddynt?
Yn 2021 mae cymunedau ledled Cymru wedi codi £931,383 gan 1777 o fuddsoddwyr i gymryd perchnogaeth o'r adeiladau a'r busnesau lleol sydd o bwys iddynt. Maent wedi gwneud hyn drwy'r strwythur cymdeithas budd cymunedol, ac eto mae'n llai hysbys o hyd na mathau eraill o fentrau cymdeithasol megis Cwmni Buddiannau Cymunedol neu elusen.
Yn y sesiwn hon byddwn yn ateb cwestiynau fel:
A yw hwn yn strwythur cyfreithlon i fuddsoddi ynddo?
Sut gall y stwythur hwn gael cyfranddalwyr a pharhau i fod yn 'ddielw'?
Beth yw'r rhesymau dros gefnogi cymdeithas budd cymunedol?
Bydd arbenigwyr o Co-operatives UK a Chanolfan Cydweithredol Cymru yn darparu gwybodaeth i chwalu'r mythau sy'n codi o'r cwestiynau cyffredin a'r pryderon am gymdeithasau budd cymunedol ac yn arddangos sut y gallant rymuso cymunedau.