About this Event
About this DMC Informal Meet-Up - Part 1
What: Informal drop-in sessions on understanding what facial recognition & deepfakes are, its dangers & its potential for creative empowerment.
This is a Facial Recognition & Deepfakes R&D and team building meet up aims to support a community of interest which connects collaborative interests and projects together. The meet up requires everyone involved to contribute. Please bring your ideas, questions or something to talk about, show, demo (optional) or just observe and get involved when you can.
We will be joined by a representative from Privacy International.
When: Wednesday 8th January - 5pm - 7:30pm
Where: The Playground, Centre for Social Enterprise, 1 Wilson Road, London, SE5 8LU
Who: Primarily this drop-in is for UAL staff, students & alumni although we are also interested in welcoming industry professionals who can offer support to the group.
Skills/requirements: No specialist knowledge required, just a willingness to research, self-directed learning, try stuff out, work with others and share with others at regular meet-ups.
Aim: To build an informal network of UAL staff, students & alumni to collectively explore Facial Recognition & Deepfakes
Goal: Work on UAL related projects, collaborate with partners (Child Rights International Network) and to showcase work in progress R&D at Tate Modern March 3-8 #Uni2Unicorns event.
Contact: Chris Follows, CCW Emerging Technologies Lead, University of the Arts London, Camberwell, Chelsea & Wimbledon (CCW) Mobile: 07703887845
About Digital Maker Collective
The Digital Maker Collective (DMC) is a volunteer led, informal Research & Development (R&D) group, made up of University of the Arts London UAL staff, students, alumni who share common goals in exploring digital & emerging technologies in the context of arts practice, education, society and the creative industries.
https://digitalmakercollective.org/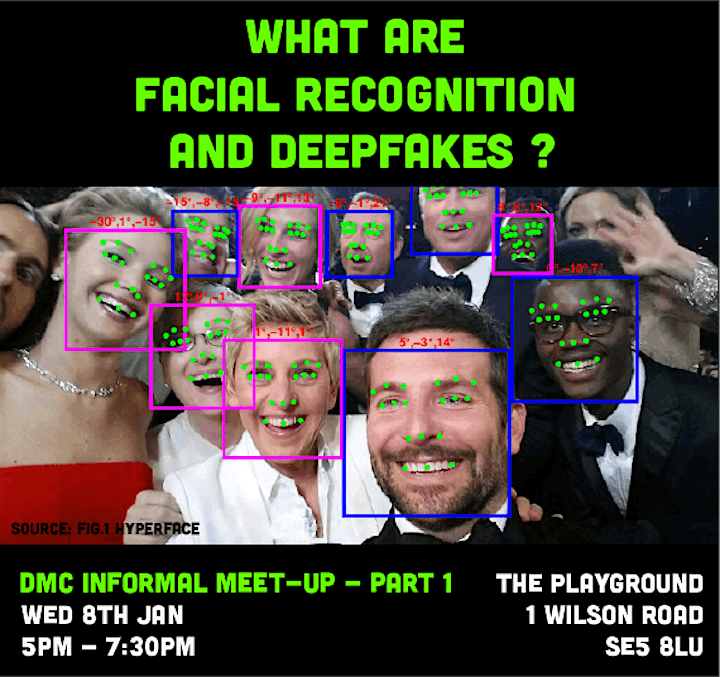 Uni to Unicorns Event 3-8 March 2020
Unpack the creative power of the tech industries and explore where the art world meets the tech world
The UK is third in the world for producing successful tech companies and unicorns, which are privately-owned tech companies valued at over $1bn. UAL are at the centre of this tech revolution, yet the gap between tech business/giants and everyday society is continually widening. How do we reconcile this gap and bring the tech world into arts, but equally important, how do we bring arts creatives into the world of tech?
Join the University of the Arts, UAL Digital Maker Collective and guests from the creative and tech industries. Help us transform Tate Exchange into an open and accessible 'Test Bed' for creative tech. A place for all to explore, question and learn about the world of tech business and future technologies. Come chat and get hands on in the Immersive CoLab space and Co-Creation Studio, help define the future of new immersive arts from location-based experiences to holographic entertainment and question the world of tech from facial recognition to the smart city.
Full event programme including collaborators and guests contributions will be regularly updated on the event website. See the new event website: http://uni2unicorns.info
We are looking to collaborate with some amazing tech organisations, and are currently working on exploring three main themes below:
Collaborative Studios:
Come chat & get hands on with the Digital Maker Collective, UAL staff, students & our guest tech industry collaborators, creative innovators & community organisations. See creative tech prototypes & projects in progress, also start to prototype, develop & test your ideas out with others !
Immersive CoLabs:
Explore spatial computing, virtual, augmented & extended reality
Help us explore the future of new immersive arts from location based experiences to holographic entertainment.
CO-CREATION Studios:
Better understand the wide world of tech, from the power of creative data, facial recognition or the smart city to deepfakes.
Develop your own creative ideas and prototypes?
Please look into all the above potential collaborators, and email c.folllows@arts.ac.uk if you are interested to find out more about potential related projects/work ideas in progress.
https://www.tate.org.uk/whats-on/tate-modern/tate-exchange/workshop/uni-unicorns