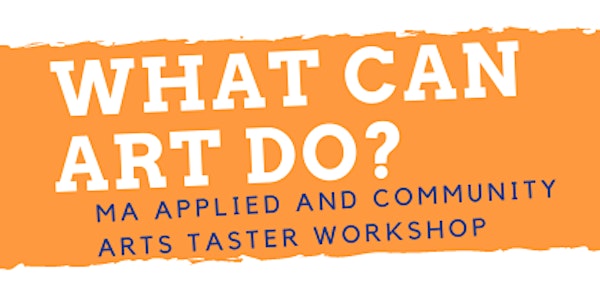 What Can Art Do? // an MA Applied and Community Arts taster workshop.
Location
University of Bolton
A676 Deane Road
Bolton
BL3 5AB
United Kingdom
What can art do to bring about social change? A free taster workshop for anyone interested in studying applied and community arts.
About this event
Can arts create social change?
How do we use art to make a difference in our communities?
Can we combine the arts and social justice?
These are the kind of questions applied and community arts practitioners ask. In this workshop we will challenge whether art can change society, and think about meaningful practice we can do in community contexts.
This event is suitable for undergraduates or graduates interested in working with communities who specialise in any art form, including theatre, fine art, textiles, graphics, media and photography.
The workshop will provide a taster session for those interested in studying on our postgraduate course, MA Applied and Community Arts.
Studio 2,
T4, Eagle Tower (Please use Chancellor's Mall entrance).
University of Bolton, Deane Road, BL3 5AB
For more information on the University of Bolton's MA Applied and Community Arts please visit https://www.bolton.ac.uk/course/ART023-F-UOB-MX