What can discoveries at Wharram Percy teach us about Thornton-le-Street?
What can the discoveries made at Wharram Percy teach us about medieval Thornton-le-Street? - Al Oswald, University of York
About this Event
Thornton-le-Street History Group - RTTP is delighted that Al Oswald will lead a one hour webinar about Wharram Percy.
Wharram Percy in North Yorkshire is undoubtedly the best known deserted medieval village in Europe, made famous by decades of research and by the involvement of students and volunteers from around the world. It is also one of the best understood sites of its type, although only a fraction of the total area of the village has been excavated and many important questions have yet to be answered. Notably, Wharram Percy has several points in common with Thornton-le-Street: for example, its church is the only medieval building still standing; the character of the Anglian occupation remains obscure; and it is likely that the earliest settlement took root on the line of a much earlier road.
So what can the discoveries made at Wharram Percy teach us about medieval Thornton-le-Street and the potential for future investigations here?
Al Oswald is an archaeologist currently at the University of York, and until 2012 led English Heritage's Landscape Investigation team for the North of England. Al specializes in 'field survey' - the discovery and interpretation of historic features using evidence that can be seen with the naked eye. He has appeared several times on TV and has written books on sites and landscapes spanning the Stone Age to the Cold War.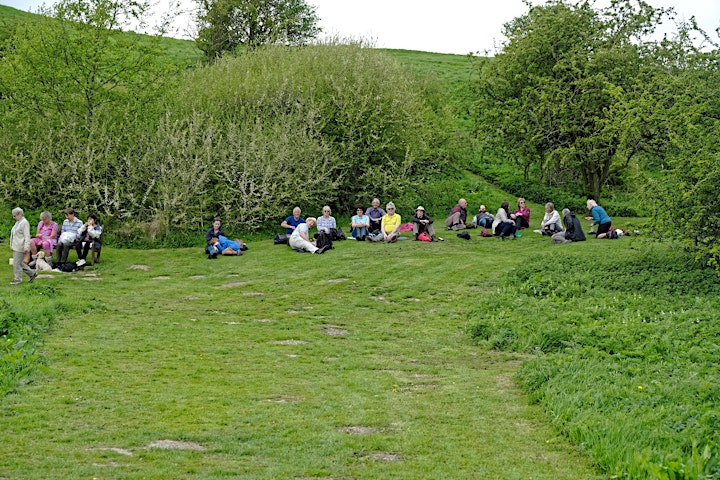 Members and volunteers of Thornton-le-Street History Group enjoying a guided tour of Wharram Percy in 2018
How can I find out more about Thornton le Street History Group?
Check out our social media links below or visit our website
How can I support Thornton-le-Street History Group or become involved with the project?
• You could buy a copy of our first book! Details below
• We welcome donations towards our future projects. Please email for details
• Book a place on a forthcoming webinar or watch our online videos
• Join our e-mailing list to keep up to date with our events and projects
Social Media
twitter: @TLSBigDig
youtube: tls RTTP
Eventbrite: http://tlsrttp.eventbrite.com
Book offers
Our book, "Thornton-le-Street - The History and Archaeology in its Landscape" (40 pages) is now available. We hope you enjoy reading about our journey through time in Thornton-le-Street! £5 each or £6.50 incl. p&p
Copies of Prof Chris Gerrard's book "Lost Lives: New Voices Unlocking the Stories of the Scottish Soldiers from the Battle of Dunbar, 1650" (325 pages) are £15.00 each + £3.50 postage & packing.
The price for one copy of both books is £20 + £3.50 p&p
Please email steeringgroup@thorntonlestreetbigdig.com giving your postal address and saying what books and how many copies. We will then send you payment details.