Description
What did European research funding ever do for us?
Part of British Science Week and European Research Council (ERC) Week
Alumni Auditorium, Forum, University of Exeter Streatham Campus
Monday 13 March 2017, 19.00 - 20.30
Event information
Everyone is invited to attend four exciting public talks from University of Exeter researchers on Monday 13 March. The event is both a part of British Science Week, and part of celebrations for the European Research Council's 10th anniversary.
We've lined up four exciting topics ranging from rice diseases to diabetes, and women in leadership to post-Brexit regulation for you to discover and discuss. Each of the presenters has received European Research Council funding within the past five years, and they'll be giving you a flavour of their work and the impact it has had.
The University has received more than €55 million in the past 5 years to fund 35 European Research Council projects, and we collaborate with EU and international organisations in many other ways to address globally significant issues.
We hope these short talks will be an informative way to get a snapshot of the sort of activity the ERC have funded in the past ten years, and will continue to fund in the future.
Following these short talks there will be an opportunity to ask questions.
Use #ERC10yrs and #BSW17 to find out more about ERC Week and British Science Week on social media.
If you want to hear more about ERC funded work at the University of Exeter. have a listen to our podcasts.
Speakers:
"Nobody was fat during the war!" How do our genes cause obesity and diabetes in today's environment?
Tim Frayling, Professor of Human Genetics
Tim Frayling runs a team of University of Exeter scientists based at the Royal Devon and Exeter NHS Trust.
This team is trying to unlock the secrets in our DNA that mean some people become obese whilst others remain slim, and why some overweight people develop type 2 diabetes whilst others remain healthy.
The challenges of leaning in: Women's ambition, sacrifice, and risk-taking
Michelle Ryan, Professor of Social and Organisational Psychology/ Dean of Postgraduate Research and Director of the University of Exeter Doctoral College
There has been vast improvement in workplace gender equality, but there remain marked differences in the roles in which women and men work. There are of course some women who make it to the top, and their success has been taken as evidence that the glass ceiling is broken and thus remaining inequality must be due to women's active choices - Are they ambitious enough? Do they make sacrifices for their careers? Are they willing to take risks?
Indeed, in her bestselling book Lean In, Cheryl Sandberg, COO of Facebook, has suggested that gender equality necessitates women overcoming 'their internal obstacles', 'taking a seat at the table' and making the right choices (Sandberg, 2013).
While recognising that the rhetoric of Lean In is potentially empowering, Michelle will present research conducted in collaboration with businesses that demonstrates that structural barriers continue to constrain women's career choices.
Fixing regulations
Claudio Radaelli, Professor of Political Science, Jean Monnet Chair in European Public Policy, Director, Centre for European Governance
Rules and regulations are essential to a sustainable economy and society. However they also generate burdens. Bad rules stifle growth. This is why the regulatory reform agenda has become a priority for the government. Brexit provides both opportunities and challenges in terms of getting regulations right.
In his presentation Claudio will reflect with the audience on his research on regulatory reform, sharing case studies of how a recent project carried out with Prof Claire Dunlop, also at Exeter, have generated engagement with policy-makers and a new type of 'regulatory conversation'.
On the trail of the cereal killer: Combatting the world's most serious rice disease
Nick Talbot, Professor of Molecular Genetics and Deputy Vice-Chancellor (Research and Impact)
Rice blast disease is the most serious disease affecting rice production globally and each year destroys enough rice to feed 60 million people. The world needs solutions to this devastating disease, but these can only come from a detailed understanding of the biology of blast disease.
The GENBLAST project set out to enable a completely new level of understanding of how the rice blast fungus, Magnaporthe oryzae, infects a plant. We have identified some of the major regulatory pathways responsible for infection-related development by M. oryzae, investigated how special infection cells called appressoria function, characterized the host-pathogen interface in unparalleled detail, and identified a large repertoire of effector molecules responsible for suppression of plant immunity.
Through the generosity of this ERC Advanced Investigator Award, a new fundamental understanding of the molecular basis of plant disease has been facilitated. Results from the project will be presented, as well as an evaluation of how they may provide better strategies for disease control across the world.
Venue information
Forum Alumni Auditorium, Streatham Campus
For maps and directions please visit this page.
We intend to record this event. Please register your interest in a recording link via the registration form.
Registration
Please register using the 'register' link on this page.
If you wish to register without using Eventbrite by email or phone please contact research-events@exeter.ac.uk or 01392 722321.
Programme
18.30 - doors open
19.00 - Professor Tim Frayling
19.15 - Professor Michelle Ryan
19.30 - Professor Claudio Radaelli
19.45 - Professor Nick Talbot
20.00 - Q&A session
20.30 - End of event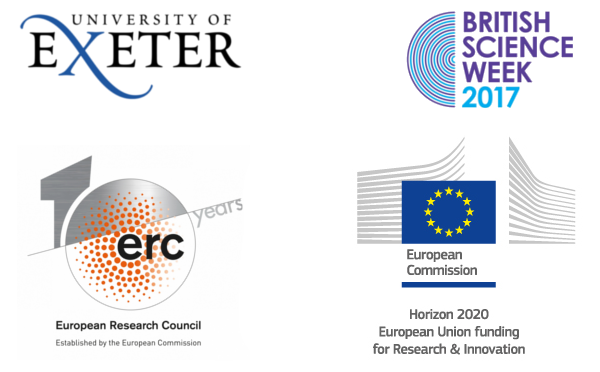 Organiser of What did European research funding ever do for us?