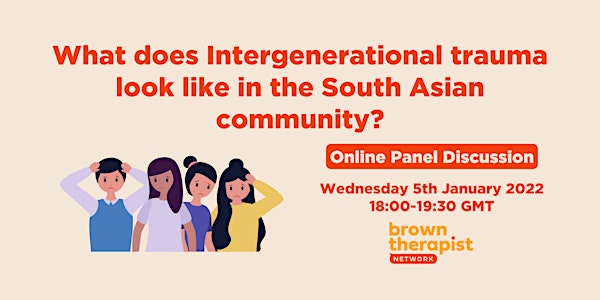 What does Intergenerational trauma look like in the South Asian community?
Intergenerational trauma is a phrase that gets thrown around a lot - but do you know what this really looks like in a south Asian context?
About this event
Have you ever wondered:
How can intergenerational trauma present in a clinical context?
What therapeutic approaches work with a client presenting with intergenerational trauma?
What can intergenerational trauma look like in particular south Asian communities?
What does the current research tell us about how it can affect us?
Does intergenerational trauma growth exist?
Then you're not alone. Understanding and working with intergenerational trauma is not easy! This is especially the case when research in this area has predominantly focused on European, Native American or Maori communities.
Tune in to watch our panel discuss intergenerational trauma in a south Asian context.
Join the conversation via the YouTube chat and ask your questions to our panel directly.