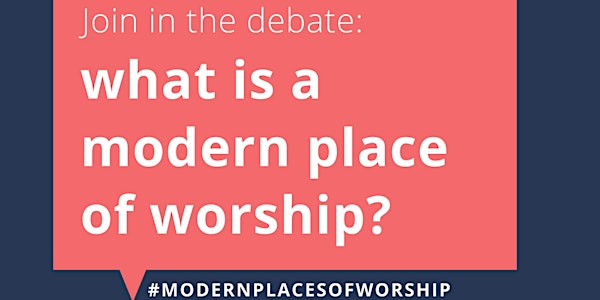 What is a Modern Place of Worship?
Location
University College London
Room G03, Department of Geography
26 Bedford Way
London
WC1H OAP
United Kingdom
Description
In this debate, we explore the future of places of worship in the UK, and ask what is a modern place of worship?
Perhaps uniquely, places of worship can be found in nearly every village, city or town across the UK. They have historically reflected not only our evolving religious practices and a place to come together, but also our advances in art, architecture and technology. Today, places of worship face fresh challenges. Our lifestyles are changing. Innovations in design and technology are adapting the way we live, work and play. An environment of fear and suspicion is leading to the increased securitisation of places of worship. Rising building costs are placing pressure on congregations. Finally, a strong emphasis has been placed on the role of faith spaces as facilitators of social integration, the frontline against extremism, or as providers of local services or welfare provision.
The panel is invited to explore these issues, and consider what they mean for the future of places of worship in the UK? What opportunities do they present - from new technology and design practices, to shared spaces and innovative community initiatives. What is a Modern Place of Worship?
The event will be opened by Lord Bourne, the Minister for Faith, followed by provocations from a panel to include:

Chair - Professor Francis Campbell, Vice Chancellor St. Mary's University and Her Majesty's former Ambassador to the Holy See

Bishop John Wilson, the Auxiliary Bishop of Westminster

Baroness Sayeeda Warsi

Cindy Walters - Founding Partner and Award Winning Architect at Walters and Cohen

Tanmanjeet Dhesi, Member of Parliament for Slough
We're also pleased Architects Mangera Yvars, and Jasvir Singh, Chair of City Sikhs will join us to share their views.
The event is free and open to anyone interested in exploring the future of places of worship and their place in our communities.
Please consider arriving early to view the 'Architectures of Shared Space' - models and exhibits on display from a collaborative architectural design project between students from schools in Ealing, West London; architects Mangera Years and academics from the departments of geography at UCL and Royal Holloway. https://makingsuburbanfaith.wordpress.com/projects/brentside-high-school-architectural-project/. The project was funded by the Arts and Humanities Research Council as part of the Making Suburban Faith Project. https://makingsuburbanfaith.wordpress.com
**********
This event is the final debate in the Foundation's UK-wide series - part of the Modern Places of Worship project. The findings of the debates will be shared in a report to be launched in 2018. Find out more here.
It is being held in partnership with UCL, City Circle and City Sikhs. City Sikhs is one of the leading Sikh organisations in Britain - with over 7,000 members throughout the UK.
********
Please note: At the debate we will be collecting data (including audio and photography) that will be used for educational and research purposes, including publication. If you would like more information on this, please get in touch with: The Baroness Warsi Foundation or Empowering Design Practices.
---