The last 12 months has been unprecedented for businesses - a real rollercoaster ride - the HR function (you) have been at the sharp end!!
About this Event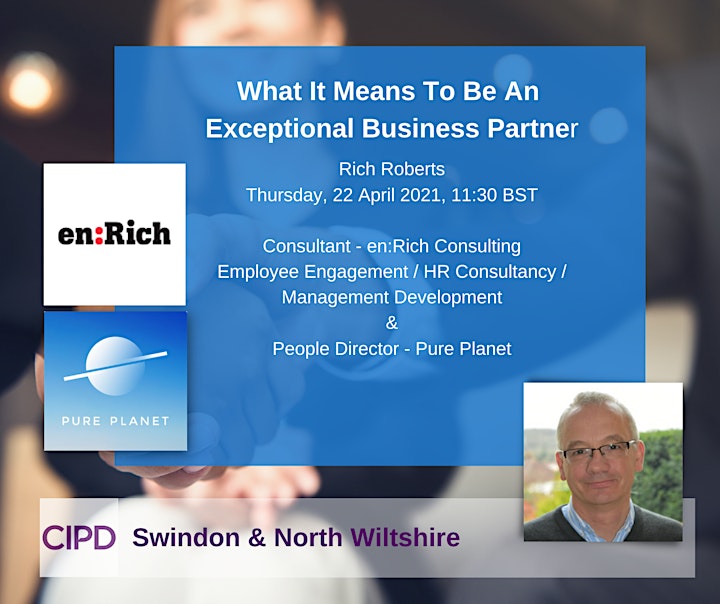 Due to the current Covid-19 situation, we will deliver this event as a webinar. Thank you for your support and understanding at this time.
What is means to be an exceptional Business Partner - Presented by Richard Roberts - People Director at Pure Planet
Event details:
The last 12 months has been unprecedented and for businesses in particularly it has been a real rollercoaster ride and challenging time. If there was one function right at the 'sharp end' of what is going on in our organisations, HR must be a strong contender. As we experience remote working, furloughing, redundancy, concerns about mental health and wellbeing, new ways of working it is often HR that is there to guide and advise our employees, line managers and leaders.
Despite all that's been thrown at us, it's a good and exciting time to be in HR. We are seeing more of an appreciation for HR. We are becoming more visible and more credible which is clearly strengthening HR's reputation. In a recent survey ran by Sage 72% of HR leaders believe that the crisis has helped them demonstrate their value and increase understanding of the HR role. 65% of HR leaders also said their teams have had a vital role to play in the pandemic, driving change, enabling remote working and supporting wellbeing. Our HR teams now have a great opportunity to really make a difference in an organisation and add value.
In this seminar we will explore how we can take advantage of our new role by being an exceptional Business Partner. We will look at some of the key elements that are required. We will look at what you can do and what key skills you need to develop to be seen as a HR professional that has credibility, can really make a difference and take advantage of this opportunity.
About our Speaker - Richard Roberts
Many people will know Rich as an employee engagement specialist, creating passionate and productive teams. But he wears a generalist HR hat too. He is the People Director in a business that has seen many of the challenges we've all faced as HR practitioners. He is also an optimist. He firmly believes that we will look back at this period of time as the great transition for HR. A time where we change from being (unfairly) seen as operational, doing 'all the people stuff', to becoming a function of strategic importance.
Formerly HR Director and Head of Employee Engagement at Virgin Mobile, he is currently the People Director at sustainable energy provider Pure Planet. He also runs employee engagement consultancy, enRich.
He presents at UK and international conferences on the topics of employee engagement, culture and employer branding, drawing on his experiences at Virgin Mobile, Pure Planet and other organisations.
Additional Information:
Please note this event may be recorded for future viewing. By registering for and attending this event, you are voluntarily acknowledging and accepting this may be a recorded event.
Coronavirus:
The CIPD is providing Coronavirus advice to Employers both online and in the media. You can find up to date information on the CIPD's website "here".