What is the ROI of Customer Experience? We know it needs to be proactively managed but how do you do this? Join the discussion!
About this event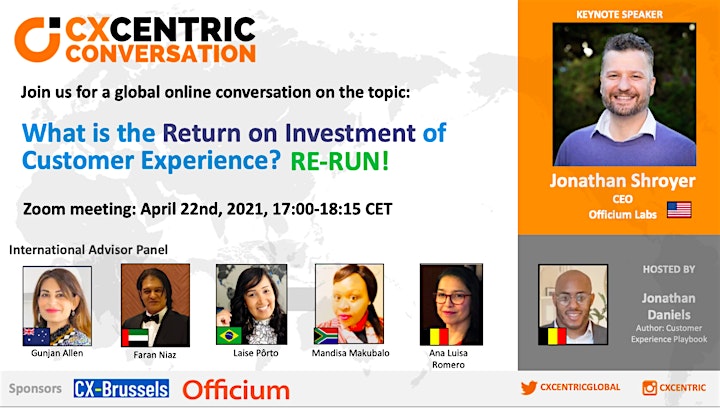 Join Zoom Meeting: https://us02web.zoom.us/j/89244660928
Meeting ID: 892 4466 0928
We are re-running this event. We had to! Unfortunately, we had some technical issues during the last event which stopped some people from getting in. In addition, those who made it to the workshop got so much out of it, so we are keen for others to benefit from this experience.
A year we held a very successful session on the Return on Investment of Customer Experience. Over the last year there have been a great deal of advancements in this area, and Officium Labs have been at the forefront. Hence we thought it only right to dive deeper and get a refresh on this topic.
In this CX Centric Conversation we will hear from Jonathan Shroyer, CEO of Officium Labs. He will share case studies where he has demonstrated the ROI of Customer Experience initiatives.
CX Centric Conversations are international interactive discussions centered around customer experience. In this session Officum Labs will also share the framework they use to manage, present and track ROI on their projects.
As usual we have curated panel members representing each continent including:
Ana Luisa Romero - Belgium, Europe
Faran Niaz- UAE, Asia
Gunjan Allen - Australia, Australasia
Laise Porto - Brazil, South America
Mandisa Makubalo - South Africa, Africa
Nate Brown, Officium Labs - USA, North America
These conversations are hosted by Jonathan Daniels, CX Centric.