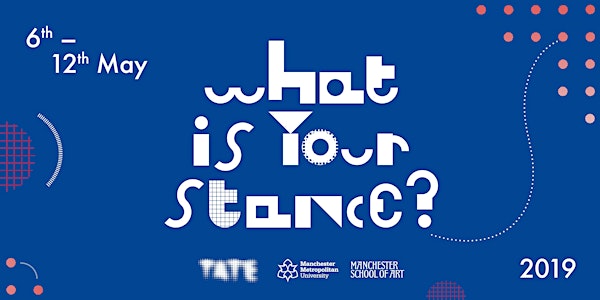 Event Information
Location
Tate Liverpool
Albert Dock
Liverpool
L3 4BB
United Kingdom
What Is Your Stance? is an open social space with workshops and drop-in activities.
About this event
What Is Your Stance? engages with artworks on display at Tate Liverpool and asks: How can art inspire change in our everyday lives? and How can art help us understand who we are?
Drop in to the space and play Find Your Stance, a game designed to spark conversations and personal reflection. What is important to you? What would you like to change? Share your ideas and become part of this evolving social map.
Everyday at 2PM- from the 7th until the 11th of May – we have invited a range of speakers to take part in a series of workshops, activities and conversations all exploring how art and creativity can inspire change in our everyday lives. Please book a seat by 'Tickets'.
Our gallery map links some of the artworks on display to aspects of our everyday lives, offering new ways to think about how art connects to and invites us to consider our own personal stances.
Follow us on Instagram @whatisyourstance and Twitter @whatisurstance and share your experience on social media with #whatisyourstance.
What Is Your Stance? has been developed by BA(Hons) Art History and Curating students and staff from Manchester Metropolitan University.
Calendar for the workshops–
Design Your Stance with Georgia Burns
6th May Monday 2-3pm
Respond to the events themes using a palette of geometric shapes. Create tactile, graphic and playful compositions to illustrate your response in this family friendly workshop.
Conversation with Mor Cohen
7th May Tuesday 2-3pm
Mor Cohen is a PhD student at the Postgraduate Arts and Humanities Centre at Manchester Metropolitan University and a Contextualise Practice seminar tutor at Manchester School of Art. Her current research examines collaborative and socially engaged art practices in contemporary Israel. It aims to expand on the existing Western-oriented research on socially engaged and collaborative art theory and practice and to develop an alternative framework in which to understand the intersection between art and politics in Israel.
Conversation with Dr Jessicarr Moorhouse
8th May Wednesday 2-3pm
Jessicarr is an NHS Doctor, with a background in Physiotherapy and a Personal Trainer. She is the founder of TRIBE.MCR®, an innovative health and wellness brand focusing on all aspects of health. From Outdoor Personal and Group Training, right through to Corporate Wellness, TRIBE.MCR® harnesses the power of movement a and exercise to promote all aspects of health.
Conversation with Morag Rose
11th May Saturday 2-3pm
Morag Rose is a lecturer at the University of Liverpool and a founding member of the Loiter's Resistance Movement and a Manchester based collective interested in psychogeography, public space and uncovering the secret stories of the city. Morag will share creative approaches to the everyday experience of exploring the city's streets.
Date and time
Location
Tate Liverpool
Albert Dock
Liverpool
L3 4BB
United Kingdom