The third meeting of Sheffield's What Next? chapter will focus around Environmental Sustainability and the Arts
About this event
What Next? is a national movement bringing together arts and cultural organisations from across the UK, to articulate, champion and strengthen the role of culture in our society. Sheffield Creative Guild is proud to act as chapter chairs for What Next? Sheffield.
Each local chapter feeds into the national work of the movement through a series of meetings at which members of the creative industries (and anyone with an interest in and passion for the arts) can come together to share, debate and take collective action on issues facing the local and national cultural sector.
The third meeting of the Sheffield Chapter of What Next? will take place in collaboration with Foodhall on January 21st 2020 and is free for anybody to attend. Join us for a communal meal and genuinely open discussion, whether or not you were able to attend the previous meeting
The topic of our third meeting is Environmental Sustainability and the Arts.
The discussion will be hosted by Malaika Cunningham (The Bare Project) and Nick Nuttgens (Dead Earnest)
Malaika is the Artistic Director of The Bare Project, with whom she has directed over 10 productions from sprawling immersive theatre pieces with over 50 performers to intimate studio shows. Alongside this she regularly works with Cardboard Citizens (as a trained forum theatre facilitator) and has worked with Invisible Flock and METIS Arts (as a performer and artistic collaborator). In 2013 she began the Sheffield chapter of What Next?. She completed the Clore Emerging Leaders course in Spring 2015 and was a founder member of the Sheffield Creative Guild.
Alongside her practical directing work she is currently working towards a PhD at the Centre for Understanding Sustainable Prosperity (University of Leeds), exploring the role of participatory theatre practice in creating democratic spaces.You can read the minutes from our last meeting, when we discussed Mental Health and Wellbeing for Those Working the Arts on our website: https://sheffieldcreativeguild.com/what-next/minutes-of-meetings/
Nick Nuttgens is a freelance actor, director, choreographer and teacher. He is an associate artist of Sheffield's Dead Earnest theatre company, the local applied theatre experts, and has worked as an actor or facilitator on several of the company's shows.
Nick has particular expertise as a facilitator of methods which engage employees and teams in participatory planning. Until recently, he was studying for a practice-based PhD at the University of Sheffield in the use of Applied Theatre to stimulate dialogue about climate change and much of his energy now goes into climate education.
He co-convenes the Climate Communications Hub, a sub-group of the Carbon Neutral University Network at the University of Sheffield. His blog can be found at: https://constructivepolicy.wordpress.com/2020/01/11/how-to-lobby-mps-constructively-the-first-step-is-to-build-rapport/
Speaking on the night:
Catherine Baxendale (Invisible Flock):
Invisible Flock are an award winning interactive arts studio operating at the intersection of art and technology.
They believe that art today must have a positive impact on society and the world we live in and that as artists we have a responsibility to open up collective thinking and to build space for critical inquiry.
Drawing directly from the world around us they aim to create art and foster relevant practices that have a long lasting transformative effect and that sit across multiple contexts and adjacent sectors, allowing us to bring our creative thinking and unique ways of employing technology to bear in contexts such as conservation, education, design, the developing world, urban planning and healthcare.
Teo Greenstreet (Community Circus Centre, Curious School of Puppetry)
Teo's fascination is in establishing the best environments to grow creative enterprise and projects. He does this by uniting 30 years experience of leading creative organisations and consulting. He is currently freelance Centre Director of Greentop Community Circus Centre and Development Director Curious School of Puppetry, formerly co-founder and CEO of The Circus Space, now National Centre for Circus Arts, and CEO The Media Centre. He has supported project across a range of arts and enterprise sectors devising and delivering bespoke sustainability training in partnership with Case for Optimism, Julies Bicycle, Nutgreen and Creative Industries Development Agency.
Sara Trentham (Chrysalis Arts)
Sara Trentham has worked with Chrysalis Arts Development for around 10 years, initially as a project manager and more recently focussed on strategic and project development, and fundraising. Prior to this she was Visual Arts Officer in Arts Council England's Yorkshire office, leading on work with artist-led spaces, studios and art in the public realm, and before this she was part of the team at Yorkshire Artspace. She has also delivered a range of consultancy projects including evaluations and development strategies for arts organisations across England and Scotland. Sara is now a Senior Lecturer at Sheffield Hallam University and is Course Leader for the MA in Arts & Cultural Management alongside her work for Chrysalis.
Chrysalis Arts is an Arts Council NPO based in rural North Yorkshire, developing projects and strategic initiatives which engage artists, participants and wider audiences in creative activity, often focussed on place and primarily in the visual arts. Over the past 20 years we have championed a Slow Art approach to our work, the ethos of which aligns with environmental concerns. Our work to consciously engage with environment has developed further through our Greening Arts Practice (GAP) sessions, individual mentoring programme and a soon to be published GAP guide, supporting artists to make changes in their practice. We are a sector lead for the Arts Council in sustainability.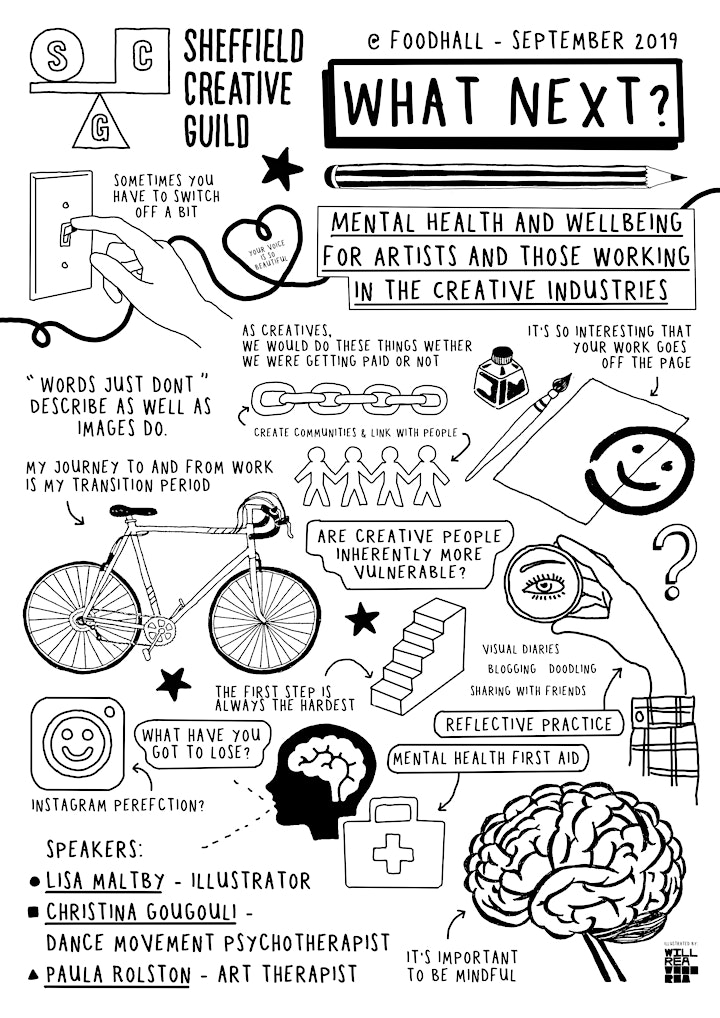 Organiser of What Next? Sheffield - Third Meeting
Sheffield Creative Guild is creatives of all persuasions and positions, actively talking, working, sharing and seeking other creative people, talents, events and opportunities.

As a Guild member, as well as being part of our active community, you will have access to huge benefits like promotion to help reach new clients and audiences, a wealth of advice and resources to support you and access to all our events from creative meet ups to workshops and training opportunities.
Membership starts from £20 a year.