Event Information
Location
9 Adam Street
The Strand, Charing Cross
London
WC2N 6AA
United Kingdom
Description
A Political Innovation 'Translation Layer' Event at Adam Street
What Policymakers Can Learn From Gaming
Gaming & Gamification
Speaker: Jude Ower - The PlayMob
A short talk followed by drinks & networking
Politicians & their staff
Campaigns & Public affairs professionals
Policymakers
Entrepreneurs & investors
Gamers
Bloggers & journalists
Social media specialists
T
he video-games industry is not only big - it's also massively influential: creating a new generation whose expectations lean towards interactivity rather than the consumption of broadcast messages.
Beyond Nudge Theory, technological entrepreneurs have become adept at finding new ways of motivating people, not only managing to change their behaviours but also encouraging them to develop skills, mentor others and solve problems.
What can politicians learn from the most successful interactive-content industry the planet has known?

Jude is one of the original thought leaders on games for learning and has been working in the gaming space for 9 years. She has worked with large corporate, government bodies globally and educational institutions on pre production, production and post production of games for learning. Jude founded PlayMob to create world changing, meaningful games across sectors, to show the potential and power of games for change.
We often ask politicians to embrace innovative ideas from the worlds of social media or gaming and use them to solve long-standing problems.
Never before have we faced a position where so many key concepts are not fully understood by policy makers and their stakeholders.
They're tough concepts to grasp if you don't work in these industries. A
Translation Layer
is needed. Applying these solutions to the obvious problems with policymaking can help improve an understanding of the wider opportunities presented by innovation.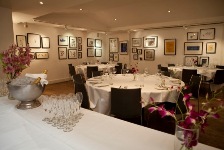 About Adam St
Hidden in 18th century vaults under the Strand, Adam Street is a central London base for work and play. Here you can relax, work, hang-out, entertain, hide, impress, eat great food and drink excellent wine and cocktails, surrounded by like-minded souls. The membership is built around entrepreneurs and freelancers.
The club comprises a bar, restaurant, meeting rooms, events spaces and an interestingly diverse membership.
If you are an independent-minded person who struggles to separate work and pleasure then you may well find you need a bit of Adam Street in your life.
Adam Street Private Members Club is offering an Associate Members rate of either £600 per year or £50 per month to all attendees of the Political Innovation Event.
To find out more information about membership at Adam Street, Please contact the Membership Manager, Ellie Barrett on 020 7520 9033 or Ellie@adamstreet.co.uk


Date and time
Location
9 Adam Street
The Strand, Charing Cross
London
WC2N 6AA
United Kingdom
Organiser of What Policymakers Can Learn From Gaming
A series of meetups and short talks at which people with ideas on political innovations can mix with technical experts, journalists, bloggers, politicos and others with an interest in politics and public affairs to grow and promote innovative projects.
About the Political Innovation Translation Layer events
Many of the key actors in political life – elected representatives, tabloid newspapers, lobbyists - have been shaken by new demands for transparency in recent years. The world of think-tankery is next.
In a recent set of short essays on the Political Innovation website, Dr Andy Williamson has set out a list of problems found in any policy-making ecology in which Think Tanks are influential, along with an outline of what a more transparent and efficient alternative could look like. These events explore how innovative concepts can transform policymaking - and what politicians can learn from this for wider application.