What Sets Apart The Best & The Worst Retail Traders? (Melbourne)

Thursday, February 15, 2018 from 7:00 PM to 8:30 PM
Event Details

"Since joining the Institute as a Mentor from the Professional side of the industry i've been blown away by the level of education & mentoring the Institute provides Retail Traders. These guys are changing the game and levelling the playing field. I can honestly say that this level of information is not available anywhere else in the Retail Trader space. It's the real deal and i'm very happy to be a part of it."
Ross Williams - Senior Trading Mentor, Institute of Trading and Portfolio Management. 
Ross Williams Full Professional Financial Markets History
https://www.itpm.com/trader-mentoring/ross-williams/
Join Ross Williams at his next exclusive Seminar;- 
What Sets Apart the Best and The Worst Retail Traders? 
Maximum 50 delegates
Standard Tickets @ $19.97
Alumni Tickets @ $97.97
VIP Tickets @ $297
SVIP Ticktets @ $497
 SVIP & VIP Delegates receive 30 days access to the Online Video class that accompanies this seminar (value $89) in addition to seeing the presentation live in the room. Access is provided after delegates have attended the VIP lunch and Seminar.
https://itpm.myshopify.com/collections/all
Institute Mentor Ross Williams will be presenting this Seminar >>>  
In this Seminar Ross will be taking you behind the wall at the Institute, showing you the actual statistics and behavioral traits of The Best and The Worst Retail Traders both outside and inside the Institute. By showing you the traits and characteristics of both good (profitable) and bad (losing) traders, Ross draws on the common behavioral patterns that Retail Traders display when they are both making and losing money so you can learn to see these behaviors in yourself. This is so you can avoid bad (losing) habits and focus on attaining good (profitable) habits, in order to gain consistent profitability with limited downside and maximum upside in your trading accounts over time.
Ross Williams - Senior Trading Mentor Institute of Trading and Portfolio Management 
Former Hedge Fund Manager & Investment Bank Prop' Trader, Ross Williams is going to teach you how to trade in the Financial Markets properly with an approach used by himself and the vast majority of Professional Hedge Fund Managers and Traders at Investment Banks globally, so you can replicate this approach in your Retail Trading accounts to get long term consistent profitability.
Ross Williams - CLICK HERE for Resume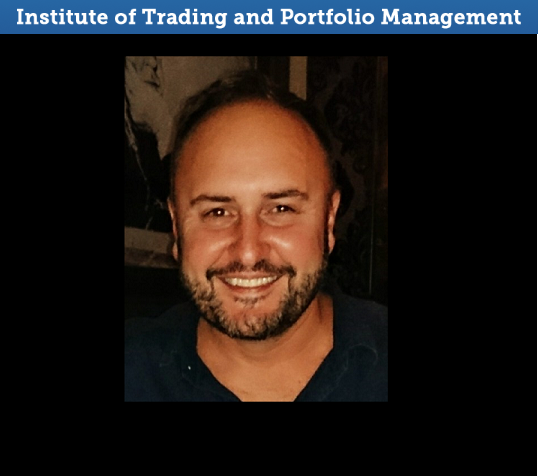 Seminar Content and Timetable;-
6:30pm registration, 7:00pm start.
Institute Trading Statistics
Traits of the Worst Retail Traders outside the Institute
Traits of the Worst Retail Traders within the Institute (Using Real Examples)
Traits of the Best Retail Traders within The Institute (Using Real Examples)
Options Trading to Improve Retail Trader Risk Adjusted Returns
What Lessons Can Be learnt to Permanently Improve Retail Trader Returns?
Background
The Institute of Trading and Portfolio Management was established to educate, inform and coach Retail Traders & Investors how to take a more Professional approach to Trading and Investing in the Financial Markets. We deliver the highest level of Trading and Portfolio Management education available to the Retail Trader / Investor globally, utilising teaching methods that everyone can understand and deploy themselves. We manage a global Portfolio ourselves and manage a community of Retail Traders and Investors, that connect with eachother and support eachother. We provide our community with a favourable infrastructure that allows each individual to reach their full potential. Additionally, we invest in our best performing students / traders and we also place some of our best traders into Professional Trading employment with Hedge Funds and Investment Banks.
Typically we have three types of delegates that attend our seminars and then join the Institute;-
1.    Delegates currently trading with their own money who have struggled to make consistent Returns on their Capital.
2.    Delegates who want to start trading with their own savings and seek a higher level Professional Trading & Investing education Vs what is available elsewhere.
3.    Delegates who are looking to enter the Professional world of Trading and Investing via Hedge Funds and Investment Banks.
You do not need any prior experience in Trading and Portfolio Management to attend one of our seminars. All you require is a basic level of common sense and arithmetic ability.
At the Institute you will be taught everything you need to know from basic to more advanced techniques. Our approach is challenging both to a beginner and more experienced traders. The professional trader approach is like nothing you have ever seen before. This is because it is simply not taught to the Retail Trader market and is usually only reserved for professional traders. 
For background information on Institute Trading Education please       Click Here
For more information on ALL upcoming Institute seminars please        Click Here
To visit the Institute website and experience all that we do please       Click Here
We look forward to seeing you there !!!
When & Where

Crowne Plaza Hotel,
1-5 Spencer Street,
Melbourne, VIC 3008
Australia

Thursday, February 15, 2018 from 7:00 PM to 8:30 PM
Add to my calendar
Organizer
The Institute of Trading and Portfolio Management was established to educate, inform and coach highly aspirational individuals who are currently either trading the markets with their own savings or seeking professional employment at an Investment Bank or Hedge Fund.