Description
Join author Frances Stickley and illustrator Anuska Allepuz in Heffers children's department as they celebrate the launch of their new picture book 'What Will You Dream of Tonight?'.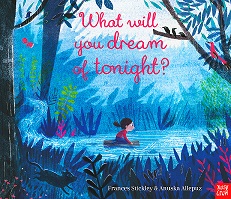 What will you dream of tonight? Will it be a midnight balloon ride, sailing on the tail of a whale or swinging through the leaves on a jungle trapeze? This dreamy, sumptuously illustrated tale travels through deserts and waterfalls to shipwrecks and dragon-filled skies as a parent wonders where their child's dreams will take them as they drift off to sleep . . .
The launch is free to attend but booking is essential as spaces are limited. Tickets can be booked through this page, by calling 01223 463200 or in person at Heffers bookshop.
Like this? See a full list of our forthcoming events by clicking here.