Description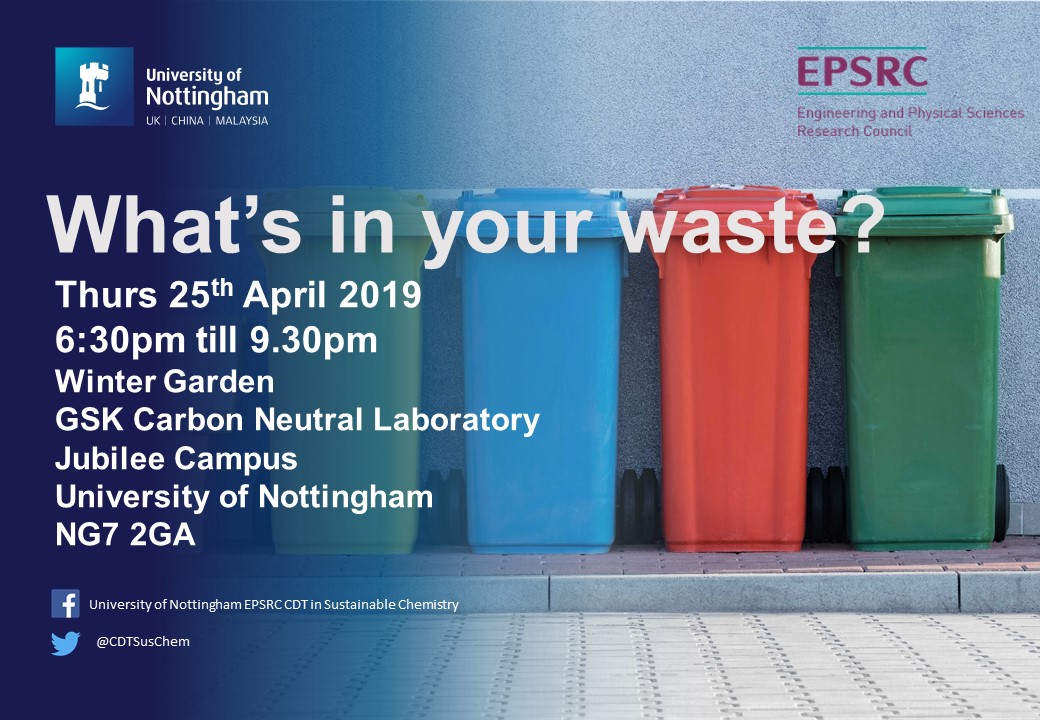 Plastic bag or paper bag?
Recycle or reuse?
Fast fashion or slow fashion?
If you're interested in the answers to these questions and more, come along to find out more from our panel of experts. What's In Your Waste is Nottingham University's very own take on Question Time where you'll get the opportunity to have your questions answered and get some useful tips and tricks on how to live more sustainably.
Programme:
6.30pm Arrival (tea & coffee)
7.00pm Panelist introduction
7.15pm Debate and questions - round one
8.00 pm Mini poster session and interactive experiments (tea & coffee)
8.30pm Debate and questions - round two
9.15pm - End
The panel includes the following experts:
Jon McKechnie, University of Nottingham
Jon is an Associate Professor in the Sustainable Process Technologies Research Group, University of Nottingham. His research interests include life cycle analysis, waste valorisation and circular economy.
Stella Claxton, Nottingham Trent University
Stella is a Senior Lecturer at Nottingham Trent University within the Fashion Management, Marketing and Communication subject area. Prior to this, she worked in the fashion industry for many years in design, product development and sourcing. She is a member of the University's Clothing Sustainability Research group and recently gave evidence to the UK Government enquiry into the Sustainability of the Fashion Industry on behalf of NTU.
Lea Hawkes, Veolia
Lea is General Manager at Veolia, the UK leader in environmental solution. Veolia provides a comprehensive range of waste, water and energy management services designed to build the circular economy and preserve scarce raw materials. They focus on carbon reduction by preventing pollution, preserving natural resources, protecting biodiversity, combating climate change and raising environmental awareness. They deal with Nottingham's waste facilities in Mansfield.
Ryan Oliff, Nottingham City Council
Ryan is Waste and Recycling Team Leader at Nottingham City Council. Over many years Ryan has acquired extensive knowledge about resident engagement on recycling and waste operations within Nottingham.
Transport:
By car - There is free parking in the visitor car park from 4.30pm onwards
Map of the campus https://www.nottingham.ac.uk/sharedresources/documents/mapjubileecampus.pdf
The event will be held at building number 31 on the map and there is free car parking after 4.30pm.
By public transport - The venue is well served by local bus routes (NCT Orange Line, NCT Pink Line, Trent Barton Indigo bus, University's Hopper bus)
Spaces are limited to this popular event so reserve your free tickets now!
Facebook
Share with your friends and keep up to date with the event on Facebook: :
https://www.facebook.com/events/1763680500400631/
Twitter
If you would like to tweet please tag and follow @CDTSusChem and use #sustainablechemistry