Sales Have Ended
Ticket sales have ended
Thank you for booking to attend the 12th Annual Huntley Conference. Your support is appreciated. See you on Saturday 4th March.
Sales Have Ended
Ticket sales have ended
Thank you for booking to attend the 12th Annual Huntley Conference. Your support is appreciated. See you on Saturday 4th March.
Description
Is Blackness bending the digital world? In the radical tradition of Bogle-L'Ouverture Publishing and New Beacon Books, avant-garde Black publishing takes centre stage at the annual Huntley conference.
Conference themes:
Through an open dialogue across, what we call, "Deep roots and New shoots," the conference offers and inspires an intergenerational, cross-cultural, multi-ethnic connection, discussing the multiplicity of "Blackness" then and "Blackness" now; how ideas around identity and being Black are no longer restricted, becoming more fluid; how breaking convention is the new normal; notions of digital democracies and revolutions; the impact on where and how Black narratives are distributed; and who is leading millennial progressive Black publishing interventions.
Conference contributors:

Beverley Mason, FHALMA's chief executive will introduce a dynamic programme, kicking off with a stimulating talk by Dr Roxy Harris (author: Being Black) and pioneering publisher Eric Huntley, contextualising the narratives around Blackness and radical publishing joined by Michelle Yaa Asantewa and Crystal Mahey-Morgan. Immaculata Abba reflects on how the archives have spoken to her. Dr Michael McMillan looks at the advent of Black radical bookshops and publishing. CNN's Jim Stenman, will lead the afternoon session on 21st Century digital storytelling with Liv Little, editor-in-chief of Galdemzine (gal-dem.com) and Channel Four's Symeon Brown and joined by Black Cultural Archives' Munira Mohamed. This year, we introduce a parallel conference programme, New Shoots, for young people aged 8 – 16+ years, including creative expression workshops led by Vivienne Isebor and Kwame Asiedu, where they can explore, discuss and develop themes around identity, share the views on what Blackness means to them. In the afternoon, young participants seize the opportunity to take over the main conference stage.

Artists, Princess and Nat Nye each offer a powerful and thought-provoking performances at the close. For those who are curious to look through the prism of 'the Archive Document' there are two lunchtime behind the scenes tours with LMA's Senior Archivist, Richard Wiltshire. (Limited spaces!)
Archives Alive!
Digital elements of the recreation of Walter Rodney Bookshop, originally developed as an installation for the No Colour Bar: Black British Art in Action 1960-1990 exhibition and recently on tour at Hackney Museum's People Power: Black British Arts & Activism in Hackney 1960s – 2000s (Oct 2016-Jan 2017) will be on display at LMA during the conference. Also on exhibition is Cy Grant: Navigating the Dreams of an Icon, produced by the Cy Grant Trust, in partnership with LMA and Windrush Foundation.
Why you should attend
Over the years, the annual Huntley conference has unlocked deeply engaging narratives –striking deep rooted personal chords, stories hidden within communities or suppressed by post-colonial hierarchies, negating important moments in collective histories. We continue to inspire and develop the next generation of curators, historians, educators, archivists, artists, social change makers: igniting creativity and innovating in the cultural spaces inside and globally. Delegates are active contributors, exploring hard-hitting themes to re-image the critical themes that empower diverse communities – expect to share your voice.
Join us to share your ideas around innovation and Black radical publishing. Follow us on Facebook and Twitter for conference programme updates and news about guest speakers and contributors.
As of this year, the annual Huntley conference is self-supporting, relying on paid tickets and donations. Do please support us and share this link with your networks: bit.ly/huntley17fund
2017 Conference Partners
Friends of the Huntley Archives at LMA Foundation (FHALMA)
Jessica and Eric Huntley, co-founders of Bogle L'Ouverture Publishing, deposited their business and personal archives at the London Metropolitan Archives (LMA) in 2005. FHALMA is a charitable trust, set up in 2013 by the friends of Jessica and Eric, with the remit to promote the heritage of the Caribbean and African Diaspora by developing education and community projects from the archive materials found in the Huntley Collections. Since 2006, filling the knowledge gap created by a discriminatory society, the annual Huntley conference has utilised the archives to ignite key conversations and unlock important, yet hidden stories, re-generating the critical ideas that helped to shape contemporary Black British culture in order to nuture and inspire the next generation of cultural leaders.
Our generous supporters:
London Metropolitan Archives, City of London (LMA) looks after the archives of Jessica and Eric Huntley and has catalogued and conserved the records so that the rich stories can be accessed by the public. LMA is delighted to annually host the Huntley Conference organised by the Friends of the Huntley Archives at LMA. Since the first event in 2006, the themes have been drawn from the collections to appeal to all ages - to immerse themselves in the archives – a truly enriching community experience.
Gunnersbury Park Museum
Gunnersbury is jointly owned by Hounslow Council and Ealing Council and is pleased to feature materials about Eric and Jessica Huntley from The Huntley Archives in its new permanent museum collection. Recognised by many as one of the most important parks in the country, Gunnersbury features one Grade II and one Grade II* listed Georgian mansions and many other historically significant buildings set within a stunning park landscape.
The Museum of London tells the ever-changing story of this great world city and its people, from 450,000 BC to the present day. Its galleries, exhibitions, displays and activities seek to inspire a passion for London and provide a sense of the vibrancy that makes the city such a unique place.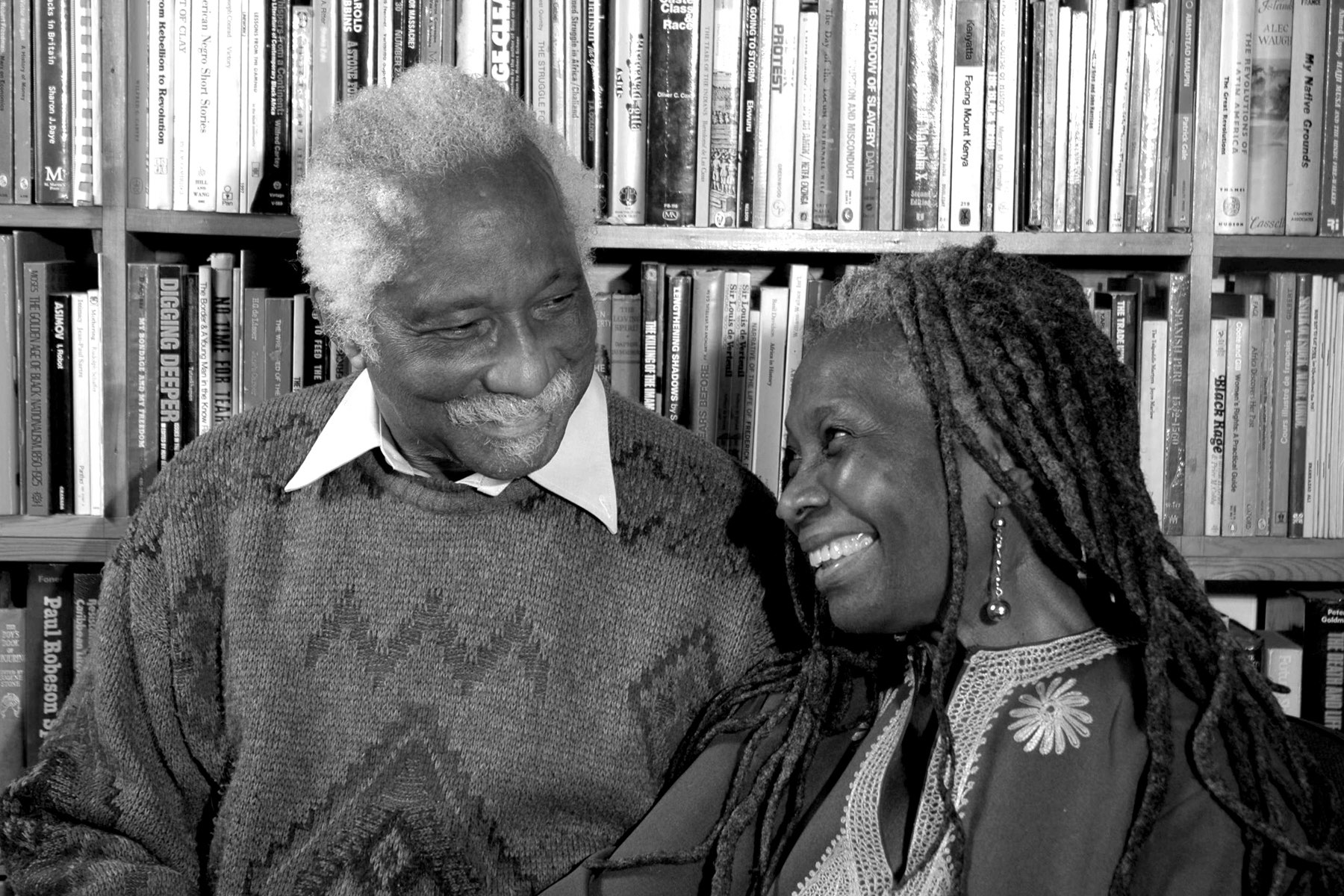 Image credits:
Top Photo: Eric Huntley. Racist book attacks at Bogle-L'Ouverture Bookshop. Reference: LMA07 Photo-LMA_4462_J_06_01a
Bottom photo: Eric & Jessica Huntley c.2000s © Mervyn Weir