How can this ancient food go from glorified status for thousands of years, to becoming one of the most problematic foods in the modern diet?
About this event
Learn Sourdough is hosting a free and provocative event with sourdough expert, author and chef Sharon Roberts
Wheat has a profound set of meanings deep in the human psyche. We became civilised because of wheat.
Sharon poses the question,
'How can this ancient food go from glorified status for thousands of years, to becoming one of the most problematic foods in the modern diet?'
You'll discover exactly what changed, how it changed and why.
Sharon's insightful commentary alongside a slide show of superb images from the swinging 60's to 2021, is entertaining, shocking and powerful.
You'll experience Sharon's expertise, enthusiasm and warm & engaging style during this highly acclaimed talk.
Bonus features on :
chemical leavening in bread
what it is
why chemical leavening has become so popular in the UK and around the world
how the world has been manipulated into accepting chemically leavened bread as real bread
who started it, where it started and why
And; is it sustainable for the planet and our health?
Sharon will share historical information that prove 80% of us, don't know what real bread is.
She'll share her expertise with you and asks,
'Can you have your bread and eat it too?'
Sharon will also shine a bright light on the extraordinary and pioneering work of Britain's most famous shepherd who wants to change the way we farm. Sharon will talk about his enlightening book, which was recently chosen as Radio 4's Book of the week. She will share with you why it moved and inspired her to create this thought provoking event.
For years, Sharon has been taking back the power by getting to know and supporting independent businesses who share her ethos about food. She will give you the tools to do the same.
There will be an opportunity at the end of Sharon's talk to ask her questions and if you fancy, share your thoughts.
At the end of the event, Sharon will ask you to leave a review for What's with Wheat?on her Learn Sourdough facebook page at www.facebook.com/sourdoughcentral
As a thank you, you'll receive a memento of this superb event. A free, colour e-booklet, valued at £6.99.
The e-booklet contains live links to everything Sharon speaks about. Also included are links to youtube of historical footage mentioned in her talk. These are a must watch!
Plus, Sharon shares with you a list of ethical food producers that she uses and recommends. There's a fun bonus link too and more!
READ WHAT FANS OF LEARN SOURDOUGH ARE SAYING ABOUT THIS UNIQUE EVENT HOSTED ON ZOOM
A really interesting talk on "What's With Wheat" from Sharon Roberts - a passionate presenter. I learned a lot - probably too much to make me feel comfortable about eating my butties tomorrow! Leo Roberts, Eccles, Lancashire
There was so much I didn't know. I enjoyed listening to you. You're an excellent speaker. Jane Knaves, Brighton
The enthusiasm in your voice was amazing. It was great to connect with an engaging speaker. It was good to understand the science behind the concept of sourdough bread. I am really looking forward to going through your e-books to learn the art of baking sourdough bread. My husband has been wanting to revolutionise our eating habits and it seems I picked the right event to start us on this journey. Thank you Sharon 🙏🏽 Rokiah Ali, Sheffield
WHO IS THIS EVENT FOR?
You! If you ...
... eat bread, have stopped eating bread, love good food, bake or cook, are starting out on your sourdough journey, want to eat more healthily, want to feel more energised, want to make better food choices, think you might have a wheat intolerance, want to get inspired, have an interest in history, you have booked onto a Learn Sourdough workshop and want to meet Sharon before the event, you want to connect with an expert.
HAVE QUESTIONS? NOT SURE?
I'm here to help. Email me, Sharon Roberts at, learnsourdough@gmail.com
DO YOU KNOW SOMEONE WHO WILL BENEFIT FROM THIS FREE EVENT?
Share this event by scrolling down the page to the social media icons.
NEXT STEPS
Scroll up to 'Select a date' and reserve your free 'seat'.
Numbers are limited.
If you register and on the day are unable to attend, please email Sharon at learnsourdough@gmail.com. Your 'seat' can be offered to someone else.
This popular talk, fills up quickly.
WHERE'S MY CONFIRMATION?
You'll receive a confirmation email as soon as you've booked your seat. Remember to check your spam.
CAN YOU SEND ME A REMINDER & ZOOM LINK ON THE DAY?
Yes. The reminder will have the Zoom link. You'll receive it 1 hour before the event. You'll also receive a courtesy reminder the day before.
ABOUT THE IMAGES BELOW
Image is of Sharon. She was featured in 'True Loaf', the national magazine for the Real Bread Campaign. Learn Sourdough is a member of the Real Bread Campaign.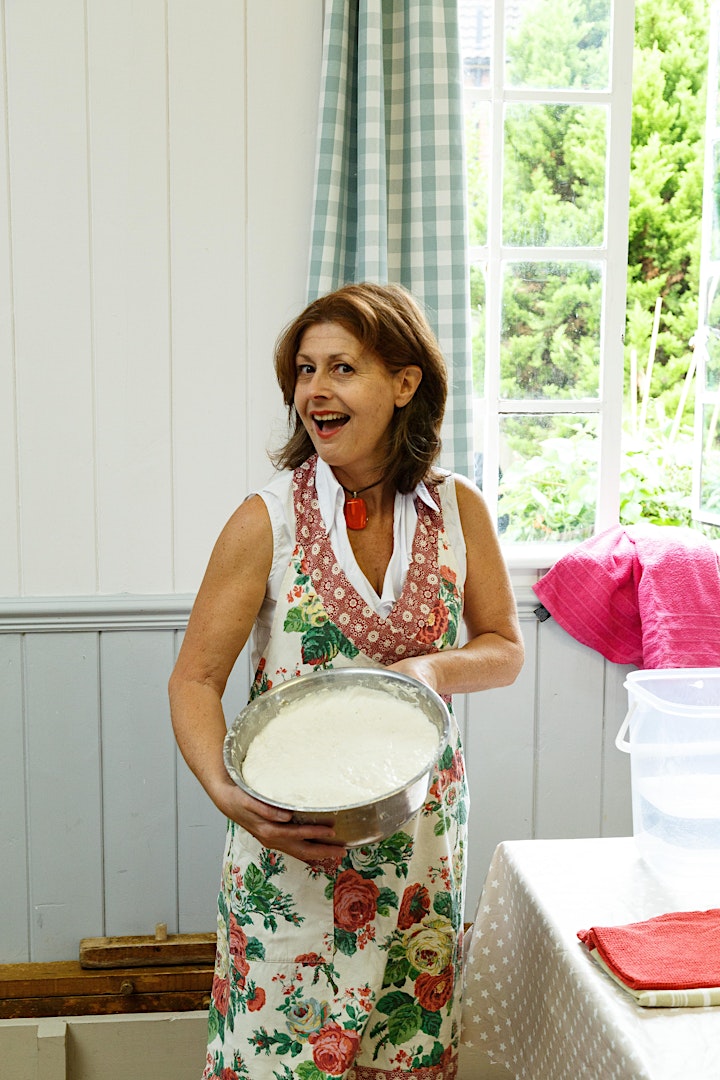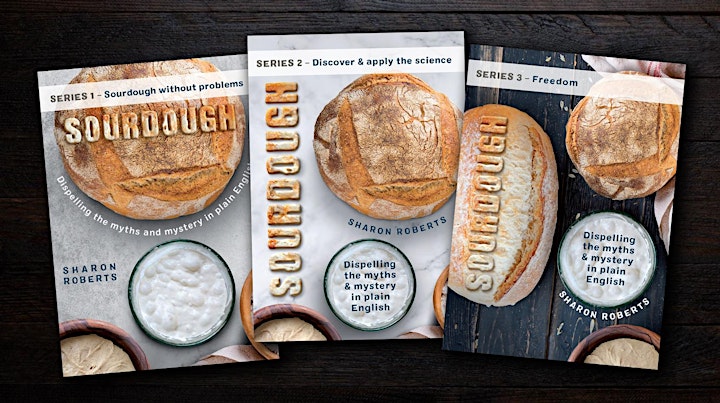 Sharon's outstanding and best selling series of 3 e-books, 'Sourdough. Dispelling the myths and mystery in plain English'. An absolute, 'must have'.
334 pages of easy to follow videos, step by step guides, superb images and Sharon's expertise to inspire and get you baking real sourdough bread.
Sharon has written this series for you to succeed.
Read more and download the series HERE
Learn Sourdough e-Gift vouchers are available HERE
Organiser of What's with Wheat? Free on Zoom