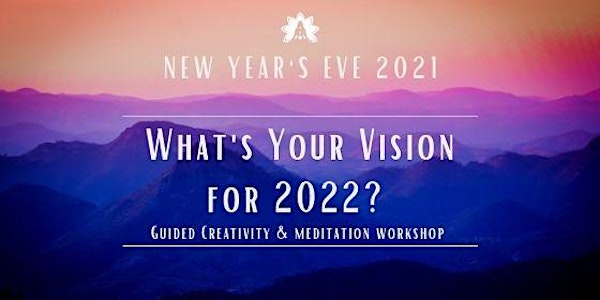 What's your Vision for 2022? Guided Creativity and Meditation Workshop
We are delighted to offer a New Year's Eve intention-setting workshop. Tap into a positive flow state and start 2022 with a creative vision!
About this event

Join us for this very special New Year's Eve workshop. You're invited to dive deep into techniques, guided meditations, and processes with us that will deepen your experience of the "creative flow state" and set your positive intentions and creative vision for the coming year.
ABOUT THE WORKSHOP:
This workshop is based on the work of Creative Flow Dojo® . Whose main aim is to help you develop daily habits to make your dreams come true! Whether it's about writing that book, meeting "the one", creating a rewarding career, having the courage to take risks in your life, achieving daily healthy habits, or just feeling good and being more connected to your body and your life-vision, we would love to support you!
• Creative Flow - The optimal body-mind state of consciousness where we feel and perform at our best.
• Dojo - A dōjō is a space for immersive learning and practice. This term is traditionally used within the field of martial arts.
Many of us know what it's like to be in an optimal state of "creative flow" and when we are deeply connected to the best of who we are. But do we have to just wait for inspiration to strike, or is there a way that we can hack 'the zone'?
To be generative, to be creative, we must first create the optimal conditions and get into a "creative flow state". Throughout our classes, you will learn how to get there, and with practice, stay there. This is what the Creative Flow Dojo™ is about - helping you to get into an optimal state for creativity, performance, health and wellbeing.
Learn how to develop a "creative flow state" for health & wellbeing, creativity and optimal performance in which you can creatively engage with whatever you're faced with. It could be a criticism, it could be a challenge, it could be a particular problem, or it could be a creative performance!
Discover how to tap into and maintain a peak performance state, what we are calling a "creative flow state". Athletes might call it "the zone", or martial artists might use the term "chi flow", but whatever you call it, it is a state in which to be able to deal skilfully and creatively, with whatever it is that you are engaged with.
SCHEDULE:
◈ 6:30pm-8:30pm Workshop - What's Your Vision for 2022? The workshop will be a space to deepen into your creative flow to access your positive intentions for the New Year.  (No entry after 6:50pm sorry, this is so we can all journey together)
◈ 8:30pm Workshop ends
*OPTIONAL: STAY ON FOR NYE CELEBRATION: Please select appropriate ticket type if you would like to attend workshop & ecstatic dance. For more information about the NYE Ecstatic Dance Party, please click here.
◈ 8:30pm-9:30pm break for those who stay on for NYE Ecstatic Dance (teas & healthy snacks will be provided)
◈ 9:30pm-1am Ecstatic Dance NYE Conscious party/ Cacao/ Midnight Countdown and Happy New Year Healthy shots . (No entry after 10:15pm sorry, this is so we can all journey together and create a safe space for everyone)
◈1:30am Event ends
WHAT YOU WILL NEED:
1. Please come already dressed in comfortable clothing and dress in layers, feel free to dress up more glam as it's NYE! Sparkles, masks, costumes welcome! Be your fabulous you! As long as you are comfortable. There will be a dedicated space downstairs to put your jackets//bags.
2. Workshop space is a shoe free zone. You are welcome to be barefoot, in soft indoor shoes or grip socks. Shoes to be left in the hallway.
3. a Reusable water bottle. Tap water refill available at the venue as well as a selection of teas, snacks and cold drinks.
4. An open heart & mind for the workshop!
Join us for this unique guided creativity and meditation experience!
*VERY LIMITED SPACES - ONLINE REGISTRATION ONLY, NO TICKETS ON DOOR! *TICKETS WILL SELL OUT SO PLEASE BOOK SOON NOT TO MISS OUT ON THIS EVENT!
💙RSVP and invite your friends on Facebook: https://fb.me/e/4ZpJyhRWr
💜 See all our upcoming wellbeing events: ecstaticdancelondon.com/events
💛 Sign up to our newsletter: https://forms.gle/cutT77EqMtMiKWry7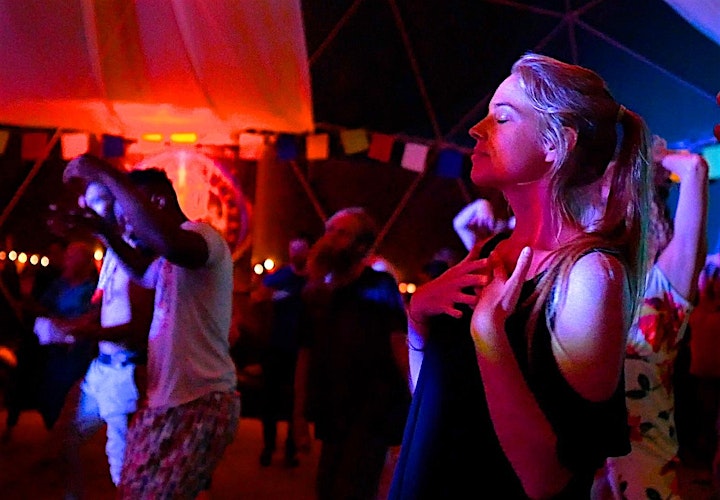 VENUE:
Address details will be included in your Eventbrite booking confirmation email. Email might be in the spam folder. Please check. Do not print any paper tickets, we will check you in by your name.
The nearest underground station is Notting Hill Gate (central line, circle line, district line – Edgware Road branch). Venue is just a few minutes walk from the station. please check tfl .gov for latest travel updates. If you are driving, find parking on parkopedia. There is no designated parking area at the venue. There is a bicycle rack near the venue if you are cycling.
Venue has an accessible entrance to its ground floor approached via a reasonable incline. There is a wheelchair accessible toilet on the ground floor, same floor where the main hall is located.
PRICES:(+ add Eventbrite fee)
Workshop 6:30pm-8:30pm
- Earlybird £25
- Regular £35
Workshop & NYE Ecstatic Dance Party 6:30pm-1am
- Earlybird £50
- Regular £60
CREW SPACES: We also offer limited FREE *crew spaces in exchange of you helping us set up and/or pack down. If you would like to crew, please send us an email to youareyoubeyou@gmail.com
CANCELLATION POLICY:
We do not offer refunds if you cannot attend if less than 7 days notice if provided. You are welcome to pass on your ticket to a friend, colleague or family member however please let us know the name and email address of the person attending in your place for track & trace purposes. Send us an email with replacement person's details to: youareyoubeyou@gmail.com
If we need to cancel the event due to unforeseen circumstances or COVID -19 restrictions, we will issue a full refund. If you have any questions, please send us an email to: youareyoubeyou@gmail.com
COVID-19 INFORMATION:
Following recent changes to Government guidelines surrounding COVID-19, we would like to assure you that our NYE Workshop and Dance will be going ahead as planned. Our event will continue to follow the advice of the UK Government and we are monitoring the situation closely.
Face coverings for guests are not required, however, it is entirely up to you as to whether you decide to wear them. We appreciate that it might not be practical whilst dancing or eating and drinking.
In line with Government guidance, we are not in a position to mandate the disclosure of vaccine status, but we would ask that all of our attendees act responsibly and respectfully to protect fellow guests. We recommend that you take a PCR or lateral flow test within 48 hours of the event for the safety of other guests. Do not attend if this is positive or if you are showing any symptoms of COVID-19. Please note that any interaction with the general public poses an elevated risk of being exposed to COVID-19 and we cannot guarantee that you will not be exposed while in attendance at the event. Whilst we and our suppliers are making every provision to protect our guests, we are not responsible for the health and safety of those visiting this event and we encourage you to follow safety policies, as well as local laws and restrictions.
If we need to cancel the event due to unforeseen circumstances or COVID -19 restrictions, we will issue a full refund. If you have any questions, please send us an email to: youareyoubeyou@gmail.com

ABOUT THE FACILITATOR: SETH NEWMAN
As a coach, Seth is dedicated to helping people calm, empower and rejuvenate their busy minds and bodies to achieve the best versions of themselves. Seth brings a wealth of experience holding heart-centered spaces.
In addition to guiding people on their life journeys, he enjoys helping clients design lifestyles of optimal health and balance with creative living practices.
As the founder of the URUBU School of Transformational Arts, he integrates the roots of Humanistic therapies, Bioenergetics & Body Psychotherapy, Transpersonal Psychology and Tantra in creative and life-transforming workshops, retreats and trainings.
If you are interested in booking a 1-to-1 coaching session with Seth or have any questions, please send an email to: youareyoubeyou@gmail.com
SAFETY GUIDELINES & PREVENTION MEASURES:
COVID UPDATE:
We are working closely with the venue and are taking appropriate steps to ensure our indoor dance sessions are covid-secure, scroll down to read our safety measures.
We kindly ask that you respect and follow venue's safety guidelines. We reserve the right to exclude and ask to leave any participant who does not honour the below safety guidelines:
SYMPTOMS: If you are showing any Covid-19 symptoms, please DO NOT attend the class. Any participant repeatedly coughing in the space will be asked to leave immediately..
TEST BEFORE EVENT: We recommend that you take a PCR or lateral flow test within 48 hours of the event for the safety of other guests.
FACE COVERING: optional - you are welcome to wear it throughout the night.
HAND WASHING: Wash and sanitise your hands regularly and after using the bathroom. All touch hotspots will be regularly cleaned with disinfectant.
CONTACT DETAILS: name and contact details will be kept for 21 days by the venue for track and trace purposes. If you have booked 2 or more tickets under your name, we will need to obtain name & email address from other attendees.
CHANGING ROOMS: located in the basement. Where possible - please come already dressed in comfortable clothing and dress in layers.
WATER REFILL: please top up your water bottle from the flasks provided
FRESH AIR: venue has some windows that will be opened and fans placed in the room to allow more air flow in the space. There is also a garden door which will be opened to ventilate the space.
TEAS: Porcelain cups with name tags will be provided.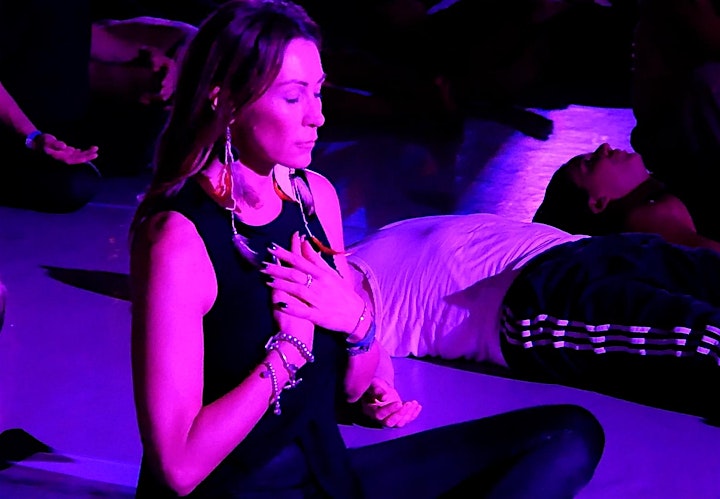 Organiser of What's your Vision for 2022? Guided Creativity and Meditation Workshop
Pioneering Conscious and Wellbeing Events since 2009 in London and UK! Home to Ecstatic Dance London and much more!
Our intention is to offer a variety of transformational experiences designed for supporting you in your personal life journey, enhancing community wellness and togetherness. We bring a wealth of experience, knowledge, heart centred and humanistic approach into all our work. We create and facilitate all our workshops and continue to develop new practices which we are very excited to share! URUBU was first formed in 2008 as a Live Music Ecstatic Dance Collective 'Urubu' by founder Seth Newman, has since developed into a holistic wellness event organiser based in London facilitating Workshops, Classes, Retreats, Campouts & Trainings for living a Healthy and Embodied Life!
URUBU is a School of Transformational Arts!
Ecstatic Dance London (DJ, Live Music, Indoors & Outdoors with Headphones)
Body-mind Integration and Embodiment Practices
Active Guided Meditations & Trance Dances
Creativity Coaching & Closed Groups
Cacao Ceremonies & Rituals
Gong Baths & Live Music Sound Journeys
Drumming & Singing
Aerial Relaxation Pods & Sunday Hammock Sessions
Conscious Connections & EcoTantra
Retreats, Campouts, Festivals and much much more!
Come on a journey with us!

URUBU - You are you, be you! 
Instagram: @urubu_school_of_transformation
Instagram:  @ecstaticdance_london 
Facebook: www.facebook.com/EcstaticDanceLondon
Facebook: www.facebook.com/urubucollective  
Website: www.ecstaticdancelondon.com