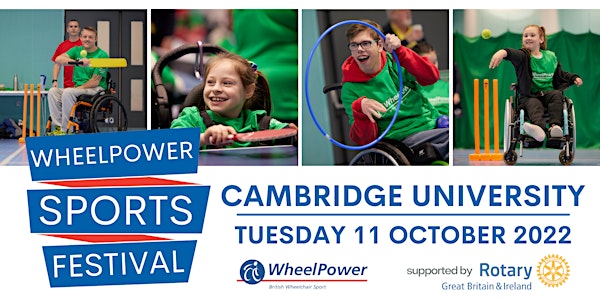 WheelPower Sports Festival - Cambridge - Tuesday 11 October 2022
Location
Cambridge University (Sports Centre)
Philippa Fawcett Drive
Cambridge
CB3 OAS
United Kingdom
About this event
WheelPower Sports Festival - Cambridge (supported by Rotary)
The WheelPower Sports Festival - Cambridge, is a great way for anyone aged 5 to adult with a physical disability to discover sport in a safe, welcoming and friendly environment and all activity is adapted to suit your abilities. The Festival is a great way to make new friends, improve your health and have fun!
Time:
Registration is from 9.30am and activities start at 10am. The festival will finish at approximately 3.30pm.
Location:
Cambridge University (Sports Centre), Philippa Fawcett Drive, Cambridge, CB3 OAS
There is accessible parking, toilets and changing facilities
​Who is the Festival for?
The WheelPower Sports Festival is open to everyone with physical disability, from the age of 5 to adult. Please note that activities will be split into age appropriate groups
If any siblings would like to attend as well to enable them to take part in activities together then they are more than welcome but will also need to register
Sports and activities:
The sports and activities at the event will include a variety of wheelchair sports
These activities ​are all about having fun and learning new skills - this may include a small element of competition but this is optional
Sports and activities will be suitable for you at a level at which you will feel comfortable
Each sport will last for approximately 40 minutes but participants can go at their own pace and have rests when needed
All of our sports coaches and activity leaders are qualified, have DBS checks and have lots of experience of delivering activity to disabled people
All people attending can discuss their needs and support with the Event Manager and sport coaches in a safe and private environment before starting an activity.
Cost:
This is a FREE event, but we would be grateful for a charitable donation to support WheelPower's vital work (minimum donation = £1)
School Group Booking:
Entry deadline:
The deadline for registration is Tuesday 4 October
This event is supported by the Rotary Club of Cambridge South
Your privacy. We will always store your personal details securely.  We'll use them to provide the service that you have requested, and communicate with you in the way(s) that you have agreed to.  Your data may also be used for analysis purposes, to help us provide the best service possible.  We will only allow your information to be used by suppliers working on our behalf and we'll only share it if required to do so by law.  For full details see our Privacy Policy or contact 01296 395995.