Rolling into 2022 we're back with our bikes & trikes at Odd Down Cycle Circuit for more Saturday sessions.
About this event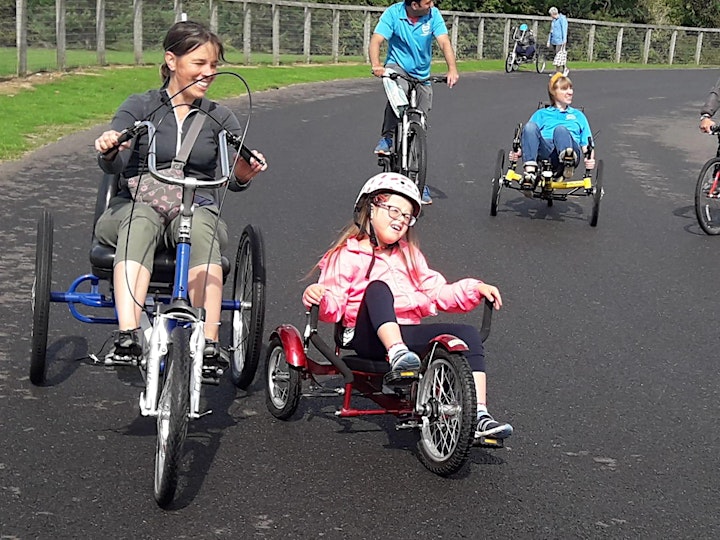 Wheels for All Bath & West new sessions for 2022
New year, new routine! Come and have fun, build fitness and embrace the fresh air! We are back on track to offer you a chance to cycle on our range of adapted bikes!
Our Saturday sessions allow people to cycle in safety on an enclosed track that is just over 1.5km long. More importantly, our sessions allow people to have fun in a safe environment.
The levels of Covid-19 infection mean that in order to keep these sessions running in a Covid secure manner, we ask that you book here and get a joining time from us before attending.
BOOKINGS AND PRICES
Individual user with WfA bike: £6.00
Individual user who uses own bike: £3.00
Individual user with a carer who rides: £8.00
Family rate: 3- 5 members of the same family £12.00
Please note that 'family tickets' are only to be used for blood relatives or foster/adoptive families. Groups should use individual tickets and rates.
CANCELLATION POLICY - NEW.
Due to bookings resulting in multiple 'no-shows' some sessions are experiencing low numbers which means that they are not viable. Our Tuesday sessions have been particularly affected by lower numbers although this is not reflected in the pre-booking data.
As we are unable to sustain the consequent financial loses, from the 1st February 2022 we will be implementing a 'no-show' charge of £2, payable at your next visit to a session.
Cancellation charges will be incurred if made less than 24hrs before the published session start time.
As a charity we are reliant on fundraising but we incur costs in running sessions and cannot run at a loss.
Full details of the policy will be available in the new year, however we wanted to let you know of any changes in advance.
It's wheelie easy to cancel!
Log in to your Eventbrite account and select tickets
Locate your Wheels for All ticket and cancel your ticket. For desktops click 'cancel ticket' next to the order. For mobile devices, select the three dots menu in the top right of the screen and tap 'cancel'.
Await email confirmation from Eventbrite
Done! Were sorry it hasn't worked out for you this time but hope to see you at a session soon.
****PLEASE NOTE THAT DUE TO THE CURRENT SITUATION, THESE SESSIONS AND DATES MAY BE SUBJECT TO CHANGE****