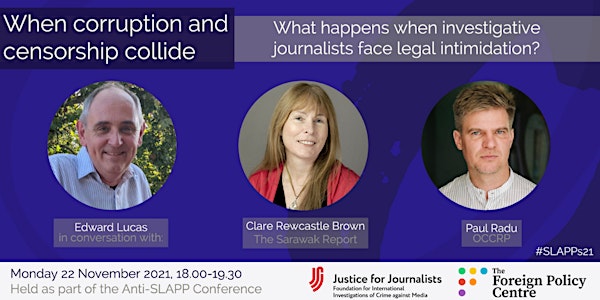 When corruption and censorship collide
When corruption and censorship collide: What happens when investigative journalists face legal intimidation?
About this event
Join Edward Lucas in conversation with Clare Rewcastle Brown and Paul Radu online as they discuss their shared experiences, as well as the wider challenge for journalists facing legal threats, especially when emanating from the UK.
Investigative journalists Clare Rewcastle Brown, editor of the Sarawak Report, and Paul Radu, co-founder of the Organised Crime and Corruption Reporting Project (OCCRP) have been at the centre of uncovering some of the biggest corruption scandals of the last decade.
They also share a less positive, and less well reported, experience – defending themselves in the London libel courts. In separate cases, with remarkable parallels, Rewcastle Brown and Radu have been sued by foreign politicians unhappy with their reporting on high-level transnational financial crime. Even with low-bono support, both journalists were forced to spend hundreds of thousands of pounds in legal fees to fight off cases which lasted more than two years, before being withdrawn.
Clare Rewcastle Brown, a British freelance journalist, was taken to court as a result of an article she had published on her website the Sarawak Report in 2016. Rewcastle Brown had been instrumental in uncovering the 1MDB scandal, in which $1.4 billion USD was stolen from Malaysia's sovereign wealth fund. The legal case against Rewcastle Brown was filed in 2017 by a Malaysian politician, whose name had not even been mentioned in the article concerned. It was withdrawn in 2019, by which point the former Malaysian government had collapsed and the former Prime Minister Najib Razak had been arrested (he was found guilty in 2020, but is currently appealing his sentence). The mastermind thought to be behind the scheme, businessman Jho Low, remains on the run from justice in Malaysia, Singapore and the United States. Despite this, Rewcastle Brown has continued to receive legal threats linked with her continued reporting on 1MDB and connected corruption.
Paul Radu, a Romanian citizen, and co-founder of OCCRP, which is registered in the US, was sued in 2018 by a sitting Azerbaijani MP who took issue with articles in the outlet's Azerbaijan Laundromat investigation. This investigation, published in 2017, alleged that $2.9 billion USD was funnelled out of the country during 2012-14 through a complex money-laundering operation that involved UK shell companies. OCCRP reported members of Azerbaijan's political elite were using the scheme to "pay off European politicians, buy luxury goods, launder money, and otherwise benefit themselves." Over the course of 2018-2019, OCCRP continued investigating, collecting new information that strengthened their story, which, due to disclosure rules, Radu was required to share with his opponent. The MP subsequently dropped his case against Radu on the eve of the trial in January 2020. OCCRP and their network members frequently receive legal threats in the course of their investigations, which include the 2016 Panama Papers, 2017 Paradise Papers and the most recent Pandora Papers.
While the legal actions against Rewcastle Brown and Radu concluded in settlements favourable towards the journalists and the articles under question stayed online, the price was high. Beyond the significant financial burden, the long legal process consumed time and personal energy that could have instead been focused on their work. As Radu has succinctly put it "even if you win, you lose".
Join Rewcastle Brown and Radu online as they discuss their shared experiences, as well as the wider challenge for journalists facing legal threats, especially when emanating from the UK. A key question being, what impact do these threats have on individual journalists as well as more broadly for investigative journalism, the principles of transparency and the public's right to know?
Chairing this discussion will be Edward Lucas, journalist, author and security specialist, who has had his own experience with legal threats. In 2010, Lucas coordinated the defence in a libel action brought against The Economist, his then employer, by Gennady Timchenko, a Russian energy tycoon. Despite the 2013 Defamation Act, brought in to reform English and Welsh libel laws, the high level of risks and costs associated with even a potential legal threat appear to have endured, along with libel tourism.
This event is being organised by the Foreign Policy Centre and the Justice for Journalists Foundation, as part of the first UK Anti-SLAPP Conference, which aims to highlight the need to counter legal threats against media freedom. The conference will take place in a hybrid format, accessible both online and in-person, in London on Monday 22 and Tuesday 23 November. To register to attend, and get updates on speakers and sessions, please sign up through Eventbrite. Space to attend in person will be limited, so please write to events@fpc.org.uk to apply.