Description
Step inside Bloomsbury Publishing as we discuss what happens when women take the lead, if they've learned from the lessons of the past - and if the leaders of tomorrow are women, what happens next?
Join us as we present Rachel Reeves MP and award-winning columnist, Harriet Minter, in conversation on why women make formidable leaders with a powerful, alternative viewpoint on issues that concern us all. We ask: Are women who strive to lead today facing the same challenges as women who've gone before? If yes, why? If no, why? We plan to find out and we'd love to hear your thoughts during the Q&A session.
Rachel's extensive research for her book, Women of Westminster, reveals much about what can change when women take the lead and challenge the establishment with courage and verve, but what have today's leaders (who happen to be women) really learned from the battles won and lost by their pioneering foremothers?
Harriet and Rachel will share their own experiences of taking the lead, what they've learned from fellow influential women of today and, most importantly, the key lessons we all need to take forward from the women who've gone before.
We hope you're free to join us.
Date: Tuesaday, October 1st
Timing: Doors open and complimentary drinks from 6:00 to 6:30pm. Our guests in conversation from 6:30pm, followed by Q&A and book signing. Event concludes at 8:00pm
Venue: Bloomsbury Publishing, 50 Bedford Square, WC1B 3DP
Nearest station: Tottenham Court Road
Tickets: £5 - £20
This event is hosted by Bloomsbury Institute, a division of Bloomsbury Publishing. Please read our Event Terms and Conditions carefully as by buying a ticket to this event, you confirm that you accept these terms and condition and that you agree to comply with them, alongside the Eventbrite terms and conditions.
***
Rachel Reeves is Labour MP for Leeds West and former Shadow Minister for Work and Pensions. Prior to her parliamentary career, she worked as an economist. She is the author of Alice in Westminster : The Political Life of Alice Bacon (published by I.B. Tauris in 2017).
Harriet Minter is a journalist and speaker. She focuses on a variety of issues relating to women, the future of work, media and diversity. She has written for publications including The Guardian, The Times and The Pool. She has a monthly column in Psychologies magazine.She is a regular speaker on women's rights, organisational change, workplace diversity and just getting stuff done. She has given two TED talks and appeared on the BBC and Sky News. As well as her media work she coaches individuals to help them achieve their professional goals, and provides brands with diversity and content marketing consultancy. She also writes the only weekly newsletter guaranteed to get you promoted.
***
'Rachel Reeves is perfectly positioned to tell their story, having experienced the slings and arrows of parliamentary prejudice first-hand…' Cathy Newman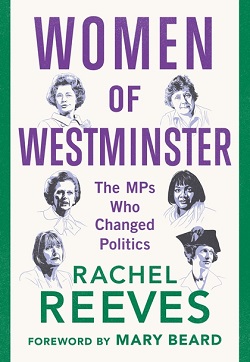 In 1919 Nancy Astor was elected as the Member of Parliament for Plymouth Sutton, becoming the first woman MP to take her seat in the House of Commons. Her achievement was all the more remarkable given that women (and even then only some women) had only been entitled to vote for just over a year.
In the past 100 years, a total of 489 women have been elected to Parliament. Yet it was not until 2015 that the total number of women ever elected surpassed the number of male MPs in a single parliament. The achievements of these political pioneers have been remarkable – Britain has now had two female Prime Ministers and women MPs have made significant strides in fighting for gender equality from the earliest suffrage campaigns to Barbara Castle's fight for equal pay to Harriet Harman's recent legislation on the gender pay gap.
Yet the stories of so many women MPs have too often been overlooked in political histories. In this book, Rachel Reeves brings many forgotten MPs out of the shadows and looks at the many battles fought by the Women of Westminster, from 1919 to 2019. Featuring insightful and honest interviews with leading women from Theresa May, Dianne Abbot to Harriet Harman, Rachel Reeves MP celebrates the inspirational achievements of women in parliament over the course of the past 100 years.
'To this day, astonishingly few books address the history of women in Westminster; luckily Rachel Reeves is not just helping to bridge that gap, but brings an insider's perspective to bear in telling the stories of these remarkable women. Rich with detail and original research, this highly readable history emphasizes the challenges women in Parliament continue to face, and the unexpected solidarity they often forged in meeting those challenges. A heartfelt, informative, and engaging read - highly recommended.' Sarah Churchwell