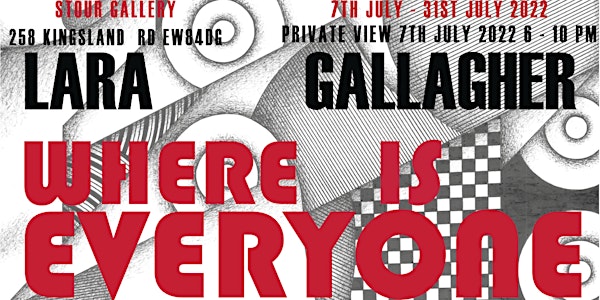 WHERE IS EVERYONE art exhibition by Lara Gallagher Private View
Location
Stour Gallery
258 Kingsland Road
London
E8 4DG
United Kingdom
We are delighted to be opening a new exciting art exhibition WHERE IS EVERYONE showcasing original illustrations by Lara Gallagher.
About this event
Lara Gallagher is a French/British artist who, after following an international education in the South of France and Australia, moved to London to pursue her studies in Visual Communication. Elements of this can been seen through her use of hard-edged lines and bold designs. She has been based there ever since and has showcased her work in various galleries in London and Europe.
The new set of work focuses on the theme of 'nature/nurture'. The works are a deconstruction of older pieces, cut-up and reorganised according to two sets of grids, one random and one systematically designed, overlapping structure and discord in their intertwined nature. Three levels of understanding emerge through three different dimensions. Three levels of understanding are seen through three different compositions: cellular, figurative, abstract.
The Exhibition will open with the private view on the First Thursday of July 7th July from 6 – 10 pm. Come and joins us to celebrate art at Stour Galleries, 258 Kingsland Rd E84DG.