Sales Have Ended
Ticket sales have ended
Sales have ended for this event, but there is an online event on 4th November 7pm if you would like to join us there
Sales Have Ended
Ticket sales have ended
Sales have ended for this event, but there is an online event on 4th November 7pm if you would like to join us there
Thrilled to be launching Where We Find Ourselves our Global Majority Anthology of poems and stories In REAL Life!
About this event
Where We Find Ourselves: Poems and Stories of Maps and Mapping from UK writers of the global majority.
Stories and poems from nearly 40 UK writers of the Global Majority, from African, Asian, Middle Eastern, Caribbean, South American, Chinese and Malay communities, writing about maps and mapping. Stories and poems of finding oneself and getting lost, colonialism and diaspora, childhood exploration and adult homecoming.
PLEASE NOTE, ALTHOUGH HOSTED BY KEATS HOUSE, THIS EVENT IS IN THE KEATS HOUSE LIBRARY, NOT IN THE ACTUAL HOUSE - IT'S RIGHT NEXT DOOR.
Hosted by editors Sandra A Agard and Laila Sumpton and featuring performances from Alexander Williams, Amanda Addison, Be Manzini, Benson Egwuonwu, Des Mannay, Farhana Khalique, Kavita A Jindal, Lorraine Dixon, Mallika Khan, Ngoma Bishop, Oluwaseun Olayiwola, Rachael Li Ming Chong, Rhiya Pau, Rick Dove.
Other featured writers will be attending and keen to sign books!
Books will be available to buy
Soft drinks and celebratory cake will be served. (The cake is very bad for you - gluten dairy nuts and alcohol are involved)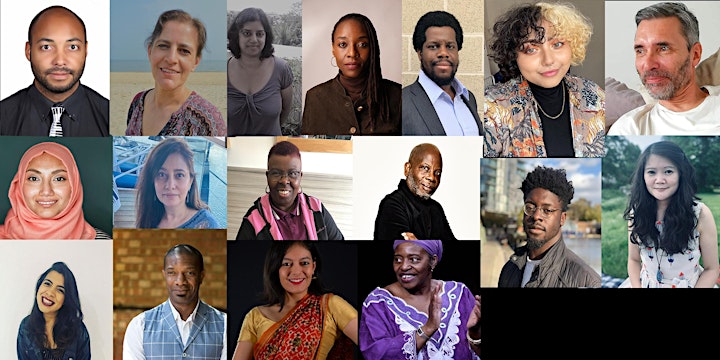 Introductions: Cherry Potts, Sandra A Agard and Laila Sumpton
Readers in order of appearance
Amanda Addison The hand you were dealt before you were born
Rick Dove Temporospatial Tongue Triangulations
Farhana Khalique Anvils and Canals [extract]
Rhiya Pau Departure Lounge
Oluwaseun Olayiwola SE16
Laila Sumpton Yarls Wood by Malka Al-Haddad
Ngoma Bishop The Inner City Kite That Yearns For Freedom
Break (cake, soft drinks, book signings, chat)
Alexander Williams Yarmouk University
Lorraine Dixon the leaving
Benson Egwuonwu The Lie
Be Manzini Survival Protocol
Des Mannay Running on the spot
Kavita A Jindal Cocoon Lucky [extract]
Emily Abdeni Holman Speak me a poem
Mallika Khan A Man's Space
Rachael Li Ming Chong Capillary Motion
• This event will be run in line with government guidelines, which means that social distancing will not be in place. You will be seated next to others.
• We will ensure ventilation you might want to dress warmly!
• We strongly recommend and ask our audience to wear face masks unless exempt in the library for the safety of our audience, our writers and our staff, some of whom are vulnerable. Please note that government expects and recommends that people should continue to wear face coverings in settings such as this, to protect themselves and others.
• Please arrive in good time to allow us to seat you with the minimum of disruption
• Please use the hand sanitiser on entering the building.
• We will be serving soft drinks and cakes, tempting though it is, please don't hover over the cake!
• By attending you are agreeing to our Covid secure measures.
• It would reassure us immeasurably if you could take a lateral flow test within 24 hours before attending, and stay away if the test suggests that's a good idea.
• Do not attend the event if you are anyone in your household is unwell or displaying Covid-19 symptoms
• If you are unwell, please contact us for a ticket exchange to our online event on 4th November before the performance. Tickets can be exchanged up to 6 hours prior to the performance.
Organiser of Where We Find Ourselves Book Launch LIVE!
Arachne Press is a micro publisher based in South London, specialising in short story anthologies, but branching out into Young Adult novels and poetry. We love reading our stuff aloud, and decided to help other people do the same, and so we run lots of live events, including The Solstice SHorts Festival, often including music with our stories and poems.