Sales Have Ended
Registrations are closed
We'll begin shipping packs in November 2020 and Whisky Live TV season one will drop soon after. We'll advise you of the exact date by email closer to the time. If you have requested a refund, this will be processed within 7 days of receiving your information
Sales Have Ended
Registrations are closed
We'll begin shipping packs in November 2020 and Whisky Live TV season one will drop soon after. We'll advise you of the exact date by email closer to the time. If you have requested a refund, this will be processed within 7 days of receiving your information
The show must go on! As we were unable to hold Whisky Live London 2020 back in March, this November we will launch Whisky Live At Home.
About this Event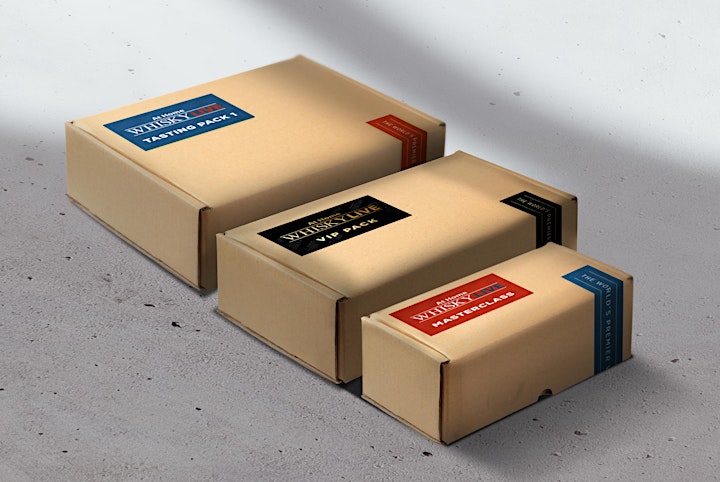 Whisky Live is back! But not as you know it…
Launching on 30 November 2020, we're proud to announce the very first instalment of a new breed of whisky tasting experience: Whisky Live At Home.
Hold on to your Glencairns, because our dram-tastic tasting pack is going to whisk you away on a global journey to 26 different whisky distilleries and 3 different gin distilleries. Full-Day ticket holders will receive a total of 29 x 30ml samples – that's 870ml, or the equivalent of around 1 and a quarter full-sized bottle's worth!
What's more, we're determined to keep you entertained while you taste, so we'll also be launching Season One of our very first web series: Whisky Live TV.
Join Whisky Magazine editor Christopher Coates as he meets master distillers, brand ambassadors and distillery managers from across the globe and puts them in the whisky hot seat. Totalling over 12 hours of exclusive online video, we hope you'll watch the series while you enjoy your drams with family, friends, neighbours, pets – anyone who loves whisky, really!
Forget Zoom. This series will be presented in glorious HD and available for you to stream on demand and view at any time, whenever you fancy a dram.
As you previously paid for Whisky Live London 2020 tickets, all you have to do is register for this rescheduled event, provide the delivery addresses for each ticket holder, and confirm your original Whisky Live London 2020 order number.
If you do not transfer your ticket by 23:59 on 1 November, you will automatically receive a refund and your allocated ticket for Whisky Live At Home will be sold to someone on our waiting list.
What's in the box?
Full-Day ticket holders can expect the biggest and best tasting pack available anywhere! It will include:
Two thirst-quenching tasting packs containing a total of 29 x 30ml samples (870ml of spirits total).
A Glencairn Crystal tasting glass in Whisky Live At Home livery, because it just wouldn't be right to give you all these drams and nothing to drink them from!
A veritable library of reading material! You'll receive a copy of Whisky Magazine (RRP £5.25), American Whiskey Magazine (RRP £6.20), Gin Magazine (RRP £5.25) and our 132-page coffee-table publication Scotch Whisky (RRP £9.95).
A can of Larkfire, wild water for whisky, to compliment your drams.
A pack of Stockan's oatcakes, to cleanse your palate between samples.
As for the other ticket types...
Master Class ticket holders will receive all of the above plus an additional Master Class Tasting Pack (5 x 30ml samples) and access to the Whisky Magazine editor's webinar – over an hour of bonus whisky-licious content which will talk you through each sample and take you on a journey of different cask types.
VIP ticket holders will receive all of the above (including the Master Class Tasting Pack & webinar) plus an exclusive VIP tasting pack (8 x 30ml samples) of special drams, access to eight additional on-demand video seminars (45 minutes each) which will delve deeper into each VIP dram, and a copy of our Whisky Tasting Journal (RRP £8.50) to keep track of your tastings notes. Taken together, our VIP experience is, without a doubt, the most impressive and comprehensive home tasting experience available anywhere, for any price!
Half-Day ticket holders will receive one tasting pack containing a total of 15 x 30ml samples (450ml total), along with all the same gifts and goodies as a Full-Day ticket holder.
Sounds great, but what will it cost?
We will deliver all of this for the cost of your originally purchased ticket, so no additional payment will be required. Half-day, Full-day, Masterclass, and VIP tickets for Whisky Live London can be transferred to their Whisky Live At Home equivalents.
So, what next?
Please register for this private event, select the number of tickets you've paid for (no cheating, we'll be checking!) and fill out the correct delivery address for each of your ticket holders (UK and EU addresses only please), plus the original order number.
Please note that you cannot change ticket types, so if you had a VIP ticket for Whisky Live London, you can only apply for a VIP ticket for Whisky Live At Home. Sorry!
If you don't give us an address for each ticket holder, we'll ship everything to the primary ticket holder's address. If you don't register for this event or give us an address, we will wait until 23:59 on 1 November and, if you still haven't been in touch, we'll refund your Whisky Live London 2020 tickets.
If you don't wish to transfer your Whisky Live London tickets to Whisky Live At Home, there is an option to request a full refund immediately by clicking 'register' and selecting the 'No - Please refund my ticket' option.
When is Whisky Live At Home happening?
We'll begin shipping packs in November 2020 and Whisky Live TV Season One will drop on 30 November.
The full Whisky Live At Home tasting menu:
Arbikie - Highland Rye 4 Years Old (46.0% ABV)
Benriach - The Twelve (46.0% ABV)
Bowmore - 15 Years Old (43.0% ABV)
Bunnahabhain - Toiteach A Dhà (46.3% ABV)
Cotswolds - Sherry Cask (57.4% ABV)
Cotswolds – Hearts & Crafts Series: Sauternes Cask (55.2% ABV)
The Dalmore - Port Wood Reserve (46.5% ABV)
Deanston - Virgin Oak (46.3% ABV)
Fettercairn - 12 Years Old (40.0% ABV)
Glen Grant - 10 Years Old (40.0% ABV)
Glen Moray - Elgin Heritage 12 Years Old (40.0% ABV)
The GlenDronach - 12 Years Old (43.0% ABV)
Glengoyne - Legacy Chapter II (48.0% ABV)
Jura - 12 Years Old (40.0% ABV)
Jura - 21 Years Old Tide (46.7% ABV)
Kavalan - Classic Single Malt (40.0% ABV)
Kingsbarns - Distillery Reserve 100% STR Barrique Matured (59.8%)
That Boutique-y Whisky Co - Cotswolds 3 Years Old Batch 1 (50.4%)
The Lakes Distillery – The One: Sherry Cask Finished (46.6% ABV)
The Lakes Distillery – Whiskymaker's Reserve No.3 (54.0% ABV)
Lambay - Small Batch Blend (40.0% ABV)
Michter's - US *1 Rye (42.4% ABV)
Miyagikyo - Single Malt (45.0% ABV)
Murray McDavid - Benchmark: Craigellachie 8 Years Old, Coleburn Drum Finish (46.0% ABV)
Murray McDavid - Benchmark: Bowmore 15 Years Old, Port Cask Finish (46.0%)
Murray McDavid - The Vatting: Peatside 5 Years Old, Port Cask Finish (46.0% ABV)
Nikka - The Nikka Tailored (43.0% ABV)
Port Askaig - 12 Years Old Autumn Edition (45.8% ABV)
Smokehead - Rum Rebel (46.0% ABV)
Stauning - Rye (48.0% ABV)
Tamdhu - Batch Strength V (59.8% ABV)
Teeling - Blackpitts Peated Single Malt (46.0% ABV)
Teeling - Brabazon Bottling #3 (49.5% ABV)
Tobermory - 12 Years Old (46.2% ABV)
Tullibardine - 225 Sauternes Finish (43.0% ABV)
Uncle Nearest - 1856 Premium Aged Whiskey (50.0% ABV)
Wolfburn – Langskip (58.0% ABV)