White Water Rafting - Nepal

Sunday, November 3, 2013 at 7:00 PM

-

Wednesday, November 20, 2013 at 10:00 PM (PST)
Event Details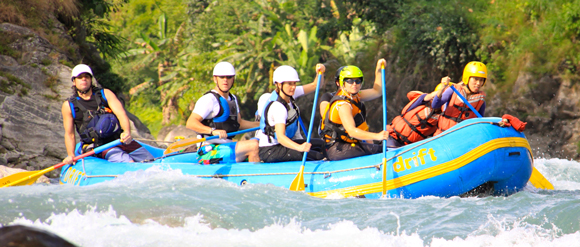 This is an amazing once in a lifetime opportunity to experience one of the finest white water rivers in the world. This all inclusive trip includes flights to and from Nepal, airport transfers in Nepal, hotel accomadation in Kathmandu and food whilst on the river trip and trek! All you need is a little spending money and a great sense of adventure!
The expedition will be on the beautiful Tamur River which drains from the Everest Massif and directly from Mt. Kanchenjunga which is the third highest peak in the world. The trip starts with a beautiful trek through jungle, rhododendron forest and along a 3000 metre ridge where you will feel on top of the world.
After three days trek we will pump up the rafts and get ready for 6 days floating down the river with the first and last day full of magnificent whitewater. "Temple, Ashram, Bat Below and many more rapids the Tamur has a feeling of power pushing through beautiful gorges. Camp on sandy beaches and enjoy some beach volleyball and exploration the Tamur valley is picturesque and unspoilt with few villages and little agriculture.
No experience needed!
Rafting is exhilarating and a safe way of experiencing whitewater rivers. Every trip is tailored to the groups ability and that makes every trip unique. If it's something new you're after, this is it!
Itinerary
Day 01: Depart London Heathrow Airport - to Mumbai - connect to Kathmandu.
Day 02: Arrive in Kathmandu, airport pick up and transfer to hotel. Overnight in hotel in Kathmandu.
Day 03: Sightseeing and explore Kathmandu. Stay overnight in hotel.
Day 04: Drive in private bus approximately 18 hrs to Basantapur and stay overnight in lodge there.
Day 05: Trekking through beautiful woods and meadows with magnificent views of Kanchenjunga, Makalu and the Everest massif in the far distance. After approximately 5 hrs arrive at Chauki and camp.
Day 06: Today you will continue trekking up the ridge and enjoy the spectacular views. The path winds gently up and down through ancient moss covered trees and after approximately 5 hrs you will reach the top of the ridge at 2980 metres. Set up camp near the magnificent holy lake in Goufa Pokhara
Day 07: Trek for around 6 hrs or so down to Dobhan which is the starting point of the whitewater rafting on the Tamur River. Relax and camp overnight on the riverside beach.
Day 08 - 13: Whitewater rafting on the Tamur river. Plenty of rapids and beautiful river side beaches for camping with spectacular scenery.The last day of whitewater rafting on the Tamur will take you down to the confluence of the Tamur and Sun Kosi Rivers. Over 30 rapids of fun class 3 and 4 makes this a fantastic day of whitewater.
Day 14: Paddle down the Sun Kosi to the take out at Chatra and have a traditional Nepalese Dhal Bhat lunch. Drive overnight in private bus approximately 18hrs to Bhul Bhule on the Marsyandi River where will unpack the bus and set up camp.
Day 15: Paddle from near Besishahar to above the new dam which consists of excellent whitewater of grade 3 and 4 rapids. Take out and drive with private bus approximately 5 hrs and stay overnight in hotel in Kathmandu.
Day 16: Return to UK or if you would like to see more of Nepal we would be happy to organise and extended stay and can advise of other possibilities that this amazing country has to offer, Trekking, Mountain Biking, Mountaineering etc
When & Where

River Tamur - Raft and Trek

Kathmandu, Central Region 44600
Nepal

Sunday, November 3, 2013 at 7:00 PM

-

Wednesday, November 20, 2013 at 10:00 PM (PST)
Add to my calendar
Organizer
White Water Rafting is our passion!
Wild Rivers is a UK based adventure company offering world class white water rafting and kayaking adventure trips around the world.
From action packed whitewater to calm river cruises, if it's something new you're after, this is it!