Whitton and Heathfield Virtual Community Conversation
Residents in Whitton and Heathfield are invited to have their say on the future of their high streets.
About this event
Residents are invited to join the Council and have their say on the future of their local high street or town centre, sharing their vision and ideas in a series of virtual community engagement events, as well as to put questions to their local Councillors about other key issues.
What to expect from the meeting
The format of this event is a bit different from usual and is designed to be a listening exercise, which will inform the Council's future approach to High Streets.
To start the event, you will hear briefly from your local Councillor, then from a speaker who will introduce the topic of "the Future of our High Streets". You will then be moved into smaller groups to discuss your thoughts and ideas, focusing on the following questions.
1. How do you use your town centre/high street and has this changed as a result of the pandemic
2. Is there anything you would like to see that might improve your town centre/high street
3. If you don't visit your town centre/high street often, what would help or encourage you to visit more frequently
After the discussion, there will be a chance to put questions to Councillors on other local issues.
We encourage you to have a think about the questions before the session!
Need some inspiration?
As well as thinking about what shops and hospitality you like to visit we want to hear:
• how you move around• how you socialise• how it supports your health and wellbeing• the role it plays in your community.
In May, we also put the questions to local businesses, the voluntary sector and other partners – these are some of the things they said.
About the Community Conversations
The Community Conversation is a chance for ward councillors to hear what matters most to residents and businesses and share ideas about the future of local areas.
During the pandemic these events were run on Zoom (you can watch previous events here).
Over 1,200 people registered for the first round of events, sharing their thoughts on issues such as impact of Coronavirus, community safety, environmental issues and education.
The Council is now holding a new series of dedicated discussions specifically looking at the future of our high streets and town centre. The event will be for residents and businesses in Richmond North and South Richmond on the 23rd of June.
Once registered you will be sent a personal link (around 24 hours in advance and again 20 minutes before) and will be able to log in and hear and chat with local ward councillors live.
Attendees will be invited to have their say via video, audio or text chat.
By registering to the event, participants are agreeing to the event etiquette, available at: www.richmond.gov.uk/community_conversation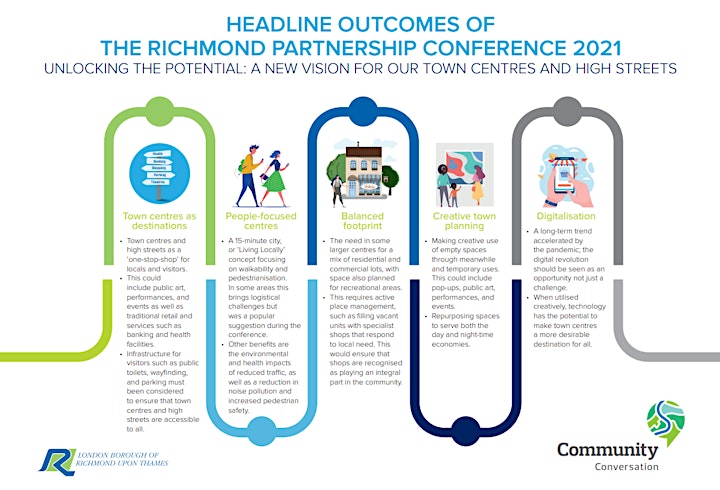 Organiser of Whitton and Heathfield Virtual Community Conversation