Wholehearted:OKR – Bringing Objectives & Key Results to life with Agendashi...
Description
Objectives and Key Results (OKR) is – to use the Wikipedia definition – a framework for defining and tracking objectives and their outcomes. Done well (wholeheartedly), it's a great model for participatory strategy deployment. Done badly... well let's just say that you don't want to do it badly! OKR joins Lean and Agile as one of those things for which the way you introduce it matters at least as much as the thing itelf, placing it very much within Agendashift territory.
We know that the best outcomes aren't just metrics or targets, but the happy endings to stories in which real needs are met. How they might be evidenced remains an important question, but a different one. With that clear separation in mind, Agendashift and OKR seem made for each other:
Agendashift: an engagement model that is strategic in outlook and steadfastly needs-based and outcome-oriented in both approach and technique
OKR: an operating model for strategy deployment that emphasises alignment on outcomes and transparency around progress towards them
With this powerful combination you'll not only avoid the potential pitfalls and dysfunctions of OKR but come away with fresh perspectives on participation, leadership, and organisation design. And if you're already familiar with Agendashift, you'll experience some exciting new tools for strategy and operation.
Of all our workshops, Wholehearted:OKR delivers the most complete realisation of our wholehearted mission. It demonstrates how to create opportunities for:
Authentic engagement on issues that matter
Meaningful participation across strategy, development, and delivery
Anticipating and meeting needs
Leadership around outcomes (each inviting the other)
Run this workshop within your organisation and you will be creating these opportunities as you learn. Or join us in this public workshop and share with other practitioners – the choice is yours!
Workshop overview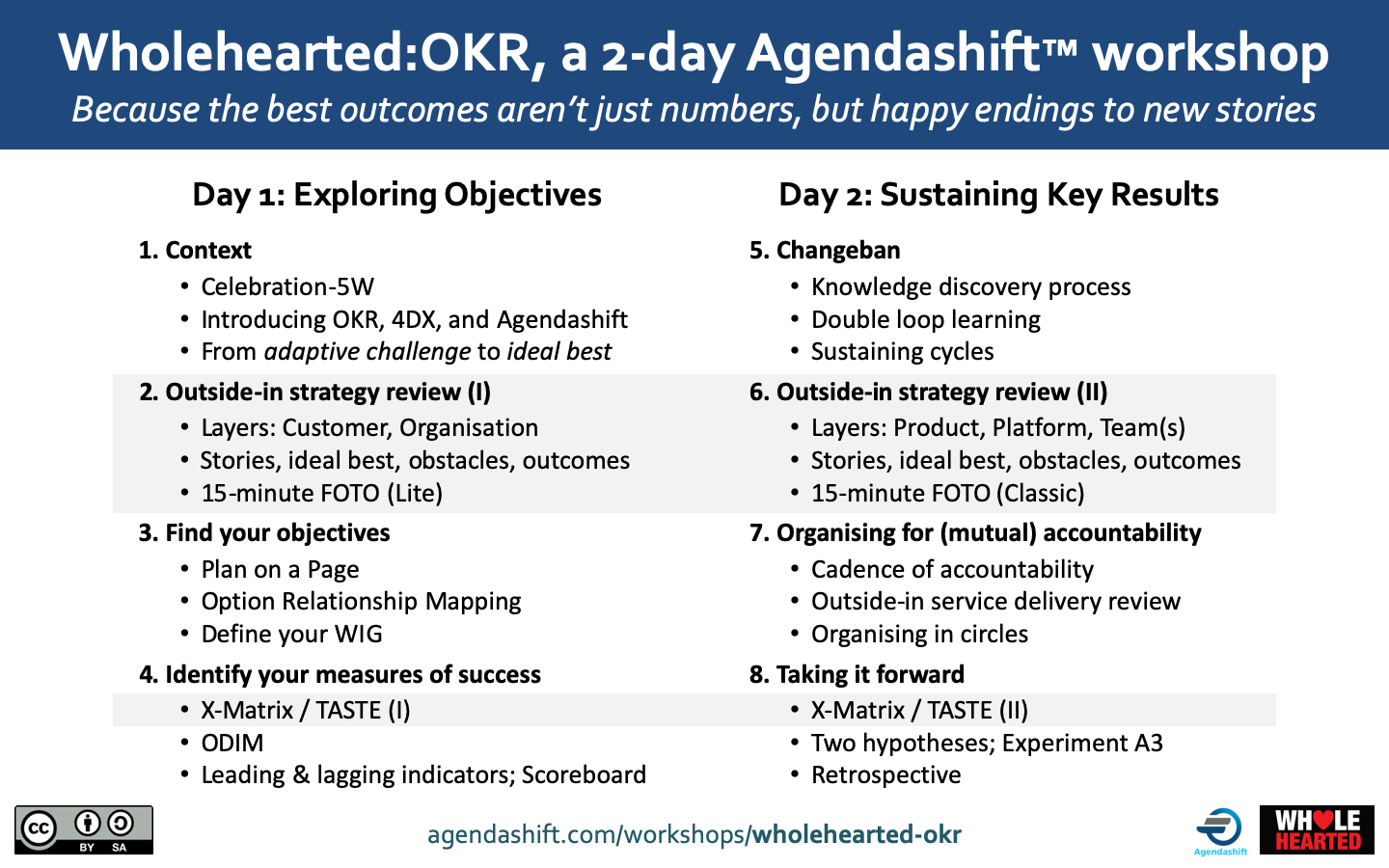 Day 1: Exploring Objectives
Engage on identifying compelling shared goals; learn the the language of outcomes, how to organise them, and define their measures of success
Sessions:
Context

Introducing OKR, 4DX, and Agendashift
From adaptive challenge to ideal best

Outside-in strategy review (I)

Layers: Customer, Organisation
Stories, ideal, obstacles, outcomes
15-minute FOTO (Lite)

Find your objectives

Option Relationship Mapping
Define your WIG

Identify your measures of success

ODIM
X-Matrix / TASTE (I)
Leading & lagging indicators; Scoreboard
Day 2: Sustaining Key Results
Focussing collaboration; showing progress towards objectives; nurturing and sustaining emergent ownership; creating opportunities for leadership to develop
Sessions:
Changeban

Knowledge discovery process
Double loop learning
Sustaining cycles

Outside-in strategy review (II)

Layers: Product, Platform, Team(s)
Stories, ideal, obstacles, outcomes
15-minute FOTO (Classic)

Organising for (mutual) accountability

Cadence of accountability
Outside-in service delivery review
Organising in circles

Taking it forward

X-Matrix / TASTE (II)
Two hypotheses; Experiment A3
Retrospective
Who should attend?
This workshop is aimed at all agents and leaders of organisational change – whether internal or external, specialist practitioner or sponsor. Whilst the majority of attendees at our public workshops have been coaches and consultants, a significant number have held managerial and business leadership roles.
This workshop is offered both publicly and privately. Public workshops are focussed primarily on skills. You will however have ample opportunity to put them into your organisational context.
Partipants will receive a print copy of the book Right to Left: The digital leader's guide to Lean and Agile, a key source for this workshop.
Facilitation
Your lead facilitator will be Agendashift founder Mike Burrows. Mike is the author of Kanban from the Inside (2014) and Agendashift: Outcome-oriented change and continuous transformation (2018); his third book Right to Left: the digital leader's guide to Lean and Agile is due August 2019. Mike is known for Kanban's values model, the Featureban and Changeban games, and as a strong advocate for participatory and outcome-oriented approaches to change, transformation, and strategy. Prior to his consulting career, Mike was global development manager and Executive Director at a top tier investment bank, and CTO for an energy risk management startup.
We will be joined by Karl Scotland, Steven Mackenzie, and Mike Haber, each of whom made significant contributions to the design of this workshop.
Discounts
Current members of the Agendashift partner programme and attendees of previous Agendashift workshops are eligible to a £100 discount. Attendance at this workshop qualifies new partners to a £50 discount off their first year membership. We are also happy to offer significant discounts to employees in the public, educational, and charitable/non-profit sectors. Please email support@agendashift.com for details and discount codes.
More: About Agendashift | Resources | Slack | LinkedIn
---
Created in collaboration with Karl Scotland, Steven Mackenzie, and Mike Haber.
Agendashift™ is copyright © 2015-2019 Positive Incline Ltd. All rights reserved. The Wholehearted:OKR workshop description by Mike Burrows of Positive Incline Ltd is licensed under the Creative Commons Attribution-ShareAlike 4.0 International License. To view a copy of this license, visit https://creativecommons.org/licenses/by-sa/4.0/.