WILL YOU SLEEP OUT ON OCTOBER 15TH, IN AID OF WINDSOR'S HOMELESS AND VULNERABLE?
About this event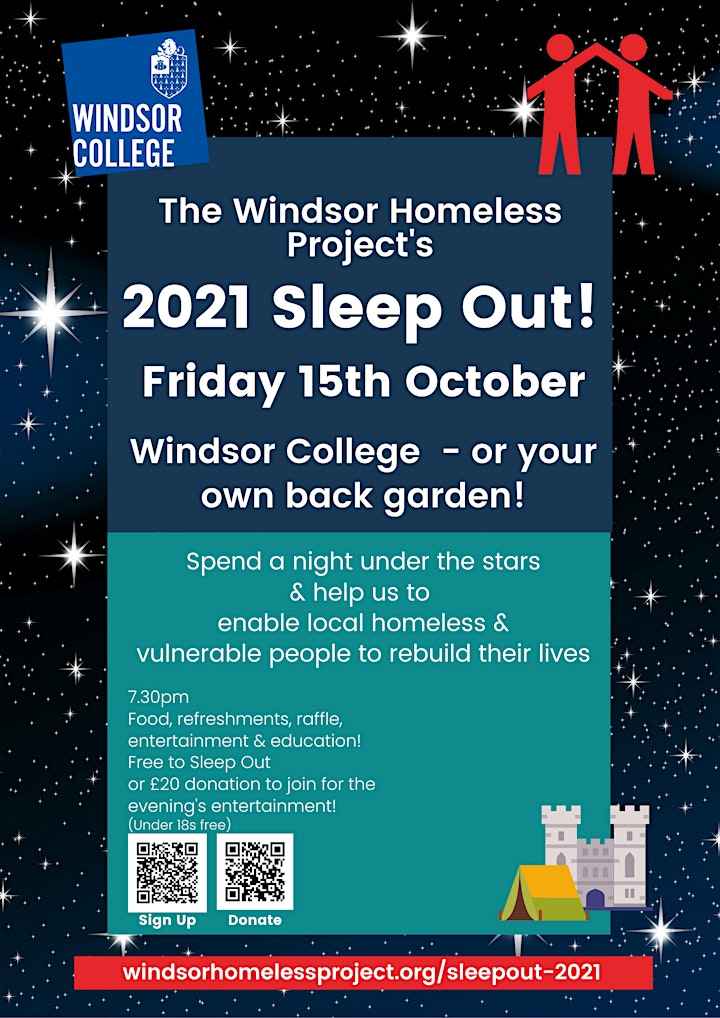 The Windsor Homeless Project's annual Sleep Out is back!
Join us on 15th October, as we sleep out under the stars, in our sleeping bags and cardboard boxes, at Windsor College.
Or if you can't Sleep Out - you can still join in the fun, by joining us for the evening's entertainment.
The Sleep Out is Windsor Homeless Project's biggest fundraiser of the year. The funds we raise every year mean we're able to be here, when we're needed, enabling homeless and vulnerable people in our local community to rebuild their lives.
What is the WHP SleepOut?
The Sleep Out is a fundraising challenge, where people in our community come together to raise funds and awareness for Windsor's homelessness charity. We won't fully experience what it is like to sleep rough, but it does open our eyes to the experience that so many people in our community and around the UK find themselves in every day.
It will be an evening of education, entertainment, food, and testimonials, all before we bed down for a night in the elements.
Where is WHP's 2021 SleepOut? Can I Sleep Out at home?
This year, we wanted to bring the community back to experience our Sleep Out together, to sleep out at Windsor College. But we know that some of our supporters would prefer to Sleep Out at home instead. We'd love for you to take part in any way you can.
Or if you can't sleep out - you can still join in for an evening of food, fun and entertainment, for a donation of £20.
Tell me about the evening's entertainment!
It all kicks off from 7.30pm at Windsor College - and it'll be an evening of live acts, food, education, testimonies, and a raffle! What more could you want?! All for a suggested minimum donation of £20
Our confirmed live acts are local sensations Emma Kennedy, Ginni Hogarth and John Dewhurst.
How much do I need to fundraise?
We want to get everyone involved this year – which means we aren't setting a fundraising target. When you sign up, we'll ask you to set your own target for what you hope to raise or donate. Every penny counts!
How can my fundraising help?
£10 - Advice for a person experiencing or facing homelessness, or other difficulties, at our drop-in centre
£50 – Three phones with credit – allowing guests to keep crucial appointments with their support teams, such as the local council, the Drug and Alcohol service, or NHS services
£75 – A week of hot lunches for all our guests at our drop-in centre
£150 – A move for a guest into a new home – including all the basics needed to make a house a home
£300 – Nine hours of counselling, for one guest to begin to work through past life-events and traumas that have brought them to where they are today
In these uncertain times, we'll be needed more than ever to enable homeless and vulnerable people to rebuild their lives.
We can't wait to see you on the night!
To learn more about WHP, visit www.windsorhomelessproject.org