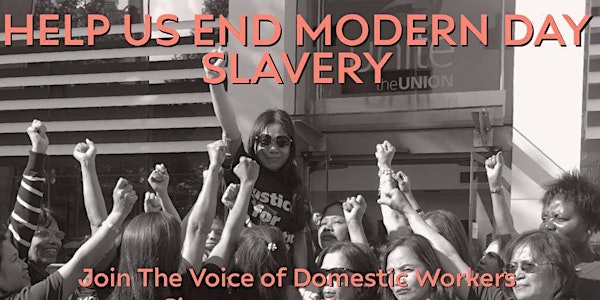 Why a UK committed to ending slavery needs to return to pre-2012 ODW Visa
The pre-2012 Overseas Domestic Worker Visa protected & recognised migrant domestic workers (mdws) as workers & enabled mdws to escape abuse.
About this event
In 2012, the Coalition government introduced restrictions which removed holders of overseas domestic workers visa the right to renew visa. This change facilitates the abuse and undermines the stated commitment to address slavery. 5 Years after the Modern Slavery Act and 8 Years after on the visa were removed, it is time to return to the original overseas domestic worker visa and associated rights.
Chair: Jess Philips
Speakers:
Marissa Begonia, Director The Voice of Domestic Workers
Diana Holland OBE, Assistant General Secretary Unite the Union
Kate Roberts, UK and Europe Program Manager of Anti-slavery International
Dr. Joyce Jiang, Lecturer in Human Resource Management, York University
Avril Sharp, Policy and Casework Officer, Kalayaan
Grace Brown, Human rights and Immigration Barrister
And Migrant Domestic Workers Testimonies