Embedding diversity & inclusion in the workplace (and in schools).
About this event
Taking place during NI Science Festival 2021 and as part 2 of a series of 3 interconnected events on the diversity of talent and where we can expect growth to stem from in NI and beyond, we discuss and learn more about:
Creating a diverse STEM talent pool and why the numbers still don't add up
NI-based and wider initiatives to help develop that future workforce
Embedding diversity and inclusion from school to the workplace
Delivered by Startacus, in partnership with Matrix and with community partner Bazaarvoice, this afternoon event features ,1 Keynote, 1 Panel discussion and 1 relevant tech startup showcase.
Book your ticket now!
Featuring:
Furkan Karayel, an award winning inclusive leadership advisor. She founded Diversein.com after 10 years of software engineering experience in multinational tech companies in Ireland. As a result of her counselling, she developed the "Inclusive Intelligence" concept, providing practical steps to be a diversity and inclusion role model in the workplace. Her passion is leveraging women-in-tech leadership, diversity and empowering female founders globally.
Scarlet Jeffers. Coming from a scientific background, Scarlet has forged a hugely successful career in consumer tech as an award-winning product leader. Scarlet co-founded her latest product and company, Clario, two years ago. She is known for her candid and approachable advocacy for women in tech and leadership, having been featured in multiple 'Top Women to Watch in STEM' lists in recent years.
Claire Nixon, Director at RealTime Recruitment Belfast and sits on the Executive Committee of Women in Tech, Belfast. Claire possesses over 10 years' experience of recruiting within the Tech Sector, as well as many years' experience campaigning for increased diversity within the tech sector.
Christine White, Head of Business for Diversity Mark NI – an organisation founded by Women In Business NI enabling organisations of all sizes to achieve gender diversity accreditation.
Laura Lunn, Capability Lead for Product Development in Bazaarvoice, which focuses on challenging, supporting and growing our people. Laura has been working within the Talent Acquisition space for the last 7 years, leading teams in both the UK and Eastern Europe across various disciplines. Laura is hugely passionate about banishing preconceptions of what it takes to work in tech and how to start that journey.
Mary McKenna, Irish technology entrepreneur and angel investor. She co-founded online learning company Learning Pool in Derry in 2006 and sold the business in 2014 so that she could return to working with earlier stage startups and scaleups. She is one of the Entrepreneurs in Residence at University of Oxford, a member of the NI MATRIX panel, an advisor to several governments, an EU Horizon 2020 innovation judge, a trustee of a small number of charities and social enterprises and the first ever entrepreneur in residence at St Mary's College, an all-girls secondary school in Derry.
Debbie Craig, a skilled software engineer, has founded and developed award winning software, BOOP. An educational platform designed to remove longstanding barriers to learning for students who have Special Educational Needs. Debbie's passion to create equality in education is driven from her experiences and challenges of raising a child who is on the Autism spectrum.
About Startacus
Startacus makes startup and founder life easier, better and more connected. We do that by reporting on the startup news that matters, by partnering with brands and organisations that also care about technology and startups, and by organising, arranging and hosting events, pitch competitions, and evening socials that bring all those good people together - virtually at the moment of course! Get in touch with Alastair to find out how to collaborate with Startacus.
About Matrix
Matrix is an industry-led panel with the primary aim to champion the role of science and technology as one of the key drivers of economic growth in Northern Ireland. Matrix produces regular, in depth reports which outline the work, findings and recommendations of our specialist panels. These reports are an invaluable resource for anyone interested in how new technologies and market opportunities can be developed within the Northern Ireland economy and beyond.
About Bazaarvoice
Bazaarvoice is a shopper engagement platform software provider. Their solutions connect brands and retailers to the voices of their customers. Bazaarvoice are headquartered in Austin, Texas and set up in Belfast in 2017. Belfast has become one of Bazaarvoice's international Product Development hubs and plays a crucial role in the company's global operations.
Book your ticket now!
Details for joining via Zoom will be sent to your registered email address prior to the event, so make sure to keep an eye on your emails. 
Photos and screenshots of the Zoom event may be taken and shared on social media.  The event will be recorded .
This is a partnership virtual event between Startacus, Matrix and Bazaarvoice.
When you register to attend this event, you are providing consent that we will process your personal data in line with the Startacus Privacy Policy and that we can share some of your registration details with our event partners.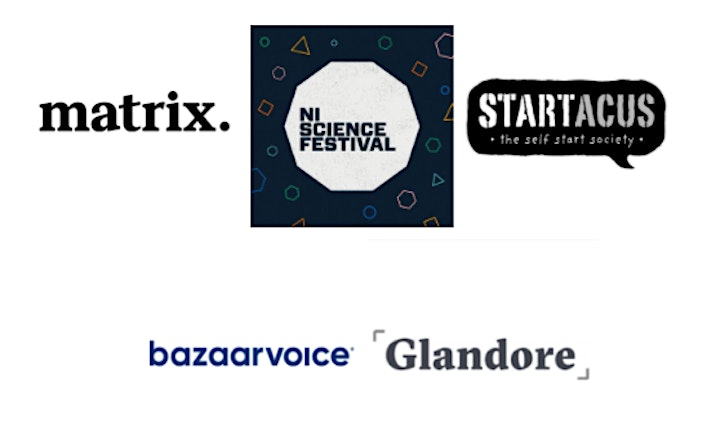 Organizer of Why are we still talking about the STEM gap in the workforce?